The 'Dolly Parton Heartstrings' Cast Includes A Famous 'DWTS' Alum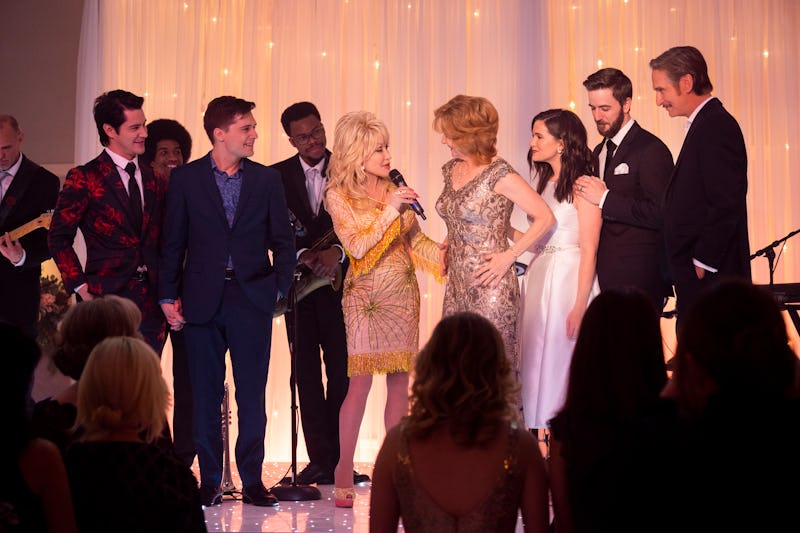 Tina Rowden/Netflix
Some of Dolly Parton's most beloved songs are being brought to life courtesy of the Dolly Parton's Heartstrings cast. The new Netflix anthology series transforms eight Parton tunes — "Jolene," "These Old Bones," "If I Had Wings," "JJ Snead," "Two Doors Down," "Down From Dover," "Sugar Hill," and "Cracker Jack" — into TV episodes that, at upwards of 60 minutes each, act more like mini-movies.
As in previous recreations of her music — like 2015's Dolly Parton's Coat of Many Colors, in which she appeared as the narrator — Parton appears at the outset of every Heartstrings episode to introduce the stories, and she also makes acting cameos throughout the show. But it's the rotating cast of actors who do the brunt of the storytelling. It's still characteristically Dolly; she's just letting others take the lead.
Among the dozens of actors featured throughout the series, avid pop culture fans will recognize a number of faces from movies and TV, including Dallas Roberts (The Walking Dead), David Denman (The Office), and Virginia Gardner (Marvel's Runaways). But because there are almost too many to count, here are the 13 biggest names to look out for when Heartstrings hits Netflix on Friday, Nov. 22.