Yes, That's Drake In Justin Bieber's "Baby" Video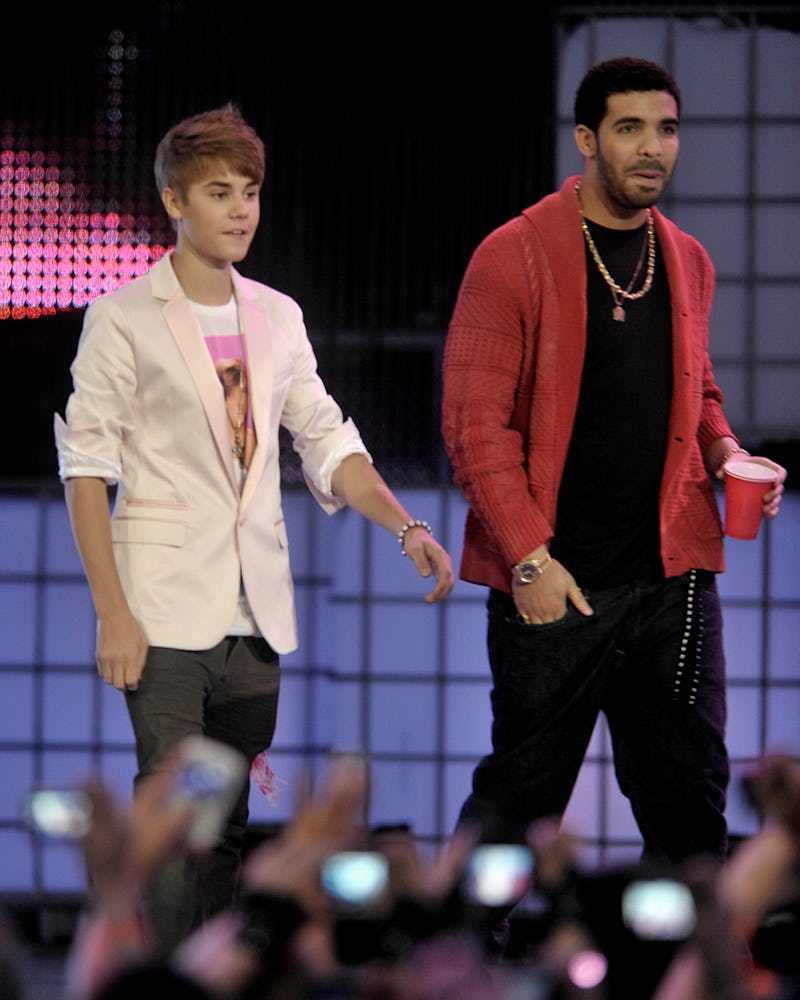 Jag Gundu/Getty Images Entertainment/Getty Images
No one would be surprised to hear that Justin Bieber's debut video for his 2010 single "Baby" is one of the most viewed videos of all time. In fact, it was the most viewed in YouTube history until Psy's "Gangnam Style" came out two years later. But, when some fans go back and rewatch Bieber's video now, they may be surprised by another Canadian superstar who makes a cameo. Why yes, that is Drake casually hanging out at the bowling alley. Hat tip to HelloGiggles for pointing out Drake's "Baby" cameo. He's there to root on a then 15-year-old Biebs, as he tries to dance his way back into the heart of the girl who just dumped him for the first time. Bieber thought she'd always be his, so you can only imagine how surprised he was about the breakup. Luckily, he's got a friend like Drizzy, who's there to support him through this hard time with over-the-top gestures.
But why was Drake there exactly? As the "Baby" video gets ready to celebrate its 7th anniversary next month, it's time to get to the bottom of that blink-and-you'll-miss-it guest spot. Here's what I know: Bieber and Drake are friends. Last year, Bieber was spotted celebrating the release of Views in Toronto by giving Drake plenty of hugs. But, were the two actually friends before Drake's "Baby" appearance? That's harder to answer.
Despite my Google searches, it appears Drake never really spoke about why exactly he was in this video. Basically, your guess is as good as mine. My guess? His cameo wasn't really much of a story, but instead was a way to promote two up-and-coming artists who happened to be on labels that were owned by the Universal Music Group.
Drake's "Baby" appearance pre-dated the release of his 2010 debut album, Thank Me Later. This video wasn't just the introduction to Bieber as mainstream pop star, but introduced the world in some small way to a Canadian soap opera actor, who got rich off a mixtape and got a co-sign from Lil Wayne. Drake's small scene in this video was likely a way to show off their rising talent. It was a simple, not to mention cheap, way to advertise their roster at a time when the internet wasn't thirsty for Bieber or Drake content. My, what a difference seven years can make.
It seems that the two have continued to show their support for one another ever since the video. Most of the time, it's musically. In 2012, Bieber and Drake recorded a song together called "Right Here" off Bieber's Believe. Last year, Bieber remixed Drake's "One Dance." Other times, they do so unexpectedly. Two years ago, Drake shared his feelings about a Bieber and Selena Gomez reunion on Instagram by commenting on a throwback photo of the couple Bieber had posted. "Damn," Drake reportedly wrote. "Thought this was a Jelena current day flick."
While the story of Drake's cameo remains a mystery, there's another cameo from "Baby" that is much easier to explain. If you thought the girl standing next to Drake looks familiar, you'd be right. It's Tinashe, who told MTV News in 2015 that her appearance in the clip was "super random." She was asked to be in the video and she said, "'Sure.' I wasn't doing anything. So I just came and did it and I didn't really know what to expect. Drake was in it. Good times."
Good times indeed. Long live Biebs and Drizzy's friendship.