The 'DuckTales' Reboot Gets A Fresh New Look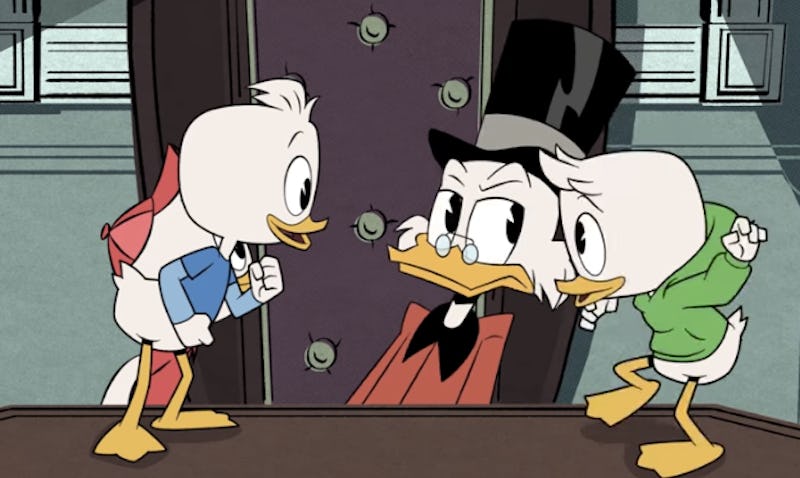 Disney
We're going back to Duckburg, and this time a GPS is leading the way. The first trailer for Disney XD's DuckTales reboot hit the internet on Thursday, and it brings a very 2017 touch to your favorite late '80s TV show. Your nostalgia-loving heart may find fault in that, but I'm here to tell you DuckTales round two seemingly benefits from its new look — and doesn't get rid of what you really loved about the original.
To begin with, the artwork is a complete departure than the Disney style that dominated the late '80s and '90s, that cohesive look that made the Disney character convergence of House of Mouse work so seamlessly. DuckTales 2.0, by comparison, has a very graphic feel. Also, while Scrooge McDuck and Donald Duck sort of retain their original character design, the baby ducklings are bobble-headed in an interesting way. And oooh, Webby has a new haircut!
The tonality is a little bit different, and you can tell this by the exchanges between the boys and the "adults" ("You're finally going to sell us"). The nephews are just a dash sassier, and as for Uncle Scrooge himself? He's desperate to get his groove back, to launch into some adventures and showcase to his nephews that he's actually kind of a badass. It looks fun, smart, and perhaps even a little bit self-aware.
There's also the amazing superstar talent behind the ducklings. Instead of having those indistinguishable kazoo-y voices ripping off their Uncle Donald, Huey, Louie, and Dewey are being cast by comedy powerhouses such as Danny Pudi of Community fame, Parks and Rec's Ben Schwartz, and SNL's Bobby Moynihan. Oh, and not to mention Garfunkel and Oates singer, Kate Micucci, is going to give voice to little Webby. It's a comedic wonderland that's really going to bring this show out of the '80s, granting each duckling with their own personality (and honestly, it'll be easier to tell them apart).
But in case you're worried, there is one element of classic DuckTales that the show kept. Around the one minute mark, you get to hear the DuckTales theme song — woo-oo! — in all its splendid glory. Granted, it is a cover, I don't want to lie to you. Perhaps half of why I love the OG theme is because it could so easily be a rejected Huey Lewis and the News song; it is very of its time. But, if you want to give it a modern facelift to keep this feeling fresh, then I'm fine with it. I just to be clear that it's not pony tales or cotton tales, you know?
Anyway, check out the actual trailer above, and get ready to embark on some new bad and good luck tales with your old-times favorites.