These 'Stranger Things' & Eggo Tweets Are So Funny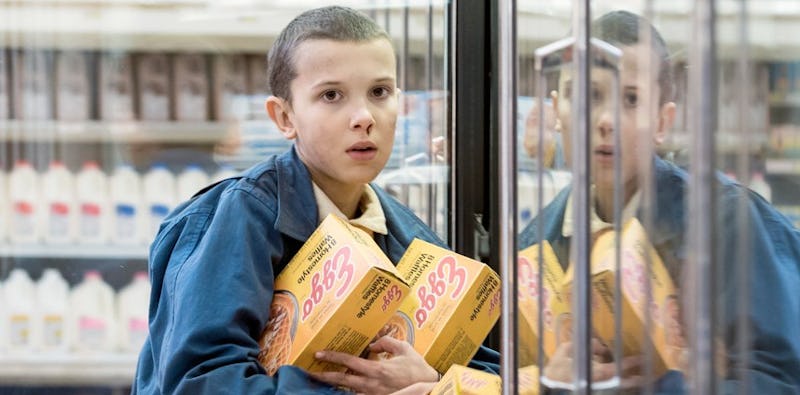 Netflix
If any snack goes hand-in-hand with Stranger Things, it's Eggo Waffles. Eleven loves them, and they're a quintessential '80s food. So, it made sense that the Stranger Things' Super Bowl commercial started with an old Eggo ad. But, that's not where the two stopped interacting. The Eggo and Stranger Things Twitter accounts started joking with each other on the social media site.
As Mashable entertainment reporter Saba Hamedy pointed out, it was an example of "excellent brand interaction on Twitter." This is marketing at its finest, my friends. It all started with Eggo poking fun at the Stranger Things ad, which started with an Eggo commercial and then cut to the actual Netflix trailer. "TFW your commercial gets interrupted, but it's @Stranger_Things so you're not even mad. #StrangerThings," the official Eggo account tweeted.
But that wasn't the end of the interaction. Eggo then tweeted a picture of upside down waffles with the accompanying upside down text, "uıɐƃɐ sn ɥʇıʍ ƃuıssǝɯ noʎ ǝɹɐ @Stranger_Things 'ʎǝɥ" (aka "hey, @Stranger_Things are you messing with us again"), a nod to the infamous Upside Down world in the Netflix show. (Side note: How do people write upside down on Twitter? I don't get it.) The Stranger Things account was quick to apologize.
Eggo will be happy to know that yes, Eleven is back in Season 2, according to TV Line. And, hopefully she'll be eating Eggos.