This Emmys Category Has A Problem We Haven't Been Talking About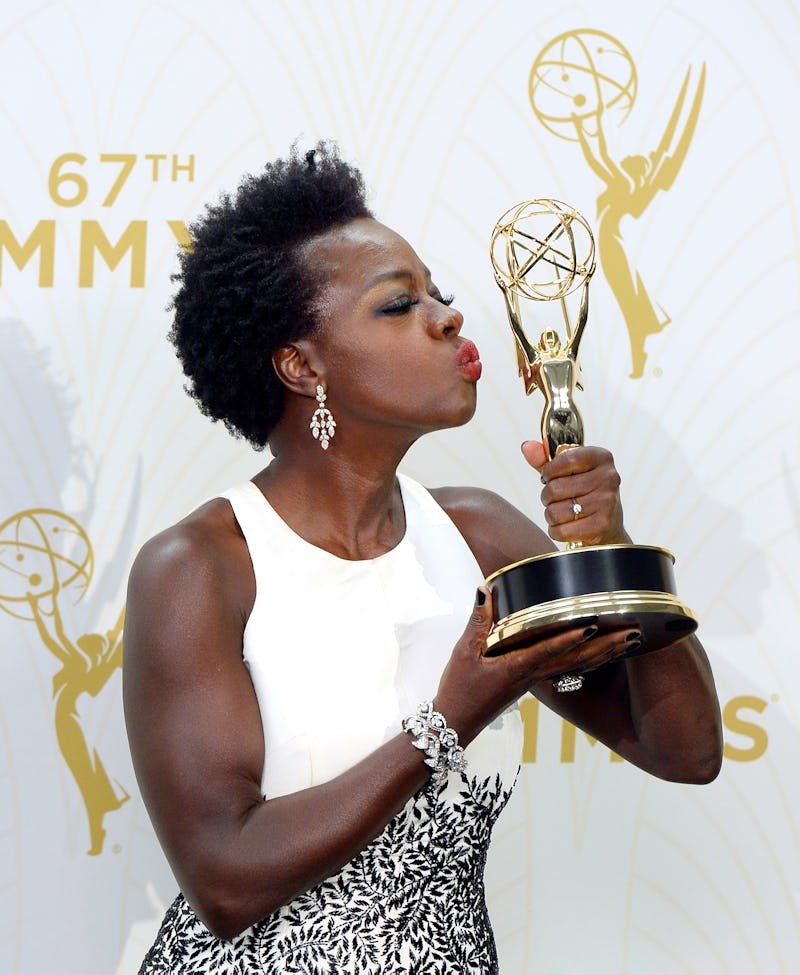 Kevork Djansezian/Getty Images Entertainment/Getty Images
Over the past few years, diversity in Hollywood has become a highly contentious issue. However, despite all of the thinkpieces and rebellious hashtags, new problems in the fight for equality come to light every day. Case in point: The Emmys' Lead Actress in a Drama category has a diversity problem — a huge diversity problem — and it's not what you might think. Though, yes, Viola Davis is the only black woman nominated for an Emmy Award in the Lead Actress in a Drama Series category in 2017, that's a separate issue. The real problem is that Viola Davis is one of the same three black women who have been nominated in this category every year since 2013.
Since the Primetime Emmy Awards first began in 1948, the ceremony's history of nominating black women has been shameful. Specifically, after 1966 when the genre-specific acting categories were introduced, the first black woman wasn't nominated for Lead Actress in a Drama Series until 1982 — 16 years later. For the next three years, this black woman, Debbie Allen, would be nominated again and again and again in an otherwise white list of actors. So perhaps it's no surprise that in 2013, 2014, 2015, 2016, and now 2017, it's either been Davis, Kerry Washington, or Taraji P. Henson consistently receiving the nomination — or two of them at a time. But that doesn't make it any less concerning.
Especially since, prior to the premiere of Scandal in 2012, there hadn't been any black women nominated since 1995, when Cicely Tyson received a nod. And since, all together, only seven individual black women have received a nod in this category in the last 51 years.
It gets even worse when you consider how few black women have never made it past the nominations. Though Allen was nominated four consecutive times for the Lead Actress in a Drama Series category, she never managed to snag a trophy. Alfre Woodard followed closely behind, receiving a nod for her participation in St. Elsewhere in 1986, but not a win. Then there was a gap until 1992 and 1993, when Regina Taylor earned back-to-back noms for I'll Fly Away, Variety points out, and went home empty handed. Two years later, the legendary Tyson would pick up a nomination for Sweet Justice in 1995 — and you can guess how that turned out.
Once again, nominations for black women in the category remained stagnant for 18 long years until Washington was nominated for Scandal in 2013 and 2014, although she, like those before her, did not win. Because the first Emmys win for a black woman in the category would be awarded to Viola Davis for her role as Annalise Keating in How to Get Away with Murder in 2015. Yes, it took until 2015 for a black woman to win if she was nominated in the first place.
The most baffling part is that it's not as if these women are the only talented black actors we have. It boggles the mind as to why more lead roles in primetime dramas aren't going to actors like Nia Long, Nicole Ari Parker, Meagan Good, or Vivica A. Fox. As you might imagine, black women have had more luck in the supporting roles in drama series, with Gail Fisher being the first black woman to be nominated in 1970 and winning the award. She was followed by 10 other black women in being nominated and four other black women in actually winning.
Being relegated to supporting roles has always been a hard pill to swallow for the black community; after all, with no positive representation of ourselves to view in pop culture, it's no wonder that, according to the Guardian in 2016, "The perceptions of young black women in everyday life may be exacerbating already high rates of depression and anxiety." So, while in some ways it may seem that we have taken steps forward, a round robin of the same women in a single category should in no way be seen as progress. More lead roles need to be created for black women in order to truly create change.
Davis spoke to that very concept during her 2015 Emmy Award acceptance speech, explaining that minority women simply can't win awards for roles that aren't there:
"The only thing that separates women of color from anyone else is opportunity ... You cannot win an Emmy for roles that are simply not there. So here's to all the writers, the awesome people that are Ben Sherwood, Paul Lee, Peter Nowalk, Shonda Rhimes, people who have redefined what it means to be beautiful, to be sexy, to be a leading woman, to be black."
Her plea for an increase in diversity was a rallying cry for something that we have needed for years. Hopefully, moving forward, she's not the only black woman to get the opportunity to speak and be recognized.