See Photos Of The Emoluments Clause Projected On Trump International Hotel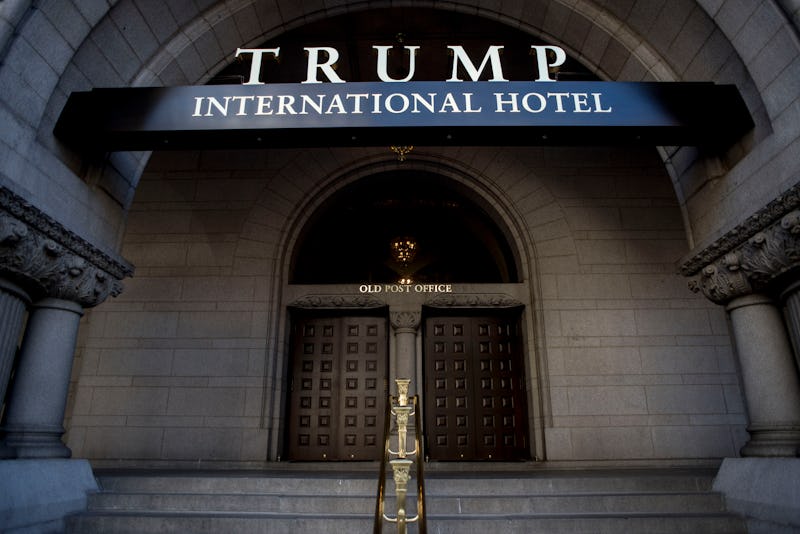 Gabriella Demczuk/Getty Images News/Getty Images
Only blocks away from the White House, a Capitol-based multimedia artist projected the Emoluments Clause across the Trump International Hotel in D.C. on Monday night, offering a fitting send-off to a night where potential constitutional crises are already on the mind of many Americans.
Coming from multimedia artist Robin Bell, who has done similar political guerrilla art installations with his company Bell Visuals, these projections seek to redirect attention to the constitutional clause barring individuals holding government office from accepting monetary payments (aka emoluments) from foreign government entities. It's a clause that many allege Trump is violating by the lack of documented evidence that he's resigned from his family brand and his baffling comments made earlier this year that "the president can't have a conflict of interest."
The projections range from a somber display of the actual text of the Emoluments Clause to the more cheeky "Pay Trump Bribes Here" with an arrow, an "Emoluments Welcome" message paired with an "Open 24 Hour" sign, or a compilation of flags from Turkey, China, Saudi Arabia, and Russia. Bell told BuzzFeed that the flags were selected by his team to represent countries his team alleged have "for sure" paid Trump money; again, Trump has denied having any conflicts of interest when it comes to his business empire. (Bustle has reached out to Bell and Bell Visuals for comment.)
Bell also told BuzzFeed that the images were displayed over the hotel's front entrance for about 10 minutes — projected from a van their team had outfitted with their gear and parked across the street — until a security guard came out and blocked the projector. He also added that it's (roughly) the fifth time he's managed to get his art on the face of Trump's D.C. hotel — again, practically in POTUS' backyard — since he took office. (FYI: His Instagram is a literal goldmine of #Resistance-themed art.)
Brief as the display was, the message certainly left a mark. Photos of the installation quickly garnered tens of thousands of shares on Twitter, while (call it serendipity or karma) a bus full of tourists also reportedly stopped to take in the view IRL while the display was still up.
While it's admittedly difficult to remain steadfast (and consistently angry) in the face of a barrage of controversial political headlines, I'm hoping bad-ass artists like Bell and his team will stick around and remain up to the difficult task of making sure Americans remember all the things they're resisting.