Everything You Need To Remember About 'The End Of The F***ing World' Season 1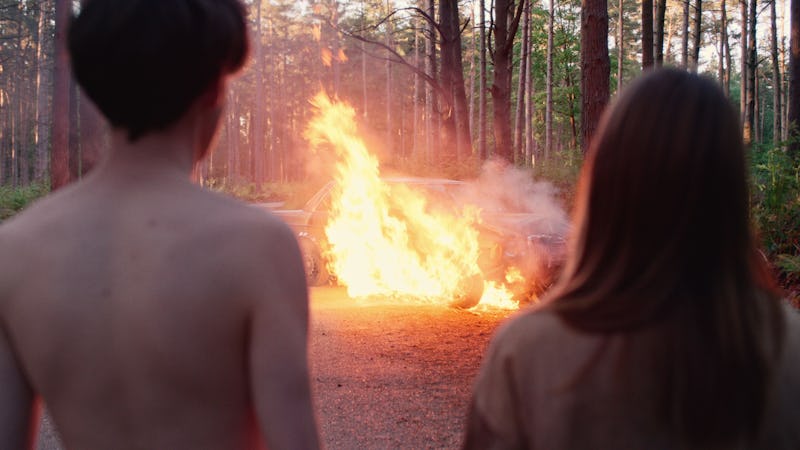 Netflix
The End of the F***ing World's first season concluded with a pretty memorable cliffhanger: James (Alex Lawther) having seemingly been shot after being cornered by the police. What might be less memorable, however, is all that led up to that shocking final moment. It has been a full two years since the show was released, so if you find yourself in need of an End of the F**king World Season 1 recap before hitting play on the new episodes, you likely won't be alone.
Let's start with the basics. When we meet James, a 17-year-old living in England, he's convinced he's a psychopath. He's grown bored of killing animals, and decides he'd like to move on to people. So, he selects his irreverent classmate Alyssa as his target, and the two enter into a romantic relationship. When Alyssa suggests they leave town together in order to get away from her cruel step-father, they embark on a road trip to track down her biological dad, with James merely biding time until he can make his move.
His plans go out the window, however, when they break into the house of an author by the name of Clive Koch and discover a great deal of evidence that he's a serial rapist. Koch attempts to rape Alyssa upon his return home, and James kills him – learning very violently that he doesn't like killing as much as he thought he would.
After having killed Koch, the two flee and leave his body and evidence of his crimes to be found by police. Koch's mother returns home and destroys the evidence of Koch's crimes, then calls the police to report her son's murder. Detective Constables Eunice Noon and Teri Darego are put on the case, and they begin retracing James and Alyssa's footsteps. James and Alyssa continue to go on their outlaw road trip, which includes getting arrested for stealing underwear and holding up a gas station with a fake gun.
When James and Alyssa finally make it to the house of Alyssa's biological father, it doesn't take long for him to learn of their many crimes, and he secretly calls 999 (the English 9-1-1) to try and trick them into confessing. James acquiesces, but lies to make it seem like he's solely responsible, and that Alyssa wasn't involved.
At this point, Noon catches up to the two sans Darego and attempts to coax both teens into confessing to Koch's death. Alyssa knocks Noon out and the teens try to make a run for her father's boat, but are unable to use it to escape. James, seeing that an armed response unit is closing in on them, knocks Alyssa out and runs for his life. A gunshot rings out and the season ends.
So was James shot? Will Alyssa have to live with her domineering step-father or did she get to stay with her biological father? Did the two teens become minor celebrities? Did someone do a true crime podcast about them? The End of the F**king World's first season left a lot of questions hanging in the balance, which means Season 2 will have a lot to answer when it hits Netflix Nov. 5.