Why The Female Makeover In 'Queer Eye' Season 2 Is Going To Make You Cry Even More Than Usual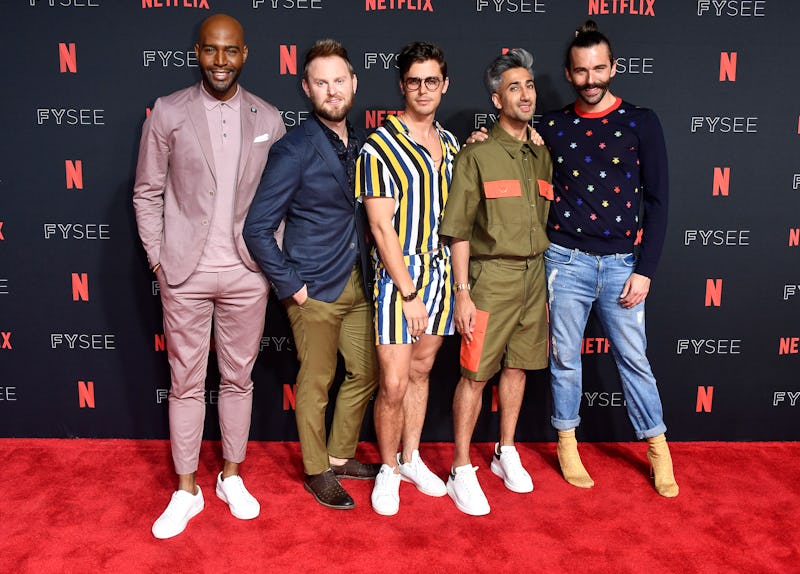 Frazer Harrison/Getty Images Entertainment/Getty Images
The second season of Netflix's hit reboot of Queer Eye is dropping next week, and it's going to come in with a bang. Queer Eye Season 2 features makeovers of a woman and a trans person — both franchise firsts — and according to the Fab Five, the new batch of episodes are as emotional and impactful as ever. At Netflix's Queer Eye event in LA, members of the Fab Five teased what makes the female makeover episode and more Season 2 transformations so special.
"If there's one [transformation] that meant the most to me, I would have to say the first [episode] with our first woman," says culture expert Karamo Brown. "It was amazing. It was exceptional."
Design expert Bobby Berk adds that the episode, which focuses on Tammye, an African-American school teacher and cancer survivor, goes even deeper on how religion intersects with sexuality. "Remember the Bobby Camp episode with all the kids, where we really touched on religion? This goes even further," he says. "I have a hard time with religion, I used to be super religious, so was a very hard episode for me. I almost didn't do it. It was very, very emotional."
Antoni Porowski, the Fab Five's food expert, calls the episode profound and intimate, explaining that there's a significant takeaway for any viewer, no matter how devout or apathetic. "There's a really important lesson there that I think everybody could [learn from]. I feel strongly about that one," he says.
In the episode, Brown says the Fab Five not only transform Tammye, but her son, too. "That's really where I come in, helping him while helping her. It's emotional, amazing, people are going to relate to it," he says. And what also makes the episode so unique is that Tammye's makeover impacts more people than just her immediate family. "I actually help an entire community, I create a space that an entire community gets to enjoy," Berk says excitedly. "From kindergarten kids to a retirement community, it was really a space that a whole town in Georgia is now able to use as a center for people in need."
Porowski adds that yet another dimension of the episode is how it turns the tables a bit. "It's not necessarily teaching, because it's someone who has spent her whole life as a teacher, a mother, an integral part of her church," he explains. "So for us to show up and just be helpers and to have someone show us such unconditional love... it was really showing up for the hero."
Season 2 is also making Queer Eye history by featuring its first-ever transgender person, Skylar. Not only do the Fab Five think it will seriously impact viewers (which episode hasn't, though?), they admit even they learned a lot from the experience. "Our trans brothers and sisters go through such a struggle, so much that we can't even comprehend," Berk says. "It was really eye-opening and educational for us to find out kind of what they go through and what we can do to help."
Porowski says that he and fashion expert Tan France were perhaps the least familiar with the trans community going in. "For some of us, we were a little more versed in that whole topic," he says. "Tan and I came in like green little tomatoes, like curious students wanting to learn. I learned a lot. They're there to teach us as well." The cast is eager for Skylar's episode to open minds and help prompt many important conversations.
"Our trans episode is going to change the conversation within America," Brown says. "Especially those right-wing individuals who don't understand the trans community." Brown would know — his conversations about race and politics in America with a Trump-supporting cop in Season 1 made for compellingly raw, socially conscious TV.
Berk is hopeful that seeing Skylar's journey on screen will open viewers' eyes, as well. "I hope [seeing what Skylar's been through] helps trans people to have a better life," he says. "It's harder for people to accept things they don't understand. There was a lot about the trans community I didn't understand."
Additionally, Brown can't wait for fans to see the episode where the Fab Five take on an immigrant and a father. "We connect on being dads. It's like something people don't get to see," Brown says. "We always hear about mom guilt and moms' issues, but we really don't see dads at the same thing," he says. And, perhaps unsurprisingly it'll get the tears flowing. "We dive deep. I'm definitely going to make people cry, I made him cry within the first three minutes," he says.
Lastly, Jonathan Van Ness, the grooming expert and creator of so many iconic slogans, teases one of his favorite Season 2 episodes, one with a man named Jason. "Initially, when we got into that episode, what we thought was going to happen... we were all like, 'No,'" he says cryptically. "We all had this amazing sense that there was a deeper connection and something going on deeper than what we thought. And that ended up being true."
While the fan-favorite series continues dominating conversation, especially with the addition of its first woman and trans hero, the heart of the show remains the same. And as Van Ness puts it, we're all in it together. "It has the format of a makeover show but it really is about us connecting about things we're all passionate about," he says. "Everyone comes out with their own gorgeous experience." The season hasn't even dropped yet, and our lives are already better.