This Feminist Font Advocates Gender Equality With Each Letter & You Can Download It For Free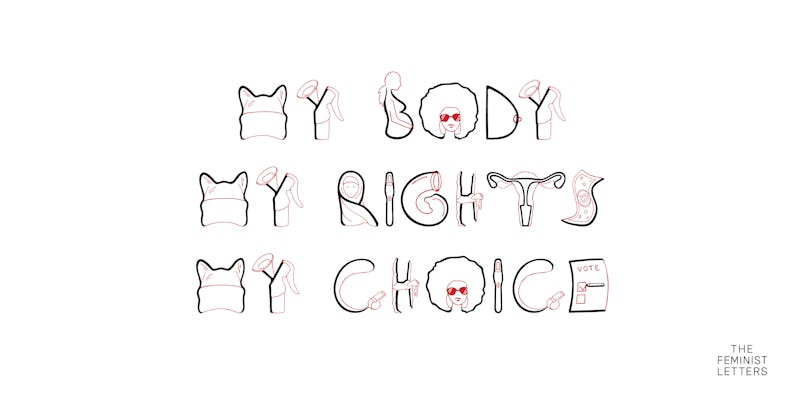 The Feminist Letters
Organizations and campaigns like #TimesUp and #MeToo aren't only raising money and awareness, but they're inspiring women everywhere to take action, too. But Leslie Sims, Chief Creative Officer of global advertising agency Young & Rubicam (Y&R), came to the realization that we lack a physical language that encompasses all the issues that women face, every day. And in that moment, The Feminist Letters was born.
The Feminist Letters, or TFL, is a font that aims to give all activists the creative and engaging means to speak out on the topics that they are most passionate about. "When it comes to political activism, people make their voices heard through letters, emails, signs, spoken word, social posts," Sims tells Bustle. "TFL creates a fundamental language centered on the values and issues driving today's feminist activism. We wanted to create a font that speaks as courageously as the voices we hear from women everywhere." In a world where political and social issues have become divisive, TFL is a tool to unify communities and their movements.
Sims always had an interest in activism, finding brands like REI, which closed on Black Friday, to the Parkland students who continue to valiantly fight for gun control legislation, incredibly inspiring. As a member of a creative industry, she begun to explore how she could use her acquired skillset for good — to create and implement change. Her goal was simple: a font set that would prompt people to contact their state representatives.
"On thefeministletters.com, advocates can tweet to their representatives using each letter in the font," Sims says. "The site auto-populates your representative based on your zip code, and provides relevant information about bills and laws that directly impact each feminist topic." Additionally, each letter represents a specific issue, through both the design and what the letter stands for, in order to further call attention to the reality of the large span that the women's rights movement covers (for example, E is for elections, and V is for voting). By selecting a letter, you are actively learning background information and factual evidence about the relevant legislation of that issue. It's informative, progressive, and its sleek, cool look is perfect for your tweets and Instagram stories.
American women today continue to face a plethora of issues, from the persistent wage gap, which especially affects women of color, to limiting state access to birth control. Action is now a fundamental part of enacting the change the country seeks. "We want to put representatives in office who will advocate for women's rights," Sims says. "We want to act as a megaphone and a unifier that makes feminist voices a little louder."
It's no wonder Planned Parenthood was quick to endorse the TFL's influence. The women's health care provider has immediately gotten behind the Sims' message, especially emphasizing their gratitude for their partnership. "The Feminist Letters help us demand that our representatives fight for gender equity and stand with feminists on critical issues so entwined with our livelihoods, like sexual and reproductive health and rights, support for sexual assault survivors, equal pay, and getting more women elected to office," Laura McQuade, President and CEO, Planned Parenthood of New York City, said in a statement shared with Bustle.
So why should people download TFL? "If you think women deserve equal rights and opportunities, you should download this typeface," Sims says. "Feminists are already speaking out, so why not do it in a typeface that really speaks out?"
Your use of language already holds more power than you realize — words have always been a incredibly potent tool when it comes to the history of our democracy. TFL takes that one step further, by both educating and driving their users to create they change they want to see in 2018.