The Final 'Fifty Shades Freed' Trailer Is Here & It's... A Lot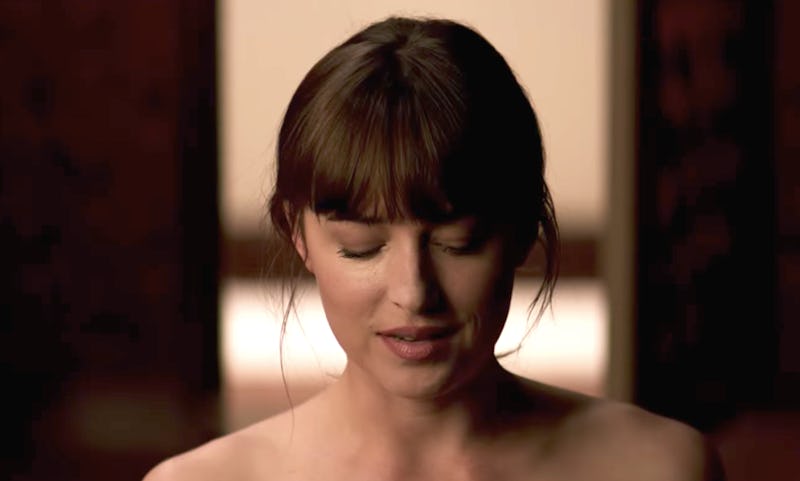 Universal Pictures
If you're susceptible to the charms of Christian Grey, then prepare for total annihilation. The latest song in the final Fifty Shades Freed trailer adds an undeniably sensual soundtrack to the collection of clips, but what is it? That's easy, sort of. It's a cover of the 1987 jam you just know multiple honeymoons were celebrated to, the sultry INXS' "Never Tear Us Apart" (complete with the erotic staple of any track of that decade, a saxophone solo). Of course, this poses the question of who actually sung the slowed down, minimal cover of the pop song.
Relatively new-on-the-scene musician Bishop Briggs confirmed that she is the mysterious vocalist behind your new go-to date night track in a tweet, writing "When u wake up & ur cover of 'Never Tear Us Apart' by @INXS is in the NEW TRAILER for #fiftyshadesfreed." If you're not familiar with the British, L.A.-based star, you might know her from her gently anthemic October 2017 single "Dream," her delivering the opening performance on the main stage at the 2017 Panorama Festival in New York City, or her performance at Coachella in 2017. But if you've never heard her work before, then her INXS cover is a pretty thrilling place to start.
The film's inclusion of Bishop Briggs is noteworthy, because the Fifty Shades films have a history of curating some of the biggest pop stars around to make their soundtracks. With over 30 thousand followers on Twitter, the "Wild Horses" singer isn't exactly an indie artist, but it's worth observing that she's only made one album so far, and, in terms of prominence, hardly comes close to her predecessors. Consider, for example, how Taylor Swift and ZAYN collaborated on "I Don't Want To Live Forever" and Nicki Minaj and Nick Jonas teamed up for "Bom Bidi Bom" for the Fifty Shades Darker soundtrack while John Legend contributed "One Woman Man" for the same album.
The soundtrack for Fifty Shades of Grey was the same story, boasting a huge number of high profile artists. Listeners were gifted with not one but two Beyonce tracks, including "Haunted" and a remix of "Crazy In Love" while Ellie Goulding ("Love Me Like You Do") and The Weeknd ("Earned It", "Where You Belong") also contributed tracks.
If you were wondering how the story can possibly continue now that the pair are getting hitched in what looks like a traditional happily ever after, from the looks of the trailer, complications will abound. There's a hot architect flirting brazenly with Christian while ignoring Ana ("Call me Mrs. Grey"), trouble with our heroine's deranged former boss Jack Hyde, and the newly wed developing suspicions that her BDSM-loving husband may have been unfaithful to her. But, hey, the course of true love never did run smooth, and what would Fifty Shades be without dashings of high-octane drama? Or, for that matter, S&M — which happily seems to be present and accounted for in among the fairytale wedding shots of Ana looking glowing in a veil.
Potentially, these lashings of drama have been included in the trailer thanks to the underwhelmed reaction to the second movie in the series, with Fifty Shades Darker scoring just 10 percent fresh on Rotten Tomatoes and with The New York Observer speculating that potentially even Fifty Shades fans didn't like the film. The critic acidly observed that, "I saw it on its opening day in New York and counted only 15 people in the audience, including myself."
Still, from the looks of things, the new film has enough action and risqué sex scenes to lure back any disappointed fans. Plus, Bishop Briggs' cover means you won't be able to get the trailer out of your head. So, buckle up for February 9, when the movie drops. It's going to be a hell of a lead up to Valentine's Day.