You Can Soon Buy The First 6 Baby-Sitter's Club Books With The Original Covers Again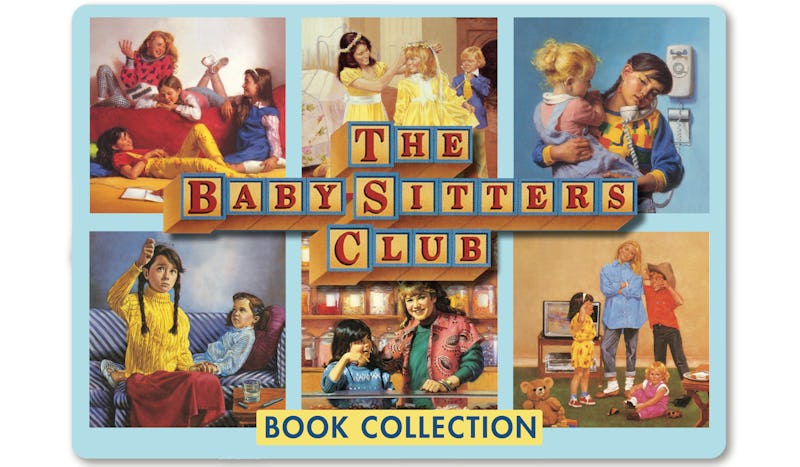 When rumors first started going around that The Baby-Sitters Club could be headed back to TV, fans of the mega popular Scholastic book series and the original '90s show were thrilled by the possibility. Unfortunately, the new adaptation has yet to find a network to call home, and while that may have many B.S.C. fans disheartened, I do have some exciting news to cheer them up: a brand-new retro set of The Baby-Sitters Club books featuring classic covers is hitting shelves this August, and it even comes in a cool tin case. I don't know about you, but I've already added this nostalgic collection to my holiday wishlist.
On July 5 The Baby-Sitters Club author Ann M. Martin took to Facebook to share exciting news with fans of her iconic series. "Coming this August 28th, BSC books #1-6 will be available — with the classic covers — in this retro tin," she wrote alongside images of the product and pre-order information. "I can't wait!"
The official Scholastic Instagram page also announced the upcoming release. If the reactions from readers on Martin's Facebook post and comments on Scholastic's image of the set are any indication, readers young and old aren't just excited about this throwback collection and the opportunity to relive their childhoods. They're ecstatic.
So, what exactly does this amazing collection entail? According to the product description, The Baby-Sitters Club retro set will include six original B.S.C. titles, Kristy's Great Idea, Claudia and the Phantom Phone Calls, The Truth About Stacey, Mary Anne Saves the Day, Dawn and the Impossible Three, and Kristy's Big Day. Each book features its original illustrated cover, and they come inside of a totally rad tin case.
The Baby-Sitters Club Retro Set by Ann M. Martin, $37, Amazon (Pre-order)
The Baby-Sitters Club series debuted in 1986 with Kristy's Great Idea, a heartwarming story about a group of four best friends who decide to start a group babysitting service so they can have fun, make money, and do what they do best: care for kids, and for one another. Although it was originally only supposed to span four titles, The Baby-Sitters Club has grown to approximately 250 books and has inspired a TV series and a full-length feature film. It was also the very first children's book series to appear on the USA Today bestseller list. To date, The Baby-Sitters Club has more that 176 million books in print and is considered to be one of the most successful series in publishing history.
Beyond its many publishing and sales accolades, The Baby-Sitters Club has been and continues to be an incredibly important series in the lives of countless young girls who grew up reading them, myself included. Filled with plenty of empowering feminist lessons for young readers, The Baby-Sitters Club inspires girls to chase their dreams and shape their own destiny. Though it can be fun and silly, the series often tackles serious issues, and in doing so, The Baby-Sitters Club helps readers better understand how to deal with conflict, how to cope with loss, how to navigate illness, how to confront racism, and how to heal from trauma. No matter what the story, each installment in the series served as a glowing example of strong female friendship, and how important it is for women to lift each other up.
A truly beloved book series, The Baby-Sitters Club is a timeless series about love and friendship, bravery and courage, dreams and growing up. Now, fans can revisit each one in their original form with The Baby-Sitters Club retro set, on shelves — and in an original tin! — Aug. 28.