Fans Have THOUGHTS About The New Barry & Iris Teased In The "Elseworlds" Trailer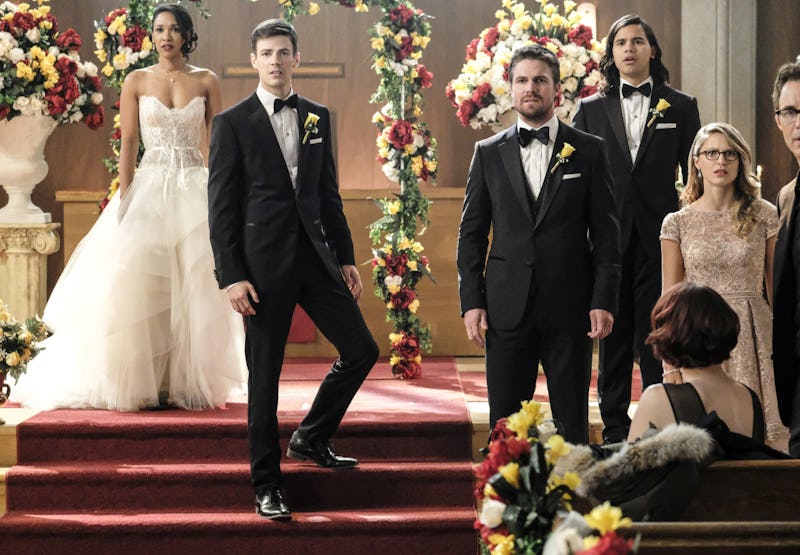 Bettina Strauss/The CW
There has been much speculation about this year's Arrowverse crossover, and not much has actually been released about the series of episodes. But now, despite being very short, the first Arrowverse crossover "Elseworlds" trailer brings a first real look at what's in store, and it teases a new kind of Barry Allen and Iris West, as played by Stephen Amell and Candice Patton.
Fans of the Arrowverse know that Amell plays the title character on Arrow, Oliver Queen, who is currently married to the love of his life Felicity Smoak. And they also know that Patton plays Iris West, who is now married to the love of her life, Barry Allen (aka The Flash). So some might be shocked to see that the new "Elseworlds" teaser actually shows them smooching, and not because they both got divorces from their respective partners. No, it's because Oliver is actually now Barry Allen in whatever alternate universe "Elseworlds" is going to throw them in.
In the 20 second clip, Oliver Queen wakes up, confused, in Barry and Iris' bed. There's an obviously photoshopped photo of the two of them (Oliver and Iris) on a shelf. To his utter shock, Iris kisses him and acts as if nothing is unusual, calling him "Babe," and worrying about why he's standing in their dining room in a trance with a dumbfounded look on his face. It's revealed at the end of the trailer that he's actually Barry Allen, despite obviously knowing otherwise. It's a lot to take in — for both Oliver and the audience.
Amell and Grant Gustin have been posting on social media about the crossover for weeks, revealing that Oliver would step into The Flash's shoes (or suit, rather) and that Barry would be the Green Arrow for the crossover event. Except now, thanks to the new trailer, fans know that Oliver is aware of the weirdness of the change, which begs the question, is the real Barry Allen also aware of this new Freaky Friday twist?
Per usual, the fun is still going even after the trailer. Amell tweeted at Candice Patton, just with a coy "Hey," and an image of him looking scared as hell to kiss her. Patton responded with a friendly wave back.
There were a lot of mixed reactions to the new trailer from fans, with many objecting to this new unholy coupling. Some complained that this was merely a repeat of last year's Arrowverse crossover, "Crisis on Earth X." Those episodes also featured alternate versions of some favorite DC characters, including evil versions of Arrow and Supergirl (Dark Arrow and Overgirl, respectively), who were a couple. So, even though no one is evil this time, the concept of an alternate reality in which couples get mixed up is kind of a redo.
Meanwhile adamant WestAllen shippers (that's Barry and Iris' ship name) were particularly upset with this new twist.
As for where Supergirl fits in to this alternate universe, odds are, since Benoist was seen in her regular Supergirl outfit on set, she's the regular Kara we know and love. This could mean that the possible reason Oliver and Barry are all topsy turvy has something to do with a new villain on Earth 1. Kara (and presumably Ruby Rose's Batwoman) are on Earth 38, so they might not be affected.
Fans won't get any more answers until a longer trailer comes out or the episodes start airing on Dec. 9 — whichever comes first. Till then, hopefully you enjoy that photo of Oliver looking down at Iris, terrified, that his buddy, the real Barry, won't hate him too much for kissing her.