Don't Forget, Rachel's The One Making The Calls On 'Bach'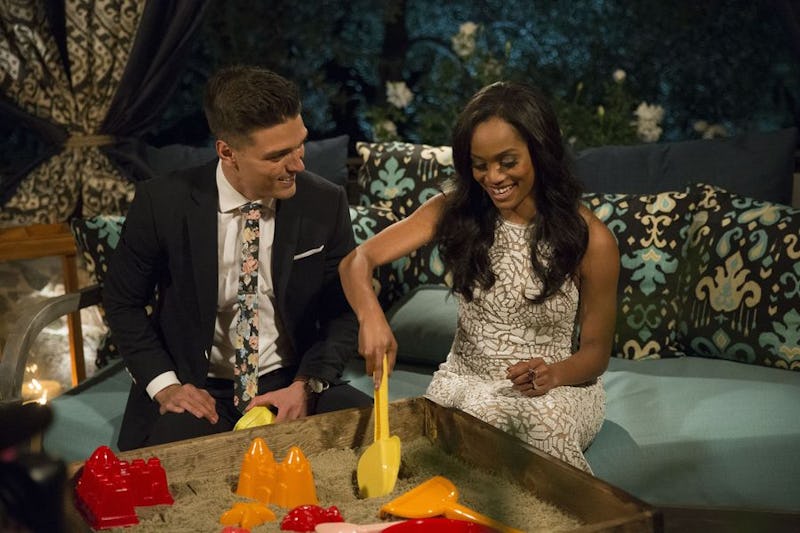 ABC/Paul Hebert
Admit it: You love The Bachelorette because you get to harshly judge contestants without the responsibility of impacting the outcome. We all sit on our sofas, declaring which men should go home immediately, which guys are just there for the potential of selling detox teas on Instagram, and which suitor the Bachelorette should marry, knowing full well that the show has already been filmed and these decisions have already been made. We know we can't change anything, but we also know exactly who our Bachelorette should pick. But for Season 13, one judgement should be reserved: any judgement regarding the race of the men that Bachelorette Rachel Lindsay decides to make her frontrunners.
Rachel's position as the first black lead of The Bachelor franchise has already come with a lot of outside pressure. (For her part, Rachel told Good Morning America back in February that she "doesn't feel added pressure" stemming from her being black, but that doesn't mean it isn't being pushed on to her.) First, there's the pressure that every Bachelor or Bachelorette feels going into this situation — knowing you're supposed to find a spouse, feeling like you have to stay with that person to keep fans happy and to help out The Bachelor/ette track record. But, for Rachel, there's another huge pressure on being placed on her shoulders.
Being the only black lead the show has ever had comes with the added pressure that she could set up more firsts along the way. Not only could she put a contestant in the position to become the first black Bachelor ever, she could also pick the first black winner of the series. (For the record, any of her Bachelorette predecessors could have done this too, but the pressure is really on for Rachel, who has a far more diverse season than we've ever seen before and is also black herself.)
These ideas are something that Rachel has thought about. Speaking with The Hollywood Reporter, Rachel was asked about how she could choose the first black winner in the show's history. She responded, "That is a very common question that I get from black people. Honestly, I don't want to go into this process with any preconceived notions or any pressures to do something for somebody else. I hate to sound selfish, but it's my process."
She makes a good point. While it is great to see to see more diversity on this show — as a black viewer, I'm happy on a personal level to see a black lead — that shouldn't extend to the lead feeling pressure to also choose a minority winner. The best case outcome for this show is that the star finds a husband or wife to spend their life with in the real world, meaning that they, best case scenario, should choose their winner based on love. (Or, potential for love. Let's be real, this show only films for like eight weeks.)
This means that every lead, including Rachel, should choose the person they are the most into and who they are the most comfortable with. The diversity of Bachelor Nation should come from producers casting more minority leads and more diverse contestants. But as for how Rachel handles her own season — that's no one's decision but hers.
When it comes down to it, Rachel knows that she can't control what people say about her. She continued to THR, "I know there are going to be people who criticize what I do no matter what, but I'm just trying to not get caught up in it." The bottom line is, if Rachel chooses a white winner, she's going to be called out for it, and if she chooses a black or Asian or Latino winner, she's going to be called out for that, too. No matter, what, people are going to tell her how to feel.
In fact, Rachel has already had viewers attempt to do just that. When meeting Rachel as a surprise at Nick Viall's After The Final Rose special, contestant Dean told her, "I'm ready to go black and I'm never going to go back." Rachel laughed and said she thought the line was "great," but many viewers took to social media to voice that they thought it was offensive — which is fine. People are allowed to feel offended at whatever they see fit, but something I did notice is that many of the people who tweeted were white viewers who seemed to be offended on Rachel's behalf. Again, no matter what your race is, it's fine to feel offended at something yourself, but Rachel gets to choose what she thinks of a comment herself, and, as we see in the season premiere, she actually did think Dean's joke was a funny icebreaker. I wasn't huge on Dean's joke either, but I'm not trying assume that I know what Rachel thinks or that I can decide what Rachel should do.
How Rachel reacts to other comments about race (they're bound to come up as she's more than willing to talk about them), who she kicks off the show, and who she chooses in the end, are all up to her. The woman is already dealing with enough as it is and she's already confirmed that she's engaged. She can't go back and change the past — and it's not anyone's job to make her feel like she should have to.