Rachel's 'Bach' Season Is Going To Be About Race & That's Fine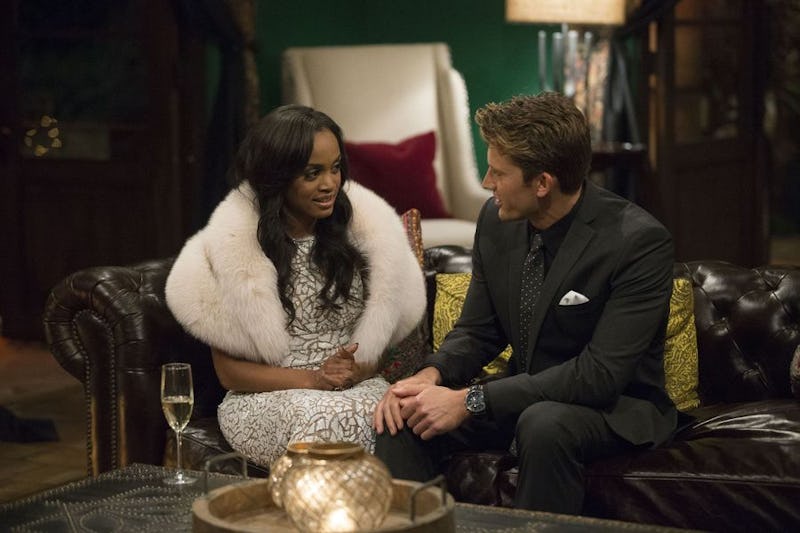 ABC/Paul Hebert
"I'm ready to go black and I'm never going to go back," said Dean, a Bachelorette contestant who met Rachel Lindsay early, as a surprise for the Bachelorette on the After the Final Rose special for Nick Viall's Bachelor season. Rachel had not even begun filming her season, and she took Dean's comment exactly as you might expect. "I love that ... That was great," she said, laughing. Unsurprisingly, many viewers were turned off by Dean's comment, and it's easy to say that Rachel was just brushing off what he said because she was on live TV. But maybe Rachel really did think it was "great." Maybe she actually appreciated that it broke the ice about something that's been clear ever since she was named the next lead of the franchise: that her Bachelorette season is going to be about race, no matter what. And, despite the pressure coming at Rachel in regards to race from all directions, that's actually a good thing.
Rachel seems to agree. As viewers of Nick's season saw, the 31-year-old lawyer was upfront when it came to talking about their interracial relationship and so was her family when Nick met them during Hometowns. This openness is something Rachel has said she plans to continue during her season.
"I always say, it's something that should be talked about. I'm happy to address it. I'm honored to be the first [black Bachelorette]," she told Entertainment Tonight of talking about race with her contestants. "With the guys, you know, if it's something new to them, then I want to talk about it the same way that I [wanted] to talk to Nick about it: 'Have you ever dated a black woman before?' ... I don't want it to be something that defines our relationship. But I think it's something important to address."
Rachel clearly doesn't feel the need to tiptoe around the topic of race, and I'm not surprised. Why would she feel like she shouldn't talk about a topic that's likely on her mind all the time, especially since she's the first black woman in this role and will be shown dating a diverse group of men?
As a biracial person, I'm always conscious of the fact that I'm biracial. If you're white, yeah, you probably don't need to think or talk about being white all the time because it's often seen as the default. It's not "different." It just is. I can't speak for Rachel, but I imagine that going on a show centered around her and not talking about race would feel like ignoring a part of herself, particularly since she's looking for a husband and, if a suitor isn't black, she needs to know how he feels about being in an interracial relationship.
But the fact that Rachel is going to talk about being black and about interracial dating isn't just important because she will be shown being true to herself and representing the stories of other non-white people who can relate to her, but because it could convey to viewers that they shouldn't be afraid of talking about race either. I was not a huge fan of Dean's "ready to go black" joke, but part of me did appreciate the fact that he felt comfortable enough to make it.
Being black, it's easy to feel like white people are walking on eggshells when it comes to mentioning things about race around you, as if any mention of something racial could be misconstrued as racism. Now, we'll have to see what Dean's deal really is (and, believe me, people on this show can really take a turn for the worst), but if a joke like this is a hint that someone is willing to speak openly about race, then that's not necessarily a bad thing. (For the record, a few days before the show's premiere, host Chris Harrison told Yahoo! that Dean felt unsure about having made the joke after the fact and was reassured by Rachel on night one that she actually did think it was funny.)
I've already seen comments online from people who don't want the season to be all about race, and I agree that the season shouldn't be all about race. It should also be about the things that have made The Bachelorette enjoyable to watch all along — like, relentlessly making fun of the show until halfway through the season you realize you actually care about these people finding love — but the idea that it shouldn't be about race at all is ridiculous.
This is a franchise that has been on since 2002 (for reference, Dubya was only one year into his presidency at that time) and it has never had a black lead. And the fact that it has never had a black lead has been talked about for almost as long. We finally got a black lead. This is great. Rachel is clearly proud of being that person. This isn't a time to just sweep under the rug that she's black, especially because the time, literally, is 2017.
With the inauguration of Donald Trump in January, the country was now presided over by a man who once said, "Maybe he should have been roughed up," in response to a Black Lives Matter protestor being beaten up by his supporters. A man who only got eight percent of the black vote. And a man who has continued to offend minorities living in inner cities. (Also, he keeps saying "the blacks." If you are someone who says "the blacks," please stop.)
The fact that Rachel's Bachelorette season is coming this year is impossible to look past. In a year when the country feels more divided than ever, particularly racially, it's more important than ever to have a non-white person leading this series. It might seem silly to place such serious weight on a show that has included this:
And this:
And this:
But this show has a ton of fans who watch every year and have never seen a black Bachelorette or Bachelor before. If any of these viewers are people who haven't been around black people very much, it's strange to think about, but The Bachelorette could be an eyeopening experience. Black women are rarely given the role of a lead love interest on television and in film, instead portraying secondary characters or ones based on stereotypes. Rachel is being shown as a romantic lead who will get to discuss her emotions and tackle interracial dating — and she's a real person, not a fictional character.
If anyone thinks that race is being talked about too much on the show or by those watching the show — and it's going to happen — there's a good chance it will be because they haven't lived an existence where race was constantly on their mind or because they don't yet understand the complexities that can come from interracial dating. As Rachel put it when telling The Hollywood Reporter about the pressure she's felt to choose a black man, "I'm not choosing a man for America, I'm choosing a man for me."
When it comes down to it, Rachel can go on the show and do whatever she damn well pleases because, now, it's her show, just like it was for all of the other women before her. And yeah, this time The Bachelorette has to be about race, because this time it's about Rachel.