The First 'Ocean's 8' Poster Is Here & It's Already Become A Huge Debate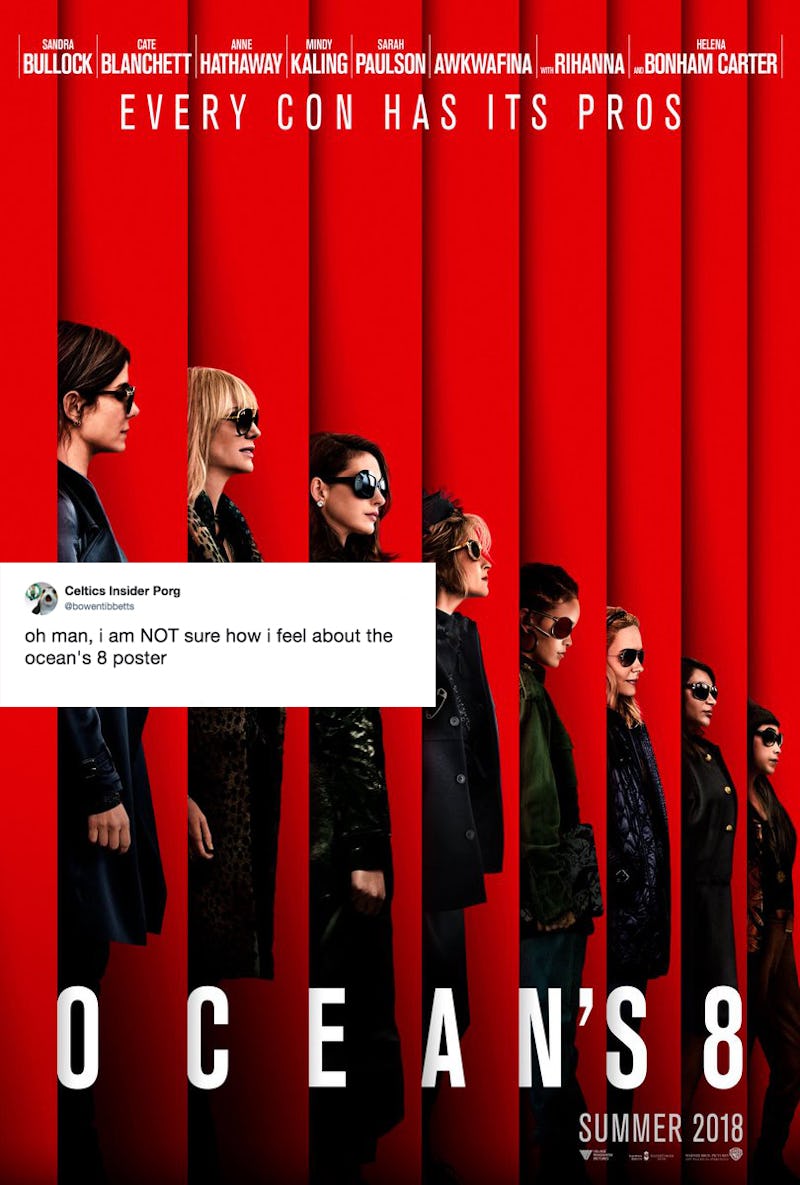 Warner Bros. Pictures
After Sarah Paulson unveiled the first all-women Ocean's 8 poster on Thursday, there was almost immediate a divide on Twitter because fans couldn't seem to decide whether they love it or hate it. The poster shows the leading ladies in formation as they prepare to embark on a journey of mischief and mystery. It goes without saying that fans of the franchise had a lot to say about the photo, and a lot of what they had to say was mixed between joy, wariness, and despair.
When it was first announced, the news of this film was exciting because Ocean's 8 is the first all-women spin-off to spawn from the beloved Ocean's film franchise, a franchise that initially featured stars like George Clooney, Brad Pitt, Matt Damon, and Don Cheadle. That trilogy came to an end with 2007's Ocean's 13, but the second coming of the Ocean's narrative seems to be powering forward with a brand new stock of star power: Sandra Bullock, Cate Blanchett, Mindy Kaling, Anne Hathaway, Rihanna, and more will have their time to shine.
Previously, Entertainment Weekly shared an official first look at some behind-the-scenes moments and revealed the plot of the movie. Bullock will portray Danny Ocean's estranged ex-con sister Debbie as she heads up a team of thieves which will played by the rest of the star-studded cast on the poster. Together, the team will attempt crash New York's coveted Met Gala to steal a celebrity's expensive necklace. Rounding out the eight Helena Bonham Carter, Awkwafina, and Sarah Paulson. And, for the most part, that kick ass line-up has many fans on the edge of their seats in anticipation of the film's trailer.
The red hot poster (quite literally, the poster is red) doesn't give away too much much other than the movie title, actors' names, and the film's release date of Summer 2018. However, it does offer viewers insight in the form of a crafty tagline that reads, "Every Con Has Its Pros." And fans, well. Fans don't know how to feel.
Some Love It
Some fans of the poster can't seem to get enough of the amazing feminine forces set to takeover theaters in Summer 2018. The photo offers a pretty exciting glimpse of what's to come, but many are already clamoring for more details on the Ocean's follow-up.
Some (Men) Hate It
There were some commenters that weren't happy about the new film and its accompanying poster. They might be swayed by a trailer, whenever it drops, but it's notable that many of the critics of the upcoming film franchise seem to skew toward being male.
Other Fans Need More Convincing
It was a mixed bag between fans who were totally here for the photo of the all-women cast and those who weren't too thrilled. And then you had fans who were somewhere in the middle, unsure how to feel. Is that excitement? Is that rage? Is that concern? Is that indigestion? The mysteries will never cease (or, perhaps, will resolve themselves only when the trailer comes out).
And Yet Others Have Some Important Concerns
While the film has done a pretty good job at casting women of color, some were not pleased with the poster's layout — as in, the fact that those women of color were in the back. And this wasn't for the first time either, as another still from the movie of the cast sitting on the subway also put the women of color in the back. (Bustle has reached out to Warner Bros. about the criticism, but did not receive an immediate response.)
No matter your feelings on the movie and it's accompanying artwork, you have to admit that it's amazing that this Ocean's franchise — which was largely dominated by men — now runs with a squad of epic women.