Chris Pratt's First 'Mom' Photo Highlights His Chemistry With Anna Faris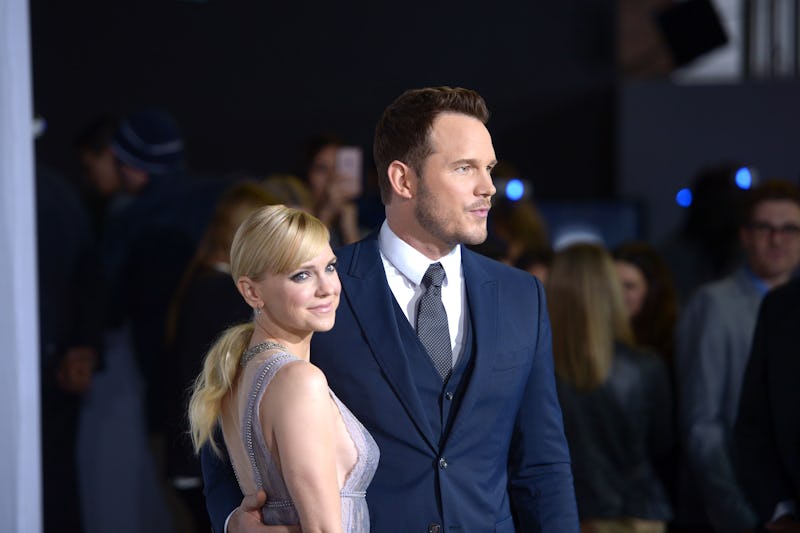 Matt Winkelmeyer/Getty Images Entertainment/Getty Images
There was no shortage of excited squee-ing when it was announced that Chris Pratt is guest-starring on Mom this season, and not just because it'd be his first post-Parks return to television as a physical character rather than a voice or a host. Pratt's spot should bring his chemistry with wife Anna Faris onto a whole different medium. And in case you think that's just hype, we finally got our first photo of Pratt and Faris on Mom, and this sneak peak at the power couple in action is certainly the stuff of dreams.
Apparently, Pratt will be playing a horseback riding instructor named Nick who ends up wooing Faris' Christy. Unfortunately, Nick happens to be the nephew of Marjorie, and, for such reasons, declared forbidden. But it's fair to say that the storyline doesn't end there, as Entertainment Weekly has provided a snapchat of the real-life couple as their fictional would-be, could-be couple counterparts. And it definitely shows them in the middle of something that'll have you clutching your pearls.
OK, no, not that, calm down. Instead, the image shows Pratt sweeping Faris off her feet — literally. Did Christy get into some kind of unfortunate accident with Seabiscuit, or is love in the air? Either way, I'm all for it, and only slightly wish I could take her place. Like, only when I'm breathing.
Even though Pratt and Faris' love is a well-documented social media balm that soothes us when it otherwise feels like love is dead, they don't frequently pair up professionally. Yes, you can see them in both 2007's '80s pastiche Take Me Home Tonight and the disastrous sketch flick Movie 43. Otherwise, though, their careers have more or less diverged. Pratt left television in 2015 with the end of Parks And Recreation and a successful rebranding as a franchise-helming hero (who thought Andy could lead a Marvel flick and a Jurassic Park revival?), and Faris has been holding court on the CBS show since 2013.
It's really exciting, then to see them join forces on something that should both showcase their comedic strengths. It isn't just some haphazard ensemble cast comedy feature. Faris is definitely the Queen of the Playground here, Pratt does well balancing both hapless idiot and mega-hunk, and honestly? There are few relationships in Hollywood that are cuter than theirs. So I really want to see them channel that here. Channel all of it into this hot, steamy, forbidden primetime TV romance.
Pratt makes his Mom debut January 19, 2017. 'Till then, we'll just retreat back into their respective Twitter accounts and grow green with envy.