Chrissy Teigen Just Shared A Photo Of Her Son & It Will Leave You Gushing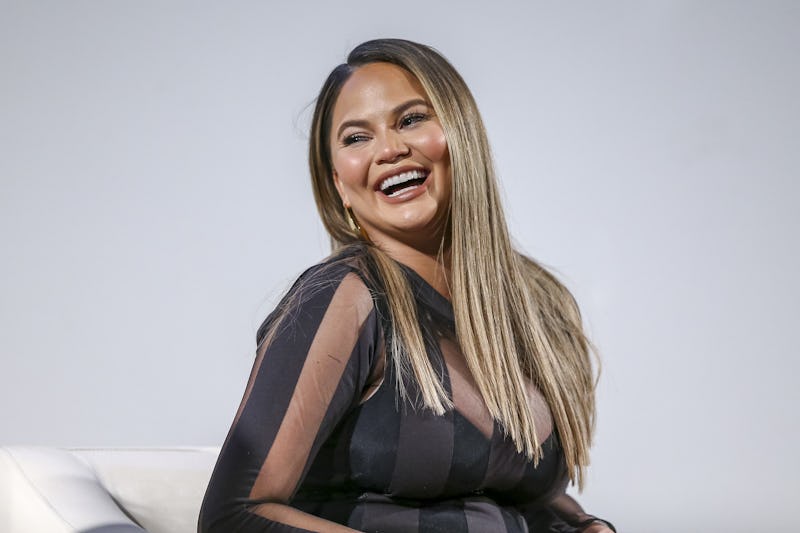 Rich Polk/Getty Images Entertainment/Getty Images
Just a few days after announcing the arrival of her baby boy, Chrissy Teigen has revealed the first photo of her son, and the first image of Luna's little brother is beyond adorable . The Lip Sync Battle co-host has also revealed her son's name, and prepare yourself, because it's all kinds of perfect. Teigen and John Legend's little boy is named Miles Theodore Stephens. See? Perfection.
Teigen captioned the photo of her tiny baby boy with this sweet message:
"Hello, world! This is Miles Theodore Stephens - We are drowning in his little peeps and nuzzles. Our household feels overwhelmed with love. Thank you for all your well wishes!"
And why yes, it does look like Miles is already smiling. That's definitely not gas, that's the look of a baby who knows he just hit the family jackpot. There's no doubt that this kid will be surrounded by all of the love that he can handle from his parents and big sister Luna.
In a tweet on Sunday, Teigen revealed that Miles arrived a little early, but she also let the world know that his birth was easier than the one she had with Luna. And she did so in her typical no-holds-barred fashion.
The new mom tweeted on Sunday, May 20,
"I can confirm postpartum life is 90% better when you don't rip to your butthole. Baby boy: 1 point. Luna: 0"
Is her Tweet TMI? Nope, just brutal honesty about the realities of motherhood, and a reason why her little guy is already on her good side. Teigen and husband John Legend welcomed their second baby into the world earlier this week. They haven't confirmed the exact date of his birth, but on Wednesday, May 16, his mom tweeted, "Somebody's herrrrrrre!"
While it's good to see that Teigen is already back to make social media a more hilarious and honest place, her other tweet about the new baby might just leave you a bit teary. In response to a fan who asked if the baby looks like Luna, she wrote,
"Same nose! He is a few weeks early so he's litttttttle and makes the teeniest noises. We are in love."
Cuteness, thy name is almost certainly Teigen-Legend Baby #2.
It's fitting that Teigen's first tweets about her son are honest, funny, and heartfelt. After Luna's birth, she suffered from postpartum depression, and she was never shy about sharing her journey with others. In fact, Teigen's mothering philosophy appears to be honesty first, and if the replies she receives to her tweets are any indication, her candid nature has made quite a few parents feel less alone.
During a February interview with Vogue, the cookbook author discussed her game plan if she experiences postpartum depression with her second child, too. She said,
"Do I worry about it with this little boy? I do. But I also know that I feel like when it does happen, if it does, I'm so ready for it. I have the perfect people around me for it. That's why I really stand for a good core group of people around."
Some of Teigen's followers were a bit taken aback by her latest tweet about giving birth for a second time, but most of the replies were from moms who appeared to be happy to have a chance to share their stories with someone. Then again, that seems to be Teigen's specialty — bringing parents together in a safe space to discuss all of the messy and unglamorous parts of raising kids.
Having Teigen and Legend gift the world with a photo of Miles so soon after his arrival is truly a blessing. This little guy is just as adorable as his sister, and he's sure to be a social media star in no time. For now, welcome to the world little Miles! Here's hoping your mom keeps the heartfelt and hilarious updates coming.