'Spider-Man' Gets A New Villain In Its 1st Post-Credits Scene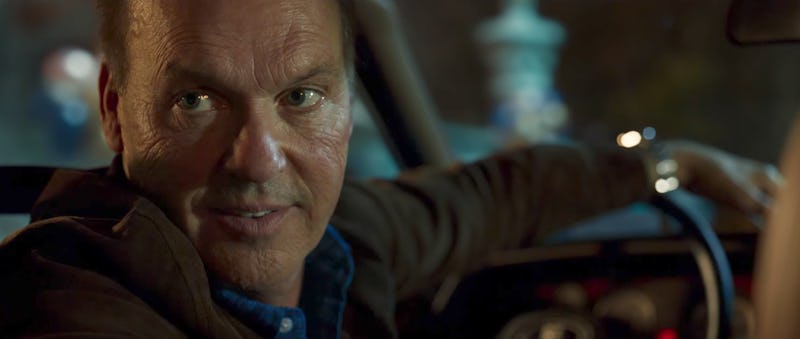 Sony Pictures Releasing
Spider-Man: Homecoming is a Marvel movie unlike any other. I mean, it takes place in high school and stars a teenage superhero with the ability to climb up walls and sling webs but can't drive a car. That said, it's still Marvel, and thus Spider-Man: Homecoming post-credits scenes are a requirement. Following in the footsteps of the Marvel Cinematic Universe's (MCU) last superhero debut, Doctor Strange, Homecoming has two post-credits scenes. And, just like Doctor Strange, the first Spider-Man: Homecoming post-credits scene teases a new villain for a potential sequel, while the second helps connect it to the MCU. Spoilers ahead.
The first post-credits scene in Spider-Man: Homecoming takes place in prison, but, don't worry, Peter Parker isn't there. Instead, it's Adrian Toomes (aka Vulture) who is behind bars. Toomes might be the villain of Homecoming, but deep down, he's just a family man. So, when his fellow inmate Mac Gargan, a man also brought to prison thanks to Spider-Man, asks him to reveal Spidey's identity so he can have his friends outside go after him, Toomes refuses. Toomes, of course, does know that Spider-Man is really Peter Parker, but he also owes him his life. It looks like Toomes is either at peace with his bad deeds and returning a favor to Peter for saving him, or he's keeping Spidey's identity close to the vest so that he can be the one to get revenge.
The scene potentially puts the villain to bed, but it also teases the birth of a new Spider-Man enemy: Scorpion. In the comics, the criminal and private investigator known as Mac Gargan becomes Scorpion after being experimented on by Dr. Farley Stillwell. The experiments turn him insane, while also making him incredibly strong, and he quickly emerges as one of Spider-Man's biggest villain. Similar to his role in the comics, it looks like the MCU's Mac will become obsessed with finding out Spider-Man's secret identity, which could very well lead him down the path to becoming Scorpion in future films.
If Mac does become Scorpion, it's possible he could be the character that would connect the Spider-Man: Homecoming universe to the planned Venom movie. In the comics, Mac's Scorpion later becomes a host for Venom, a major villain from the Spider-Man comics. Sony Pictures has already announced a solo Venom movie starring Tom Hardy in the title role, which means that Mac probably won't become Venom in any future Spider-Man movies. However, Venom's place in the MCU remains unclear, with Homecoming producer Amy Pascal telling Collider that though Venom and Spider-Man are both in the Marvel Comic Universe, they might not both be part of the same Marvel Cinematic Universe. However, in the same interview Pascal left the door open for a possible crossover, saying, "I would say who the hell knows what happens." So, make of that what you will.
For now, I think it's safe to say that the Spider-Man: Homecoming post-credits scene opens up a plethora of possible villainous roads for the MCU to travel. And, really, what more could we possibly want?