The 'Game Of Thrones' Creators Are Writing New Star Wars Movies & No, You're Not Dreaming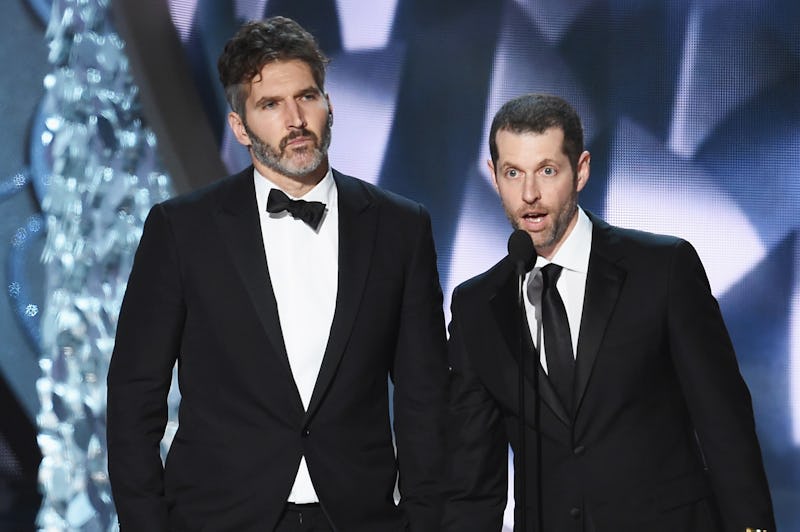 Kevin Winter/Getty Images Entertainment/Getty Images
Two epic fanbases will come together in a moment that might make pop culture explode. The Game of Thrones creators are working on new Star Wars movies in a completely new series of films for the franchise. On Tuesday, Walt Disney Studios announced that David Benioff and D.B. Weiss will write and produce the upcoming set of films. Of course, there can never be too much of an epic saga (and GoT has to live on somehow), but fans may be wondering where or how their new Star Wars movies will fit into the franchise and overarching story.
According to the press release, the installments will breathe a completely new life of their own:
"These new films will be separate from both the episodic Skywalker saga and the recently-announced trilogy being developed by Rian Johnson, writer-director of Star Wars: The Last Jedi."
Lucasfilm president Kathleen Kennedy also hints that Benioff and Weiss will possibly bring something totally fresh to the table that fans may not expect. "Their command of complex characters, depth of story and richness of mythology will break new ground and boldly push Star Wars in ways I find incredibly exciting," she said in the press release.
The creators also revealed they'll dive into Star Wars when Game of Thrones wraps its final season in 2019. And given Star Wars' rabid fanbase that's been going strong for over 40 years, they admit they're "a little terrified" by the magnitude of responsibility here. One thing is certain, they have a ton of fans rooting for them and who are probably psyched to see their big-screen work when the award-winning GoT leaves the air.
Fans are already conspiring some Game of Thrones crossovers:
On the flip side, though, fans are wondering if there's finally a fatigue growing around the ever-expanding Star Wars universe:
Others have already spoken out about the fact that both Benioff and Weiss are white men who will be at the helm of the project. Many are hoping additional crew members will be more diverse and are crossing their fingers for a female director.
The news certainly has polarizing feedback from fans, but, until the films actually arrive (probably in a few years from now), there are a ton of Star Wars movies on the way. Famed director J.J. Abrams is working on Episode IX, the next installment of The Last Jedi trilogy which will premiere Dec. 20, 2019. The film follows The Force Awakens (2015) and The Last Jedi (2017), and underwent changes following Carrie Fisher's untimely death in order to create the movie with Princess Leia's absence.
In addition, The Last Jedi director Rian Johnson is also developing Star Wars film series independent of the trilogy but still in the SW universe. When the news was revealed in November, it was reported that Johnson's stories will explore completely new characters and be separated entirely from the Skywalker saga.
But wait, there's more. During the Super Bowl, fans finally saw the first trailer for the upcoming Han Solo spinoff. Solo: A Star Wars Story has been anticipated by fans for months while details were being kept under wraps by Lucasfilm. The movie, directed by Ron Howard and starring Alden Ehrenreich and Emilia Clark, will officially be released in May 2018. That's right, Emilia Clark will be in an upcoming Star Wars film, so the worlds of Game of Thrones and Star Wars are already colliding.
There's no doubt that the GoT show runners have been faced with backlash in the past, whether due to writing, use of sexual violence in the HBO show, etc. And while fans are already criticizing the news of their Star Wars films, maybe they should give them the benefit of the doubt. Game of Thrones is pretty epic after all.