The Han Solo Trailer Is Here & Fans Actually Wish It Was About Lando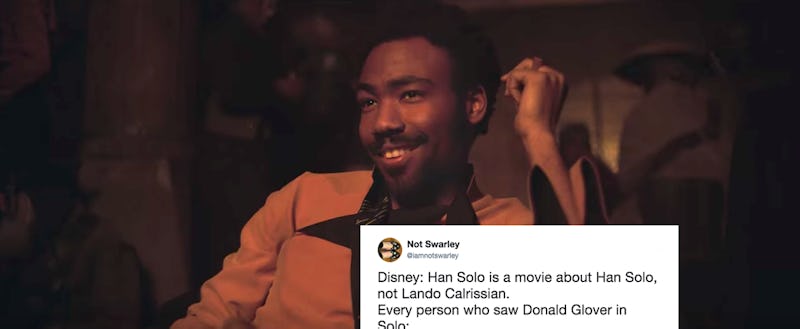 Walt Disney Pictures on YouTube/Twitter
Hot off the snippet released during Sunday night's Super Bowl, the Solo: A Star Wars Story official trailer dropped Monday. In it, fans see the beginnings of a young Han Solo's team coming together, and it already has fans divided — mostly over Alden Ehrenreich in the lead role. But whether they love it or hate the trailer, love the young Han or hate the young Han, there is one aspect that seems to have reached consensus. It may be Solo's name in the title, but it's Donald Glover as Lando Calrissian who's stealing the dang show.
The moment that the teaser dropped on Feb. 4, the internet was immediately flush with memes and tweets celebrating Glover's first appearance. Even though he was only onscreen for a brief moment of the original 45-second teaser, Lando was all anyone could talk about. That fur coat, that gaze into the distance, that stance, that amazing attitude. This was the kind of confidence that many were hoping to see from Ehrenreich's portrayal of Solo, and Glover turned it out in just a few seconds of screen time. It had many jokingly clamoring for the title of the film to be changed to Lando: A Star Wars Story, and those voices didn't get any quieter with the full trailer.
Once again, fans got only a brief glimpse of Glover as Calrissian. And once again, that was all they needed. The popular character makes just two appearances — one a suave, smiling portrait 34 seconds in, and the other a terrified reaction shot at 1:18 as the ship comes dangerously close to what looks like an enormous tentacle. Again: he's onscreen for just about two seconds of the minute and 46 second trailer.
And yet fans are here for it, heaping praise on the Atlanta star even as they argue over Ehrenreich's portrayal and the trailer at large. Many took to Twitter to share their thoughts, and literally the only — the only — thing that they can all agree on is that Lando Calrissian is lord of swag and should feature prominently in every scene of the movie.
But while it's certainly uneven, it's far from unexpected. The Solo trailer is reintroducing fans to an iconic character who's already been made famous by Harrison Ford. It's a situation that makes the job of the actor playing him both both easier and harder. On the one hand, Ehrenreich has an immense amount of history and lore to draw on; but, on the other, he has to go up against every single Star Wars fan's idea of exactly who Han Solo is. Everyone who's ever seen one of these films has an opinion, and there's no way that the 28-year-old was ever going to please them all.
Because of that, it was always going to be tough going for the young star. The more footage we see of him, the more opinions we have. So is it any surprise that trailers have universally gravitated toward Lando? Just like Ehrenreich, Glover is also recreating a character who joined the canon decades ago, but the role — created by the iconic Billy Dee Williams — never anchored the plot the way Solo did. The selfish-smuggler-turned-selfless-leader and initial owner of the Millennium Falcon was an audience favorite, but he appeared in just two films, Episodes V and VI, so audience opinions haven't crystallized.
Glover has a lot more room to make choices and win over audiences, and it's all bolstered by the fact that has yet to speak a single word. Right now, he's the coolest dude in the galaxy. He just stands there in his fur coat or lounges there with his slow smile, oozing a cool, calm capability and letting the praise roll in. It's well-deserved, of course, and much-appreciated — rarely is an element of this franchise so immediately and universally adored, so this bodes well for the final product, due in theaters Memorial Day 2018.