Ed Sheeran's 'GoT' Cameo Has A Defender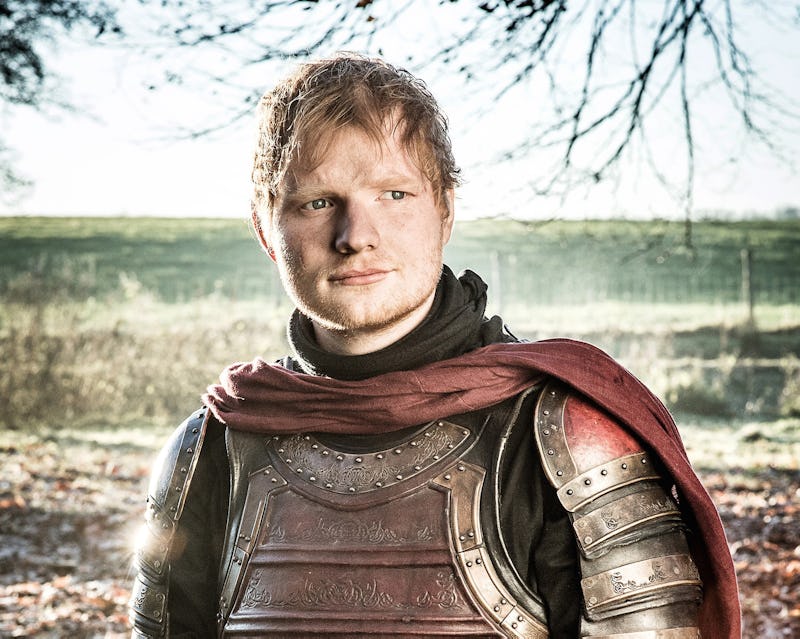 Helen Sloan/courtesy of HBO
Celebrity cameos on beloved TV shows can be a tricky business and Game of Thrones fans had a lot to say about Ed Sheeran appearing in the Season 7 premiere. Now, in an interview with Newsweek, the episode's director, Jeremy Podeswa, is defending Sheeran's cameo on Game of Thrones. If you are part of the vocal group who was not pleased with the "Shape of You" singer appearing as a Lannister soldier alongside Arya Stark, Podeswa's words just might make you feel guilty about all the criticism being thrown Sheeran's way.
Podeswa has been with Game of Thrones since Season 5 and along with "Dragonstone," he has directed five other episodes, including Season 6's Jon Snow-resurrection episode, "Home." So while Sheeran was a newcomer to Game of Thrones in the July 16 episode, Podeswa wasn't. And after Sheeran's appearance led to viewers having some seriously strong reactions on the internet — many of them negative — the director stood up for the Grammy-award winning singer.
"I think Ed did a lovely job — he's a lovely actor and a lovely person," Podeswa said to Newsweek. He continued:
"He was appropriate for the part because he needed to sing. If people didn't know who Ed was, they wouldn't have thought about it twice. The hoo-ha seems to be from things that are outside of the world of the show. In the world of the show he did a lovely job, and he looks like he belongs in that world."
While fans of Sheeran supported his time on Game of Thrones, other people went so far as to wish death upon his character (hey, it just made sense with Arya being an assassin and Sheeran being a Lannister soldier). But Podeswa blames the backlash on viewers focusing too much on Sheeran's celebrity status. "I think people interrogated it too much, they're bringing so much of his [superstar] presence into the thing which is far beyond what anybody was thinking going into it," he said.
Podeswa added, "As everybody knows, the show really eschews stunt casting — it's never, ever done that." But, as Entertainment Weekly reported, Sheeran is far from the first musician to have a cameo on the HBO drama. Gary Lightbody of Snow Patrol, Will Champion from Coldplay, Sigur Rós, and members of Mastodon have all appeared on the series before. Yet, the difference between those cameos and Sheeran's is that not as many people could point those artists out of a crowd. Also, Sheeran's appearance was lengthier and included both singing and speaking.
However, Podeswa made the point that many of the actors in the Game of Thrones cast are famous like Sheeran. "I was quite surprised about the reaction actually because I know he's very well-known and a successful singer but you're in the bubble of the show — the cast are well-known too, everybody is really well-known," Podeswa said. "None of them can walk down the street without being followed. You don't think about that very much in this context."
So for Podeswa, the only thing he regrets about the cameo is how people are reacting and how it could be affecting the star. Sheeran reportedly deactivated his Twitter account on July 18, with people theorizing that it was due to the negative comments about his Game of Thrones appearance, before quickly reactivating it. "The only thing I don't feel great about is that Ed is such a lovely guy and really genuine and down-to-earth," Podeswa said. "He came into this with only lovely intentions to come and do a good job and sing well. So I think that's the only drag."
Podeswa's defense of Sheeran definitely offers another perspective on the controversial cameo for angry fans. But no matter your opinion on this divisive moment in Game of Thrones history (Sheeran's latest album is called Divide after all), nothing will ever undo the fact that the British pop star showed up to sing in Westeros.