Details On Ed Sheeran's 'GOT' Cameo Have Arrived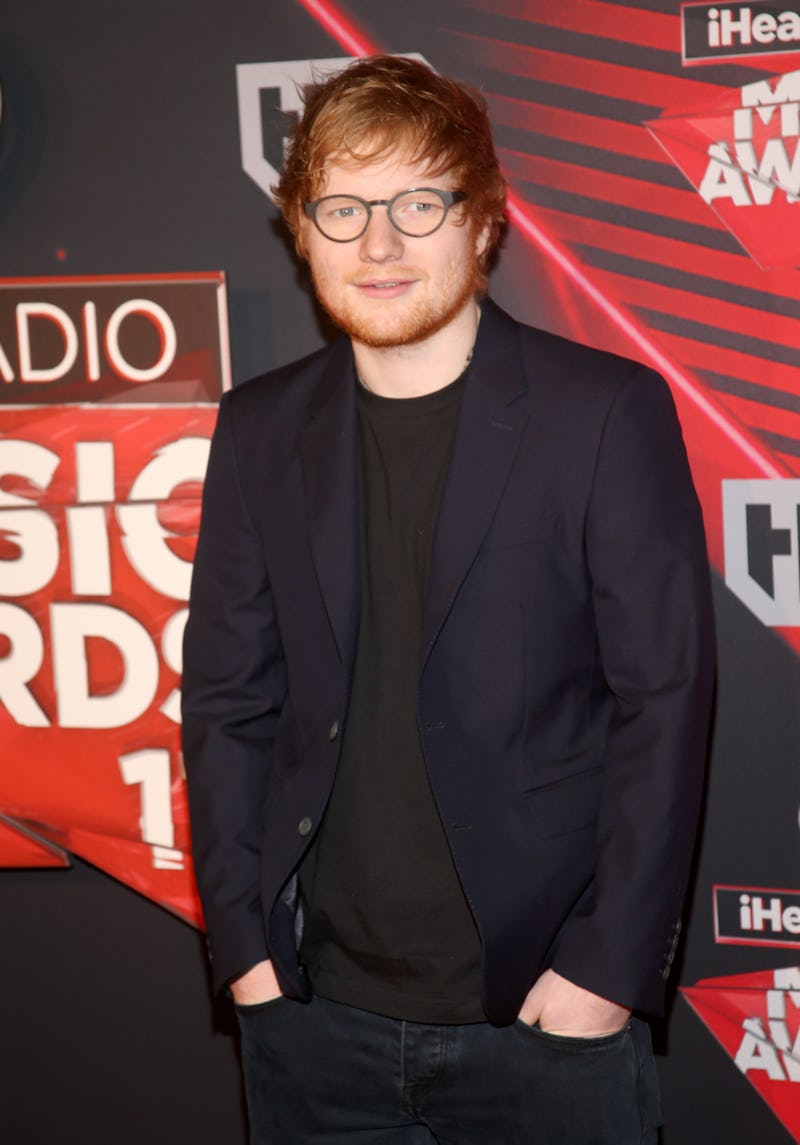 Jesse Grant/Getty Images Entertainment/Getty Images
Prepare yourselves, Game of Thrones fans. Ed Sheeran is coming to serenade Arya in Season 7, according to Screen Rant. When it was first revealed that the red-headed crooner would be joining the long list of musicians who have visited Westeros, his role in the series was unclear. Series creators David Benioff and D.B. Weiss have been trying to make a Sheeran cameo happen for Maisie Williams for some time now, according to Vanity Fair. However, I don't think anyone could have anticipated Arya and Sheeran crossing paths in Season 7.
In an interview with Tom Green on The Hits Radio, the singer went on to reveal he would be onscreen for around five minutes, and his scene will consist of him singing a song, which Arya will then compliment. It may not sound like much, but the songs featured in Game of Thrones are all packed with meaning. "The Rains of Castamere" and "The Bear and the Maiden Fair" were both significant to the plot, so whatever song Sheeran's character sings to catch Arya's attention is likely to be just as pivotal.
Given Sheeran is best known for pop ballads like "Shape of You," he's likely to sing one of Westeros' love songs (yes, they have love songs). The most likely candidate? "Jenny's Song," a haunting tune the Brotherhood Without Banners must sing to the ghost of High Heart before she will tell them about her prophetic dreams. (This would also lend credence to the idea that Arya will reunite with the Brotherhood in Season 7.)
Of course, the real highlight is going to be seeing Sheeran sing a song in Westeros that softens Arya's heart. Arya's life has been a horror show since she lost her father, and now that she's returned from her time in Braavos, she deserves nice things. And having a handsome musician sing to you is pretty high up on the nice things list, even in a world where dragons exist.
While there's still plenty to reveal about Sheeran's cameo — like where it takes place, for instance — so far it sounds like it's going to be a memorable one. In the past, musicians ranging from Of Monsters and Men to Coldplay's Will Champion have appeared, but precious few of the artists who have popped up have been recognizable. Many of them have even met grizzly ends.
Sheeran previously confirmed to Daily Star that his character won't die, so there's no need to worry about him ending up in one of Arya's pies. Instead, you can sit back and enjoy as Williams gets to share the screen with one of her favorite singers. I have a feeling this might be Game of Thrones' best star cameo yet.