Finally, 'Game Of Thrones' Fans Have A Better Idea Of When The Last Season Premieres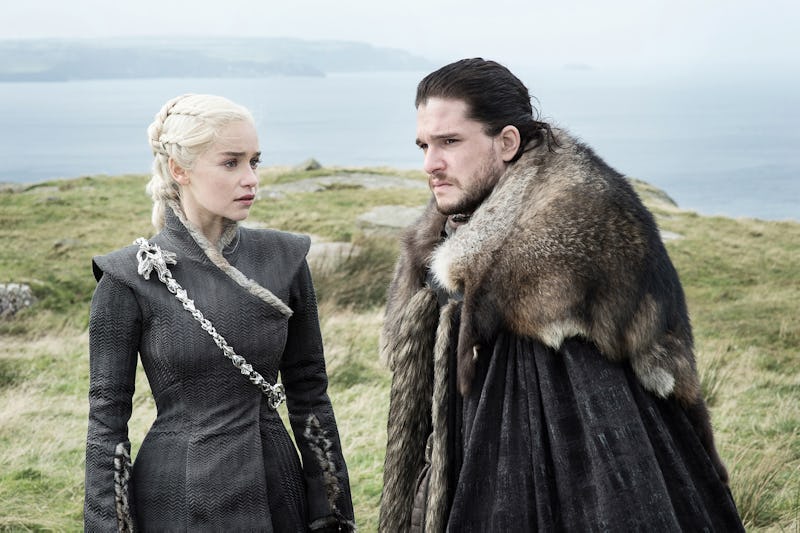 Helen Sloan/courtesy of HBO
For those out there who continue to wonder on a daily basis exactly when Game of Thrones will return for its eighth and final season, you'll be pleased to know that your timeframe just got a little narrower. While no official release date has been announced, HBO programming president Casey Bloys recently revealed at the Television Critics Association press tour when the final Game Of Thrones season will premiere, according to The Hollywood Reporter.
THR revealed that Bloys announced the final six episodes will take place in the first half of 2019, meaning fans can expect their favorite Westeros characters back on their television screens sometime between January and June of 2019, which is less than a year away. In other words: Winter is coming a little sooner than some may have thought.
Of course, Bloys wasn't at liberty to discuss any further details on the matter, especially in regards to the overall plot, though he did offer up one little teaser, stating simply that "It's pretty great." Though that's hardly news to any Game of Thrones fan. This show has proven time and time again to exceed even our most wildest expectations, so it makes sense that the final season wouldn't be any different.
But even with a new season on the horizon, the network is already looking to the future, having greenlit a Game of Thrones prequel pilot. Set thousands of years before the likes of Jon Snow, Daenerys Targaryen, and Cersei Lannister ever existed, the show is meant to focus on when humans were first forced to battle the White Walkers. Perhaps we'll even get to see how The Wall came to be built.
Recently rumors had started circulating that the prequel was gearing up to go into production in just a few months time, however, Bloys made a point of clearing the air and putting all of the speculation to rest about when fans can expect the Game of Thrones prequel to air. "I don't know where that report came from, we're hoping to go into production in early '19," Bloys said, as per Entertainment Weekly.
Saying goodbye to the original Game of Thrones series won't be easy. In fact, it'll be downright heartbreaking to part ways with so many characters we've come to love and care about. However, there's no denying that knowing another Game of Thrones project is in the works will definitely help to soften the blow, at least a little bit. It may not involve the same people, but anything involving any part of Westeros' history is certainly better than nothing at all.
In the meantime, we just need to try and be patient while waiting for Season 8 to make its grand debut. With Dany down to just two dragons and the Night's King up one ice dragon, the final installment is sure to be a must-see. And now, thanks to this latest announcement, we know we'll be getting more Iron Throne drama a lot faster than we originally thought. Is it 2019 yet?