The 'Game Of Thrones' Prequel Title Was Announced & Here's What It Means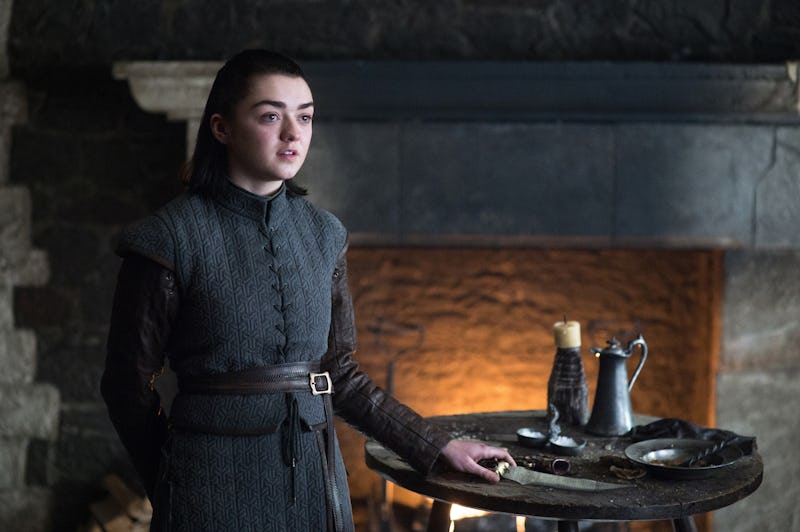 Helen Sloan/HBO
George R.R. Martin isn't one for keeping secrets, and that should make Game Of Thrones fans very happy. On Tuesday, Martin confirmed the title of the Game Of Thrones prequel, which is The Long Night. But for GoT fans who have paying attention, this title might actually be a clue as to what they can expect from the series. Hint: it'll include a bit of darkness.
"Casting is now underway for THE LONG NIGHT, the first of the GAME OF THRONES successor series ordered to film," Martin wrote in his blog post. He also confirmed the news that Naomi Watts was joining the Game Of Thrones prequel as "a charismatic socialite hiding a dark secret." While no other details about Watts' character, which as of now is still nameless and House-less, Martin did write that he "could not be more excited" about her joining. "Welcome to Westeros, Naomi," a small clue as to where the show will take place.
Martin's post also offered a clue as to what the prequel title The Long Night might mean. See, Martin had teased this name before back in June when he wrote on his blog that his vote for the then-untitled prequel written by Jane Goldman was The Long Night, "which says it all," he wrote, before assuming that he'd "be surprised if that's where we end up. More likely HBO will want to work the phrase 'game of thrones' in there somewhere."
For now, they haven't. But what this really means is that the title is the biggest clue HBO could have offered eager GoT fans. "This one really puts the PRE in prequel," Martin wrote back in June, "since it is set not ninety years before GAME OF THRONES (like Dunk & Egg), or a few hundred years, but rather ten thousand years (well, assuming the oral histories of the First Men are accurate, but there are maesters at the Citadel who insist it has only been half that long)."
According to Screen Rant, the title of the GoT prequel, which starts filming in 2019, refers to "Westeros' own personal Dark Age - a period of time thousands of years before Robert's Rebellion, when the world experienced a winter that lasted for many years and brought with it the White Walkers and their army of wights." In the series, it's actually called The Long Night.
Clearly, things are going to get dark, both literally and figuratively. "Taking place thousands of years before the events of Game of Thrones, the series chronicles the world's descent from the golden Age of Heroes into its darkest hour," according to HBO's synopsis of the show. And it's likely that darkness has to do with some of Westeros' biggest secrets and lies, which this show looks to untangle.
As to what those secrets may be, well, Martin isn't quite ready to share that with fans. Though, he did tell Deadline in July that the prequel is "a very different setting, a very different time in Westeros. It will feel different but still Game of Thrones."
In his latest blog post, Martin wrote that fans may find some clues possibly related to the other possible Game of Thrones projects that are in the works in his upcoming book, Fire & Blood, out Nov. 20. It's not a novel, but a deep dive into Targaryen history, hinting that at least one of these prequels could be about House Targaryen.
Do the Targaryens have any connection to The Long Night? Well, for now that's unclear, but knowing just how blonde Watts is, it certainly can't be ruled out just yet.