Here's Everything We Know About The 'Game Of Thrones' Prequel Starring Naomi Watts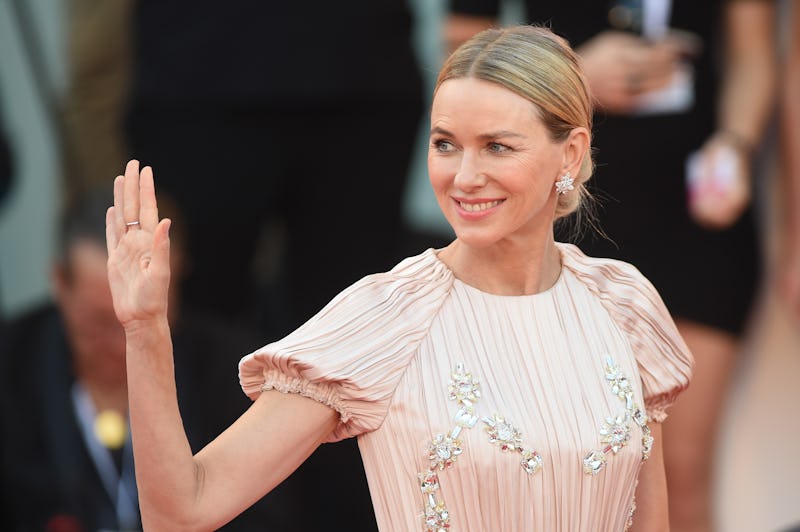 Antony Jones/Getty Images Entertainment/Getty Images
Season 8 of the original HBO series may still be months off, but it was just announced that Naomi Watts was cast in the Game of Thrones spinoff prequel, so fans at least have something to occupy their minds while they wait for the show to return. And luckily, details about the much-anticipated prequel are starting to trickle out — which is all relative when you consider how tight-lipped the GoT team is being about these projects. But in any case, some information is better than no information, so here's everything we know about the Game of Thrones prequel.
UPDATE: George R.R. Martin seemingly revealed that the prequel will be titled The Long Night on Twitter following Naomi Watts' casting. "Casting is now underway for THE LONG NIGHT, the first of the GAME OF THRONES successor series to ordered to film," he wrote on Oct. 30.
EARLIER: As you may recall, there have been as many as five Game of Thrones projects rumored to be in varying stages of development, all of which were described as prequels rather than spin-offs, as they include none of the characters that audiences have grown familiar with in the original. In June, A Song of Ice and Fire author George R.R. Martin took to his blog to reveal that while one of those previously-announced projects had been shelved, the remaining four continue to move forward. As he explained to his devoted fan base:
"If you have been following along, you know that we started with four, and eventually went to five. One of those has been shelved, I am given to understand, and of course Jane's pilot is now moving to film. But that does not mean the others are dead."
The so-called "Jane's pilot" is the project we're talking about here, and it refers to Jane Goldman, who sits at its helm. She wrote the screenplays for films like X-Men: Days of Future Past, Kick-Ass, and Kingsman: The Secret Service, also acting as a producer on the latter two. And by the sound of it, Goldman will wear many hats on the set of this untiled Game of Thrones prequel, as well; Variety reported that she co-created the series and wrote the story with Martin, tackled the teleplay solo, and will also serve as the showrunner. So, she'll be busy.
All the more reason to bring on veteran talents like Watts, who are capable of pulling their own weight. According to the new reports, the Oscar-nominated actor will play "a charismatic socialite hiding a dark secret." And that is truly all we know. We don't know her character's name, her house, whether she's human — nothing.
With her butter-blond hair, theorizing that Watts has been brought on to play a Lannister wouldn't be a bad bet. But in a world where wigs and makeup exist, it's truly anyone's guess as to what character the 50-year-old will play.
One thing that fans do know, however, is that the prequel will be set thousands of years before GoT, as revealed in the official statement from HBO:
"The series chronicles the world's descent from the golden Age of Heroes into its darkest hour. From the horrifying secrets of Westeros's history to the true origin of the White Walkers, the mysteries of the East to the Starks of legend, only one thing is for sure: it's not the story we think we know."
But even with those ominous words ringing in our ears, the only storylines that have been definitely ruled out by Martin so far are those featuring Ser Duncan the Tall and Aegon the Unlikely — Dunk and Egg, to their friends — and Robert's Rebellion. And although it will be set in Westeros, HBO's President of Programming Casey Bloys wants to be clear that you shouldn't expect any type of closure or tying up of loose ends from the upcoming project. As he told Deadline in July:
"Jane did not go into [the prequel] wanting to answer anything about Game of Thrones. It was the story that spoke to her. It's a very different setting, a very different time in Westeros. It will feel different but still Game of Thrones."
Bloys gave no more details about the "very different setting" he had in mind, but fans have already begun speculating on where the GoT prequel will take place. So far, the most popular theory seems to be that the follow-up will be set somewhere in Essos, a continent that sits across the Narrow Sea from Westeros. Fans have speculated that Watts could have been cast as a member of the Valyrian Freehold, a house of elite aristocrats whose members were extremely influential in later societies. It's a strong guess, but again, it hasn't been confirmed, so let's get back to something that has.
Watts is the first cast member to have been announced, but by the sound of it, the Australian won't be hurting for interesting costars. In that same July interview, Bloys told Deadline that the planned prequel would feature multiple leads, female as well as male. As he told the outlet:
"There are very strong female characters but it's an ensemble, there is men and women. Jane is a very good writer, [so] we don't want to limit her to writing female leads. There are a lot of very complicated leads in [the pilot]."
So basically, hold onto your hats, because there's a whole lot coming at you, and most of it is still veiled in mystery and uncertainty. But that's sort of the way things go over in Westeros. So fans will just have to deal with it the same way we always have — by staying perched on the edge of our seats waiting eagerly for each new detail that emerges.