The 'GLOW' Rap Is A New Feminist Anthem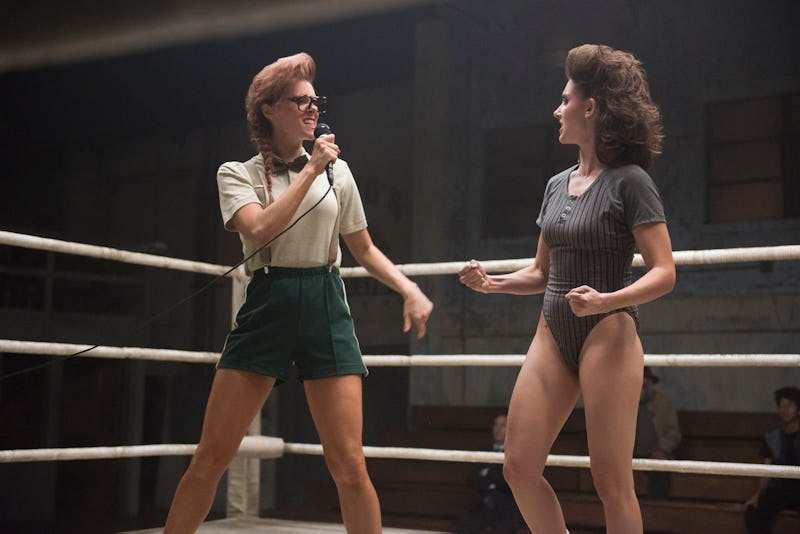 Erica Parise/Netflix
GLOW takes viewers into the beginnings of an '80s women's wrestling league, and it has a soundtrack filled with awesome songs from the decade. But in the midst of all those '80s classics are the super fun lyrics to the G.L.O.W. rap, an original song featured in Episode 7 of the series. Minor SPOILERS ahead for Season 1 of GLOW.
The TV comedy series is inspired by the start of the real-life league Gorgeous Ladies of Wrestling (G.L.O.W.). In Episode 7, British wrestler Rhonda (played by singer Kate Nash) surprises the GLOW director/her lover Sam (Marc Maron) with the news that she wrote a potential theme song for the league and potential TV pilot. She confesses to using his video camera (which she mysteriously found in her locker) to tape her performing the tune to a beat. Although Nash is a professional singer in real life, she expertly portrays Rhonda's inexperienced, but well-meaning attempt at a rhyme. "Are you rapping?" Sam asks in the scene, as he watches the video with her. Rhonda responds: "I'm speak-singing. Like Rex Harrison in My Fair Lady." By the end of the song, Sam admits it's a "pretty catchy" tune.
GLOW does not have a set theme song in the title sequence, but Rhonda's lyrics definitely match the TV series' message of empowering women.
G.L.O.W., G.L.O.W.
That's the name
Women's wrestling is our game
If we play rough, please don't blame us
Our style is wild
And you know you can't tame us
In her video performance, Rhonda even performs a set of lyrics that were specifically penned for her wrestling persona Britannica, who has big goals outside of the wrestling ring.
I'm Britannica from the UK
That's probably why I talk this way
I wear these glasses on my eyes
One day I'll win the Nobel Prize
The song resurfaces later in the episode to as stall Rhonda and Ruth (Alison Brie) try to calm the crowd down when Debbie leaves in the middle of a match to confront her almost-ex husband Mark (Rich Sommer). Soon, the rest of the wrestlers join the women in the scene, singing along as Sheila (Gayle Rankin) plays the song "Theme of Exodus," which is the only song she knows on the keyboard. Somehow, it all works so well together in the scene, showing there's definitely a bright future ahead of G.L.O.W.
In real life, Nash told The Independent that she pushed back some of her tour dates in order to train for and film GLOW. "Technically, yes, it was putting everything on hold, but I'm very flexible as an independent artist," she told the publication. "It's going to be a completely different platform that will elevate my music as well."
And viewers will get to side a different side of Nash — and her singing — in GLOW.