D'Arcy Carden From 'The Good Place' Has A Lot Of Questions About Janet's Insides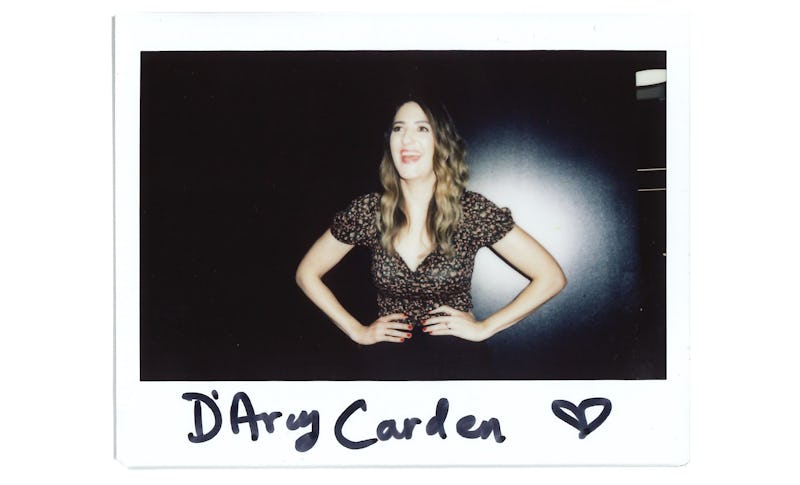 When celebrities hang out with Bustle editors, we want to give them the chance to leave their mark. Literally. So we hand them a pen, a piece of paper, a few questions, and ask them to get creative. The rest is up to them. This time, The Good Place star D'Arcy Carden is leaving her mark in the Bustle Booth.
Playing the corporeal virtual assistant Janet on NBC's existential comedy The Good Place is definitely a challenge, or as D'Arcy Carden cheerfully puts it, "a mindf*ck." But after filming three seasons — Season 3 premieres Thursday — she feels a special kinship with this increasingly human-seeming non-human character.
"Now I'm kinda like, 'We are one,'" Carden laughs. Sitting at a table in Bustle's offices, she leans forward animatedly while describing how simultaneously thrilling and confounding it can be to try to get inside the head of a character who doesn't actually have a soul. "I turn into a crazy person when we're shooting," she says. "I become Daniel Day-Lewis somehow for this goofy TV show... can you imagine if I was like, Method?"
Even for the UCB-trained Carden, who has plenty of experience playing all kinds of wacky characters, trying to get inside the all-knowing head of Janet can be maddening. "I want to know what she looks like inside her body," Carden says, launching into an amusing aside about her most bizarre burning questions about Janet. "I want to know what would happen if you cut her in half. I want to know what her insides look like."
She was so curious she went to The Good Place creator Mike Schur looking for answers. "I was like, 'Can I make a request? At some point can we cut Janet in half and see what she looks like on the inside?' And he was like, [whispers ominously] 'Yeahhhhh!'" While that mystery remains unsolved for now, Carden likes to imagine Janet is made of "glowing goo." "Probably like if you took it out of her body it would cure cancer, or something like that," she says.
Part of the beauty of Janet's evolution on the series is how, through a strange computer glitch, she's seemingly becoming more human with every season. That's especially exciting for Carden, as Janet has developed an attachment to the goofy DJ and devoted Jacksonville Jaguars fan Jason (Manny Jacinto), a fan-favorite who's become a sex symbol for many fans, herself included ("He's so hot, it's insane... And his cheekbones are dangerous," she says). But will Janet get the guy in Season 3, and is it even possible for an AI to win over a human who is also very much in a relationship with another human, the exceptionally stunning Tahani (Jameela Jamil)?
"I mean, they're hot as hell [as a couple], but I have a soft spot for Jason and Janet," Carden says, before hinting that things might go her character's way after all. "Mike Schur is such a romantic. He loves his characters to find love, like April and Andy [on Parks and Recreation], or Jim and Pam on The Office," she points out. "He's a lover. He loves love. So, we'll see."
And despite the fact that Janet is an all-knowing being, matters of the heart are just as mysterious to her as they are to the rest of us humans who actually have hearts instead of goo for insides. It's pretty endearing, and it makes it easy to root for Janet despite the robot of it all. "She's so innocent and only wants to help... Whatever is best for you is her main purpose," Carden says. "How can you not sort of find that to be sweet?"
Perhaps everybody needs a Janet. But according to the answers in her Bustle Booth, what D'Arcy Carden needs the most is the love of her dog, Penny. Check out the rest of her answers below.