The Government Shutdown Is Officially The Longest In U.S. History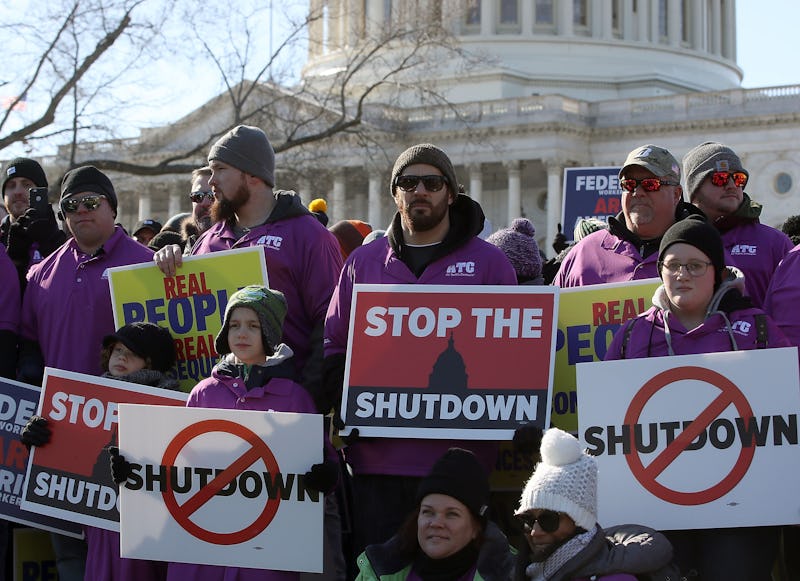 Mark Wilson/Getty Images News/Getty Images
On Saturday, the government was still shut down, and as a result, this government shutdown became the longest in U.S. history. Saturday was the 22nd day of the shutdown, according to The Associated Press. Previously, the longest federal shutdown had been in the mid 1990s.
The second-longest government shutdown started in similar circumstances as the current partial government shutdown. In December 1995, then-President Bill Clinton and the GOP-controlled Congress clashed on Clinton's budget proposal's use of projections by the Office of Management and Budget instead of the Congressional Budget Office, according to The Washington Post. The next longest government shutdown was under then-President Jimmy Carter in October 1978; it lasted for 17 days.
The New York Times reported that since 1976 the federal government has had "21 gaps in government funding" but not all have been as extreme as either the 1995-1996 shutdown or our current shutdown. While there have been two other shutdowns under President Donald Trump, one of the shutdowns during Trump's term is almost forgettable as a result of how short it was. Congress passed a funding bill through both chambers just hours after a shutdown began, HuffPost reported.
Trump's other major government shutdown was spurred by Senate Democrats to preserve protections for DACA recipients (Trump was not in favor). One of the other significant government shutdowns in recent memory was under President Barack Obama in October 2013, according to The New York Times. It lasted for 16 days, and was related to Republican Texas Sen. Ted Cruz and his reading of "Green Eggs And Ham" on the Senate floor to protest Obamacare.
During this shutdown, about 800,000 workers from the federal government have been furloughed or required to show up to work without pay, according to CNN. The workers required to show up without pay include airport security workers with the Transportation Security Administration. Some TSA workers are calling out sick because they're unable to afford to go to work, or are taking other jobs because they can't afford to work without pay, according to multiple outlets.
The New York Times reported that about 51,000 TSA agents are required to show up for work without pay despite the lapse in government funding because their positions are required for national security. Because of the shortage of TSA agents, Miami International Airport told the Times that one terminal will close early each day starting Saturday. USA Today's Ben Mutzabaugh reported that Miami TSA agents called in sick at "twice the national average" of other airports.
"Due to an increased number of TSA screeners not reporting to work, we have decided to take this precautionary step and relocate about 12 flights to adjoining concourses in the afternoons," Miami airport spokesman Greg Chin told The Miami Herald.
TSA agents across the country missed their first paycheck on Friday because of the government shutdown, according to the Times. The average salary for screeners is $35,000, the Times reported. "We have people that work from paycheck to paycheck and there's quite a few of them," TSA union vice president for the northeast Vincent R. Castellano told The New York Times.
It remains to be seen if the missed paycheck will help Congress reach a spending deal — even if it has nothing to do with Trump's demand to fund a border wall.