'GQ' Spoofed 'Vanity Fair's Photoshop Fail With 3 Of Your Favorite Female Comedians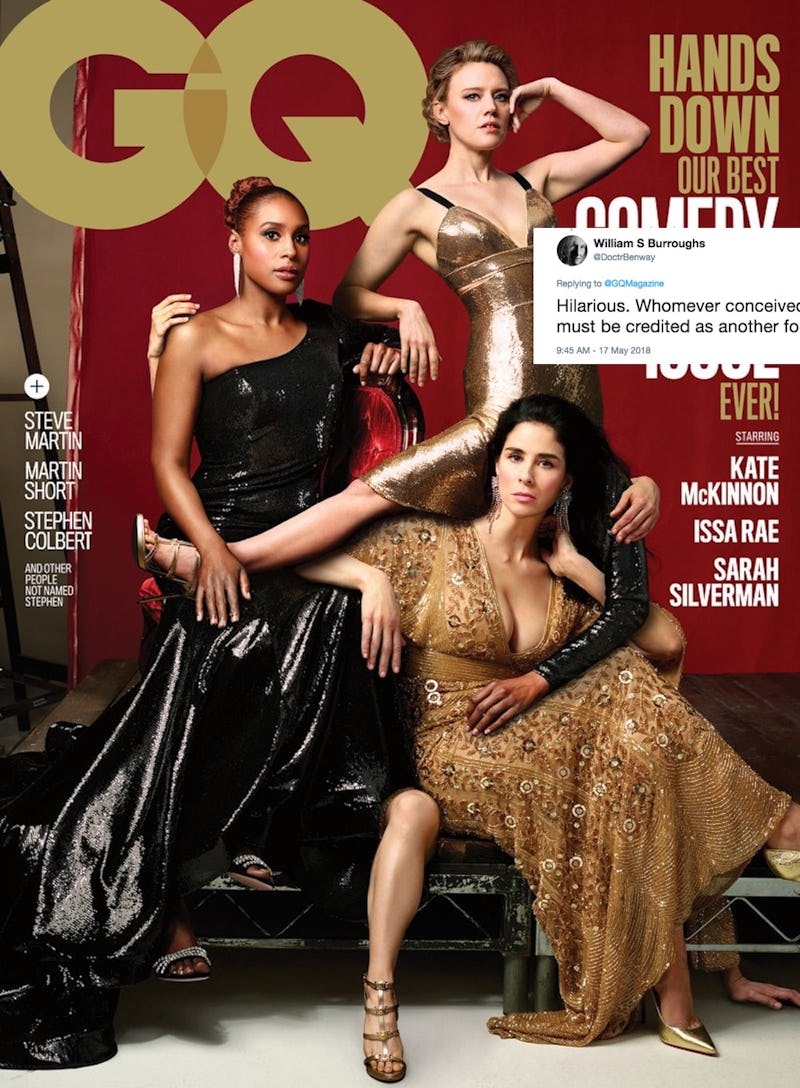 GQ; DoctrBenway/Twitter
GQ's latest cover for its annual comedy issue features three very funny women: Issa Rae, Kate McKinnon, and Sarah Silverman. But look a little closer at the glossy photo and you'll notice there's some funny business going on here. GQ's comedy issue cover is full of photoshop fails that have given these women some extra limbs. But, don't worry GQ did it on purpose and Twitter can't get enough of this joke, which is definitely pulling Reese Witherspoon's extra legs.
"Mistakes were made," GQ joked in a statement on their website after unveiling the cover, which was clearly no mistake. From its deep red carpet-esque backdrop to Rae's shiny black gown, the cover should look familiar. That's because it's a near replica of Vanity Fair's latest Hollywood issue right down to the additional arms and legs.
As you might recall, that VF cover featured Oprah and her three hands, which honestly the Queen of all Media was pretty chill about. She and Witherspoon even traded jokes on Twitter about Vanity Fair's editing mistakes. "I hope you can still accept me for who I am," Witherspoon tweeted only to have Oprah respond, "I accept your 3d leg. As I know you accept my 3d hand." And now GQ is capitalizing off the mistake, tweeting on Thursday, "Please accept our sincerest apologies."
The GQ cover is like the most mind-bending game of photo hunt ever, in that every time you look at it, the limbs seem to multiply. At my last count, I had 10 arms, one of which is hiding at the bottom right corner. Let's not even try to guess how it got there. Though, let's guess that the copy writer had fun with that "hands down" tease that appears on the cover.
Other people also had fun with the purposely wrong image, even if they didn't totally get it at first. "I won't lie," Sports Illustrated's Charlotte Wilder wrote. "It took me a second to get it, but this whole thing is pretty great." Another person wrote, "I stared for five minutes before I got it." GQ's senior editor Kevin Nguyen even joked, "Well it's official: we suck ass at Photoshop."
But many were impressed by just how committed to the joke GQ was. "Hilarious," one person tweeted. "Whomever conceived the cover must be credited as another force in comedy." Another person wrote, "Love the concept. The hand under the platform is killing me," with a closeup of that creepy wandering hand.
It's giving off some major Thing from The Addams Family vibes. Though, someone else thought the cover was a reference to another movie. "This is like the comedy version of 'Death Becomes Her'," the fan wrote in reference to the Meryl Streep movie, which looks at the price of vanity and has some interesting body modifications in it.
Even Vanity Fair had to give GQ props for this ribbing, which was all in good fun, since they're both Condé Nast publications. "It's not going out on a limb to say we love Issa, Kate, and Sarah," the mag wrote. "Props to @GQMagazine for getting a leg up on this trend."
While GQ deserves accolades for its creative cover, let's also give them a shout out for not naming this the "Women in Comedy" issue, just comedy because yes, these three are just funny. And somehow, GQ managed to come up with a cover that is as hilarious as the three women who grace it. They say don't judge a book by its cover, but in this case, it feels alright to say that this magazine will be worth a read once it hits newsstands.