These 'Grey's Anatomy' References & Callbacks In The 300th Episode Will Make You So Emotional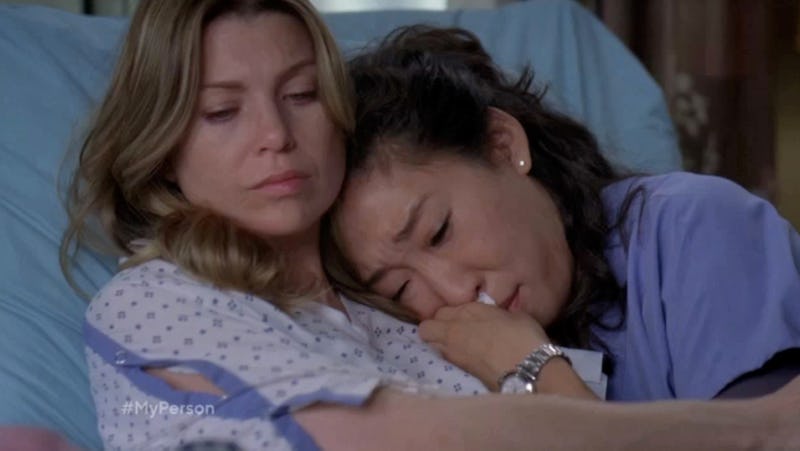 ABC
Can you believe that Grey's Anatomy is at the 300-episode mark? I mean, I can, because I've been watching Grey's Anatomy for 14 seasons now, and I'm actually surprised that it didn't come sooner. Grey's has always been a show that could poke fun at itself or try something new (remember that musical episode? It… wasn't great), and in its 300th episode, you can bet the show was one for the fans. There were so many references and callbacks in the 300th episode of Grey's Anatomy that pointed back to the first seasons, the near-misses, the Seattle-Grace-Mercy-Death reputation, and more, that it was clear that creator Shonda Rhimes was happy to tell the fans how much being able to get to 300 episodes meant to her.
What hasn't the cast of characters at Grey Sloan hospital gone through? There have been natural disasters, a crazed gunman, a bomb in a body cavity, a plane crash, alcoholic parents, a bus accident, a few ghosts, a lot of sex, a few brain tumors, and who could forget Izzie Stevens drilling a screw gun into a man's skull after that ferry accident? Remember when Meredith almost drowned? Remember when Meredith almost died like seven other times? Remember when Derek actually died? (You won't find me mourning that one.) The years have gone by, but Grey's Anatomy has found a way to stay relevant. They even introduced "vajayjay" into the lexicon. Needless to say the show has been a force in the entertainment landscape this past decade.
The description of the 300th episode talked about a roller coaster flying off the track at a county fair, which is obviously a nod to the roller coaster antics of the past 14 seasons. Here are the best Grey's Anatomy callbacks from the show's 300th episode.
"Young Folks" In The Opening
The music on Grey's has always been killer, and this number by Peter, Bjorn, and John was played in Season 3, Episode 6. Here, it was a cover by The Wind and The Wave.
The Ferry Boats
Derek loved them (he even had them on his surgical caps!), and now I guess Meredith does, too.
The Back Hallway
All of the the new interns are sitting in the back hallway, complaining about their schedule, kind of like Izzy, George, Meredith, Karev, and Cristina did.
The Plane Crash
Meredith and Karev are talking about flying Meredith to get her Harper Avery award, and Meredith is hesitant to get on a "bumpy" private jet. Could it be she was involved in a horrific plane crash that killed her sister?
Cleo & George
These two crash victims look a lot like Cristina and George, even down to the first initial of their names. There's a dead ringer for Izzy, too.
The Opening Theme
I always thought the original opening credits of the show were lame, but I got weirdly emotional seeing it in Season 14.
"They" — Jem
This bop was in the very first episode of Grey's Anatomy, when the interns really had no idea what they were doing.
Meredith Choosing Surgery Over... Everything
Meredith and Derek were dealing with emergencies when they got married, and they opted for surgery over a wedding. Meredith always wants to be in the operating room... even when she's supposed to be getting a Harper Avery.
Sex In The Hospital
Who hasn't had a romp at Grey Sloan? Deluca and one of the new interns were caught doin' it in the skills lab, but they're definitely not the last who will.
A Debrief On Mark Sloan
Sob — Robbins was talking to the Izzie doppleganger about Mark, and did anyone else get choked up remembering Arizona and his early days?
"Keep Breathing" by Ingrid Michaelson
This song played in the Season 3 finale when Burke left Cristina at the altar. Season 14 brought a cover by Congratulationz, but I'm partial to the original version.
"Such Great Heights" by The Postal Service
What emo kid (ahem, like me) didn't love this song when he or she heard it on Grey's Anatomy? I loved it now, watching Meredith pick up her Harper Avery.
Ellis Grey In The Gallery
Meredith and her mother didn't always get along, but it was nice that her mom was "there" while she was winning her Harper Avery.
"Portions For Foxes" by Rilo Kiley
The very first song ever played on Grey's Anatomy, it was the last song played in the 300th episode.
That episode was a love letter to Grey's Anatomy fans, and it was everything it should have been. Here's to the next 300!