This Is Why Everyone Still Watches 'Grey's Anatomy,' So You Can Stop Asking Now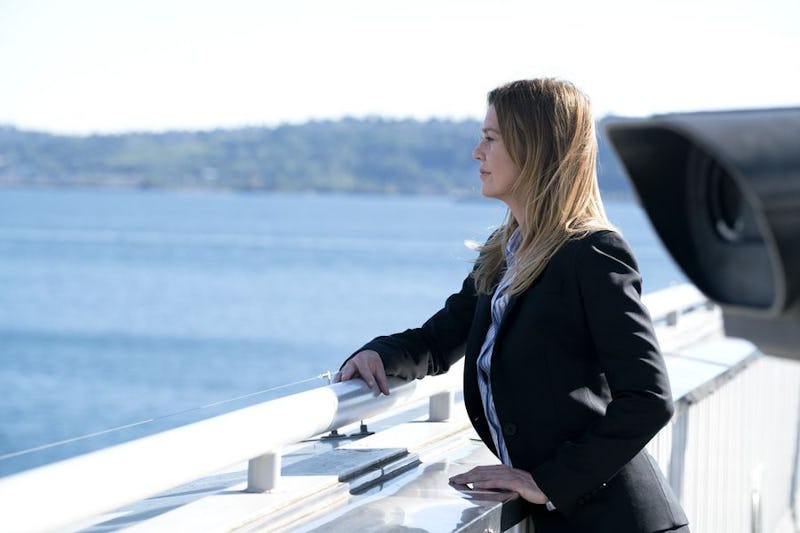 Derek Johnson/ABC
One of the most frequently uttered lines when people hear that Grey's Anatomy is coming back for a new season is, "That show is still on?" Through a writer's strike and natural disasters and the election to end all elections (seriously, some days it feels like it might be our last one), Shonda Rhimes has been steering a steadfast Grey's Anatomy ship. Now about to enter Season 14, Grey's Anatomy is still as much a part of the cultural zeitgeist as when it premiered 12 years ago. So, why do people still watch Grey's Anatomy?
Grey's Anatomy started in 2005 as a mid-season replacement show, and the concept and characters took off like wildfire. In its first season, per Futon Critic, Grey's Anatomy led its closest competition in the time slot in the ratings by over seven million viewers and beat CBS and NBC among that coveted 18-49 age group by 22 percent. It had the best audience retention that ABC had seen since Desperate Housewives, and it was the most-watched midseason drama in television in over a decade, since Dr. Quinn, Medicine Woman aired on CBS in 1993. It was an obvious and easy choice for ABC to continue with over the years, and Shonda Rhimes, its creator, had a brain full of ideas to keep the show going. The ratings were a bit of a rollercoaster — they dipped over the years but completely rebounded in Season 12. This is important because Derek Shepherd died in Season 11 — McDreamy died and audiences still wanted in!
According to Variety, this ratings resurgence was made possible by women under 35 years old. They were probably too young to enjoy the show during its initial premiere 11 years prior, but because of streaming platforms and DVRs, they've been able to catch up and get current with Grey's Anatomy. In Season 12, same-night viewership for Grey's Anatomy was down nine percent from prior years, but when you examine the multi-platform numbers that include DVRs, streaming, and the like, Grey's Anatomy was actually up 11 percent overall. In other words, the millennials and their next-day DVRing came for the show and increased its numbers in a major way. In Season 13, the show was the highest-rated drama on television.
But, what's with these ever increasing numbers even 12 years later? Chalk it up to a world of uncertainty. While streaming services and the DVR have made it easier to watch your favorite channels, Grey's Anatomy's popularity uses those new viewing methods combined with familiarity to stay on top. For some viewers, it's been a part of their lives for over a decade. There's a familiarity to it that can't be replicated. Picture this — you're at home, and you want to get some cleaning or fiddling around done. You need background noise, so you put on the television, something you like but don't need to pay attention to and can still understand what's happening. What show is it? For me, it's Grey's Anatomy. As a faithful viewer for many years, having Grey's Anatomy on my television is like seeing an old friend. I know what's going to happen — two people will have relationship issues (literally everyone on the show); Meredith will be guarded; the team will save a life and lose another, forcing them to come to terms with whatever is happening in their personal lives. Major disasters are frequent, and the most famous guest star will probably die. There is comfort in that. It's still entertaining, and for as many times as Shonda Rhimes killed off a character or took a wrong turn into "please don't make this a love triangle," Grey's Anatomy is always there.
Myriad shows have staged revivals or comeback tours in the past few years — Gilmore Girls, Will & Grace, Fuller House, etc. There is a ton of money to be made in that sort of thing, of course, but that's because the people want it. Fans want to watch revivals because they're familiar. Grey's Anatomy is still on the air, but it's also just as familiar. Having episodes air 12 years after its initial premiere is not unlike Gilmore Girls coming back after eight years. Grey's has that revival-like feeling without actually having to leave and come back.
And, look — the world is an increasingly uncertain place. There are terrorist attacks, the seas are slowly rising, we never know what the president will tweet next, and nuclear war is a looming threat. I don't know about you, but my mind can't take this barrage of bad news 24/7. When I need to shut it off and escape for an hour, it's hard for me to watch a new show. I want something I already know I like. I want something familiar, and, for me, as it is for many, that show is Grey's Anatomy. It's nice to know something is there for me to watch, especially if I don't want to invest my whole brain into it. Grey's Anatomy is also easy to consume via streaming and let it engulf your afternoons. Also, skip an episode? No problem! You can always come back into it and somehow feel like you never left. This is mirrored in the show itself — With old characters popping up in the halls of Grey Sloan. For example, Teddy is back for Season 14. Sometimes old cases re-appear too. Remember Katie Brice from Season 1? She came back after McDreamy died, too.
The treacherous situations on Grey's Anatomy do not always go perfectly, and sometimes, they result in death and destruction. So much bad stuff has happened at Grey Sloan that I would never, ever go there if it were real and if I were dying. You never know when a hurricane or a plane crash will overtake the hospital. But even when the endings are sad, there is always a silver lining. Derek died, but Meredith had another baby and learned how to live with herself. Cristina left, but she left for a better job that would stimulate her true ambitions. And many a disaster has forced a couple to realize how much they truly love each other. There is a smile to be had in every episode, even if it's not all happy. This makes Grey's Anatomy a comfort to many, a way to escape from the fear or sheer banality of everyday life. The people are also frighteningly nice to look at (Shonda knows how to cast, that's for sure).
How long will Grey's Anatomy be on the air? Shonda Rhimes has said that Grey's Anatomy won't exist without Meredith Grey, and, as Pompeo told Variety, she's mulling over just how long that will be. She said:
"I'm really open to whatever the universe presents. I don't know how long the show will go on. I know the network and the studio like to say they see no end in sight, but I think the audience will tell us when the show is no-longer a fan favorite. I think it's quite arrogant to assume the show can go on forever — I don't like that approach. Right now, we're very lucky to have the fans still hanging on, and I think the fans will let us know when it's time to stop the show."
With the streaming and DVR boosts the show gets, I'm willing to guess that it won't end soon. But that's fine with Pompeo:
"I have to say, it's pretty invigorating — these numbers and this fan appreciation and how much this show touches people, for a silly little primetime soap opera. It's this weird anomaly that we're this silly nighttime soap opera and no one can figure out how we keep going and why the numbers are so huge, but the show really makes a difference in people's lives. Everywhere I go, the admiration, and the touching stories that I hear, and the people come up with tears in their eyes and want to hug me, it's as much as it was in the beginning of the show."
The audience reaction to Grey's Anatomy is still strong, and, as Pompeo says, "Why walk away from a hit?" Even in Season 14, Grey's Anatomy is an entertaining-if-predictable show to consume in both good and dark times, and audiences will always need that comfort. Because, just like Cristina Yang will always be Meredith's person, Grey's Anatomy will always be our show.