Jo Is Going To Make A Big Decision In The 'Grey's Anatomy' Season Premiere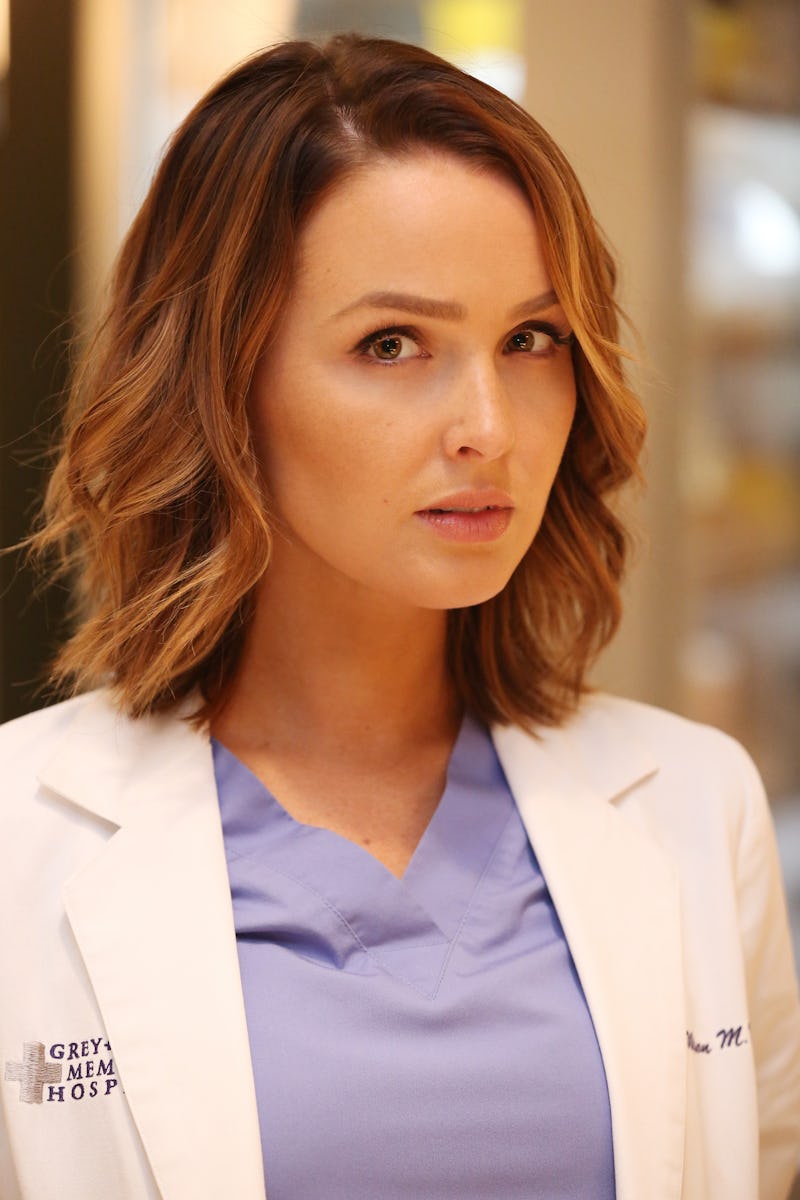 Adam Taylor/ABC
If watching Grey's Anatomy has taught us anything, it's that eventually every doctor reaches a crossroads in their career where they are forced to make the very big decision of choosing their specialty. For some like Cristina Yang, the choice was easy since she knew from Day 1 she wanted to be in cardio. For others like Alex Karev, who ended up in pediatrics, it can be a bit more complicated. But where does his wife fall on that spectrum? Well, the Grey's Anatomy Season 15 premiere will find Jo making this very decision. According to a recent interview Camilla Luddington had with The Wrap, it's a question her character will start to answer at the beginning of Season 15.
"There are actually some decisions that will get made in the two-hour premiere," Luddington teased to the outlet. "One of the things that does happen on the honeymoon is that Jo becomes inspired by what she believes could be a new medical innovation, and she decides that she wants to work on it with Meredith."
Fans will remember that at the end of Season 14, Jo was debating whether or not she should stay in Seattle or move to Boston since she was offered a fellowship at Massachusetts General Hospital. Knowing that this would take Alex (and his friendship) away from her, Meredith also made Jo an offer to remain at Grey Sloan Memorial.
So will Jo's new medical innovation be enough to keep her around long term? Luddington admitted that even with this epiphany, the possibility of moving is still on the table. "She ends up having to go back to Seattle and try and pitch the idea and it sort of segues into inspiring what she wants to do as a specialty," the actor explained. "So you see in the two-hour premiere what direction she's doing in, but then the question of Boston is still hanging in the air."
You would think the allure of working on something new and exciting with Meredith would be enough to entice Jo to stay. Not to mention, it would allow Jo to remain a pivotal character on the show, so this could very well be the reason she ends up remaining in Seattle. With the departures of both April Kepner and Arizona Robbins, the thought of losing anymore beloved doctors is almost too painful to consider.
Back in May, ABC released a press release that confirmed most of its actors would be returning in the fall for the upcoming season. And yes, Jo (Luddington) and Alex (Justin Chambers) were both on the list. And how could they be on Grey's Anatomy and live in Boston at the same time?
That alone should help to curb any fans' concerns that Alex and Jo are actually planning on leaving Seattle. But then again, this is Grey's Anatomy we're talking about, which means there's never any certainty. Either way, the future is looking bright for Jo and hopefully choosing her specialty will help all the other big decisions in her life fall into place.