Why 'The Handmaid's Tale' Star Ann Dowd Doesn't Think Aunt Lydia Is Cruel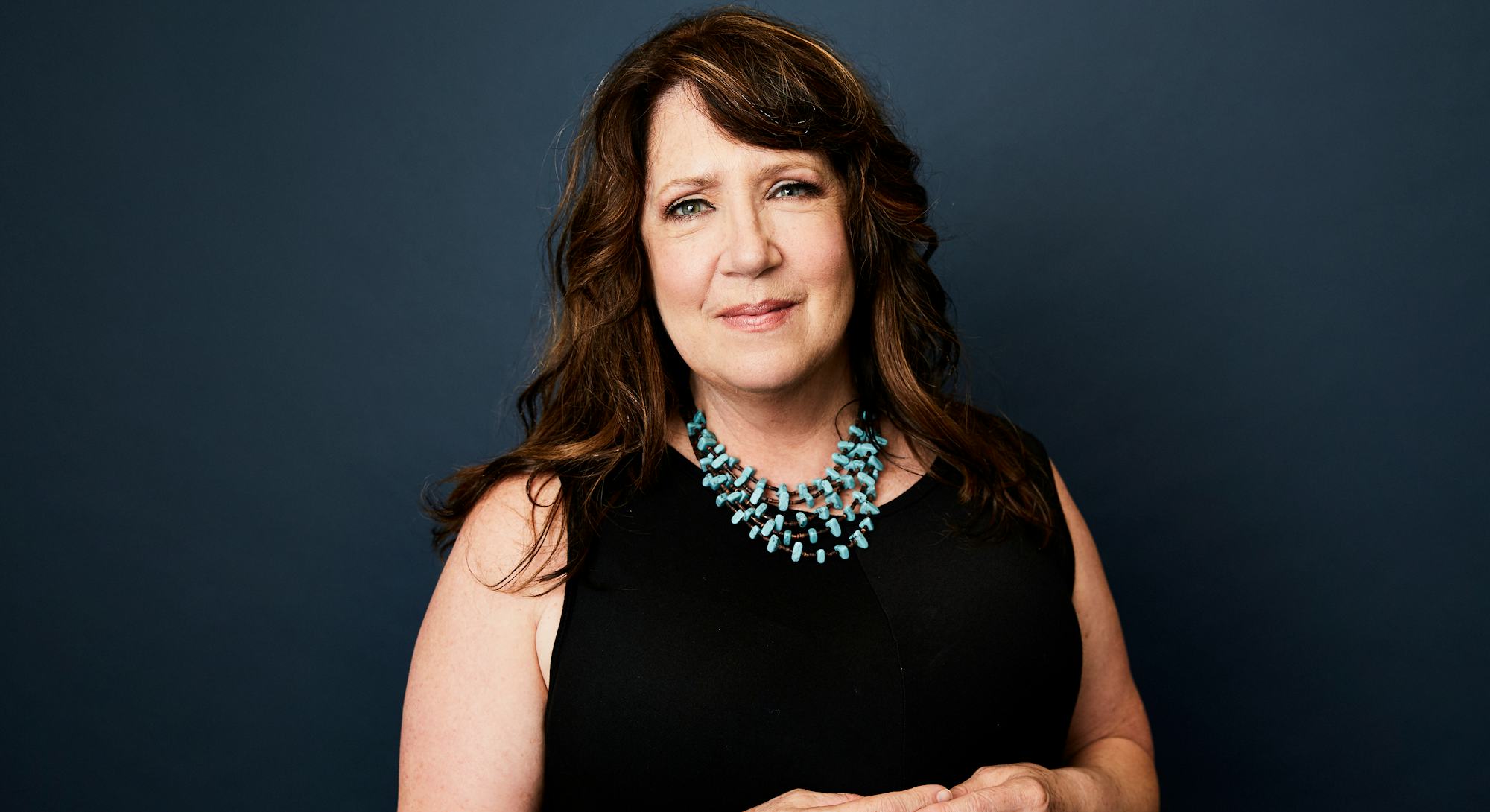 Lauren Perlstein/Bustle
It is a little jarring to shake Ann Dowd's hand when we meet at Bustle's offices in early September. After affectionately teasing her son, who has accompanied her here just after his first day of high school, she calls me "sweetie" and compliments my necklace as we sit down to talk about her epic career leading up to her 2018 Emmy nomination for her supporting role in The Handmaid's Tale. Of course, Ann Dowd is not actually The Leftovers' Patti or Sandra from Compliance, and she isn't going to force me to hand over my books and birth control right here in our conference room, Aunt Lydia-style. But it's a testament to her talent that it's so hard to separate Ann Dowd from the intimidating and often villainous characters she portrays onscreen.
It's almost like she can tell that people might have this problem when they meet her, nodding kindly when I ask her why she goes for the darkest, most twisted roles. It's simple, she tells me: the characters felt so believable to her, or at the very least, she could sympathize with them. This might come as a surprise, given that many of her characters' actions can seem inexplicable at best and evil at worst. Take, for example, the 2012 film Compliance, in which she plays the manager of a fast-food restaurant who is tricked holding one of her female employees hostage and facilitating her sexual assault by a man who she believes is a cop. Despite her character being complicit in some terrible acts, Dowd says she could innately understand her. "She made sense to me," she says, "I understood the dilemma of deferring to authority."
For Dowd, it all boils down to understanding her characters' quests for validation, which is perhaps one of the most human desires. It's not like Aunt Lydia or The Leftovers' Patti just woke up one day and decided to ritualize rape or start a violent post-rapture cult, and Dowd's remarkable capability to empathize with complicated characters is what imbues her performances with so much pathos.
"We come into the world with our own compass about what's right and wrong," she explains, and over time we learn how to exist within that framework. Especially in the case of The Leftovers' Patti, being silenced can do a lot to a woman over time, she says. While the character's abusive marriage didn't cause her to become so cruel, the show picks up with Patti being validated by the outside world for the first time, having predicted the rapture. That validation is what allowed her to "come into her power," as Dowd puts it, for better or worse.
I don't line up with her views, but I can understand, I think, where she came from, or where she might have come from, and why she does the things she does.
Dowd's empathy for her characters goes beyond simple role preparation; she refuses to judge her characters, she tells me, which means she can get really close them. "It's like a relationship... you have to take judgement out of the equation," the actor says. That's clearly how she approached playing The Handmaid''s Tale's Aunt Lydia, who very easily could have been a one-note villain without deeper emotional exploration. Instead, Dowd has molded her into a fascinating character who breathes life and complexity into a show that can be difficult to watch.
It's clear she's protective of her characters and their actions as we speak about them. She talks about Lydia as if she's come to understand a dysfunctional family member after years of therapy, refuting my suggestion that Lydia is cruel. "I don't line up with her views, but I can understand, I think, where she came from, or where she might have come from, and why she does the things she does," Dowd says. "And, the redeeming quality there is that she does love [the Handmaids] and does want the best for them."
She says Handmaid's Tale showrunner Bruce Miller once told her that Lydia had been a school teacher before Gilead. "That was tremendously helpful... Imagine a public school teacher on the Lower East Side [of NYC] where kids are like, 'Who are you, you old hag?' and she just witnesses all the behavior, and promiscuity, and the cursing, and she's thinking, 'Something extreme's happening here,'" she explains. That does make total sense — after being undervalued for so long in that sort of environment, it is easy to see how Lydia might find value in returning to a patriarchal structure, however extreme. Suddenly, I'm beginning to empathize with Lydia, too.
But Dowd goes further in imagining the rest of Lydia's world in her head — she's clearly thought through nearly every aspect of Lydia's life in Gilead, even those we don't see on screen. Unlike some of the men who scurry off to Jezebel's or the wives who can garden or sneak a little scotch in the kitchen, viewers don't see Lydia enjoying down time, mostly, Dowd says, because it doesn't exist for her. And she wouldn't want it even if those luxuries were offered.
"Here's the difference between Lydia and say, the commanders and their wives, who live in opulence," Dowd continues, leaning in like we're gossiping about Serena Joy, because we basically are. "She goes back to her dorm room with a twin bed, and a light by her bed, which is not for reading because reading is not allowed. So what does she do? She probably has a communal meal with the Aunts, and I don't think she loves them very much — she's not a very social person — and has an obligatory meal with them, and then I think she goes to her room and what she does is, she reviews the day, in her mind, a sort of a mediation... It's that, it's all related to work."
Dowd is pretty into her work, too, as she starts to enumerate Lydia's to-do list for me, which includes worrying about "her girls'" morale, the measurements she has to take, the preparations she must make for a birth, the pep speeches she should give. For a moment, I start to feel bad for Lydia.
But understanding her character doesn't mean that Dowd isn't appalled by some of her actions and the parallels to the real world that she sees in the series. I nervously admit to Dowd that criticism of Season 2 being "torture porn" made me question why I continued watching the show. "I get it," Dowd says, recalling the chilling moment when the Guardians drown Eden (Sydney Sweeney) in a pool for trying to escape Gilead. Even her own brother, she says, can't watch it. That said, she believes the show can be viscerally horrifying for a reason, and yes, it's impossible for us to continue discussing the show without making comparisons to the current political climate.
Like so many people these days, Dowd is "amazed and appalled at the levels that the current president has gone to to corrupt this country," and she thinks that the show can serve as a warning for people to stay informed. While she doesn't think the writers are attempting to mirror the actual sociopolitical environment these days, she thinks their goal is "to get people to think for themselves and stay aware and alert."
And it has. Since the premiere of the series in the wake of the 2016 election, The Handmaid's Tale has become a symbol of the resistance against the current administration. The same day I meet with Dowd, for example, women dressed as Handmaids protested the Supreme Court nominee's hearings in the name of abortion rights. The response to the series, and her character in particular, has not all been political, though. The show is a critical success, earning her an Emmy win in 2017 for Outstanding Supporting Actress and a nomination for this year's awards as well. After being snubbed, as fans believe, by the Emmys for her role in The Leftovers, Dowd admits that playing such a fearsome and complex character has turned into a high point in her career.
But that doesn't mean it's always been easy, which is maybe what gives her the ability to see things in her complicated characters that others might not. "I had my low points for sure, wondering if anything was ever going to shift to a larger arena," she says. "It was always just a pleasure to work, so that's what keeps me going. Keep the love story alive, tend to it." Having worked so hard for her success, Ann Dowd is being validated, too, these days. Luckily, she's using that validation for good and not evil.