The Hardest Part About Deleting My Dating Apps Is Also The Scariest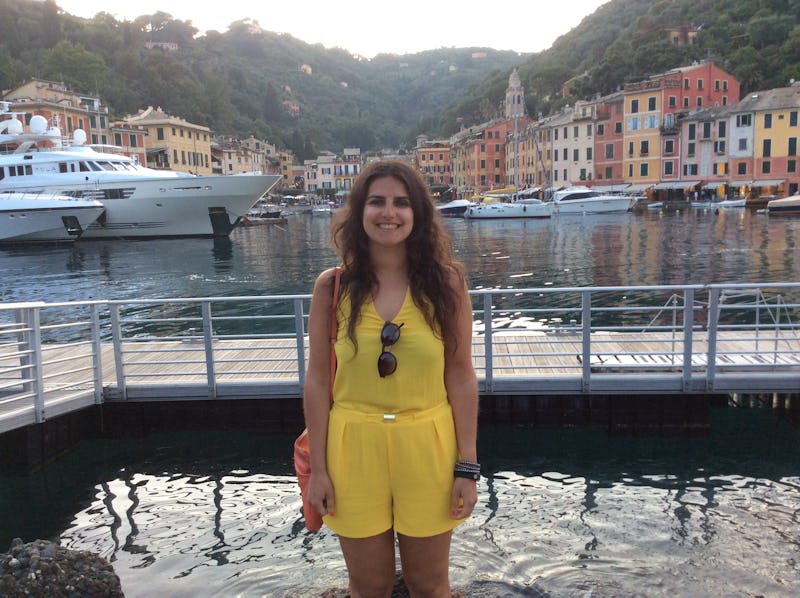 Author's own
Whether dating apps are causing a "dating apocalypse" or are merely the easiest way to get a date, there's no denying these tools have been total gamechangers in the dating scene within the last few years. And even though dating apps are most popular among Millennials, according to a recent SeatGeek survey of 1,000 singles, 95 percent would rather meet people IRL versus online or on an app. That's why for the second year in a row, Bustle is deeming April, "App-less April" and encouraging our staff and readers to delete their dating apps for 30 days and meet people the old-fashioned way: offline. With participants tracking their progress and tricks and tips from dating experts, we'll be helping you feel empowered to meet people IRL all month long.
"5 people have liked you, but Brent is our fave."
I woke up on the first day of App-less April to this email.
And then midday, I got this one:
"Your last chance to see the Bagels who LIKED you!"
Soon after I started writing this, this popped into my inbox:
I read these to my coworkers and let out a long sigh. There it was again: FOMO. What if those five people are *actually* a good match? What does Hinge like about Brent so much? What am I missing out on?
When I deleted my dating apps for the first time last year after being on them for four years, I thought I'd miss the attention or the entertainment the most, but quickly, questions similar to those above popped into my mind. The paradox of choice aka the idea that the more choices you're presented with, the harder it is to make a decision — or as I like to think of it, the *real* reason we love Trader Joe's so much besides the cheap wine — is very real on dating apps.
In fact, two University of Wisconsin-Madison psychologists surveyed 100 undergrads and found that having endless options on dating apps, makes us less satisfied with the match we choose. But the thing is, I've felt the effects of choice overload even after I've deleted my dating apps. This feeling is somewhat ingrained in how I (and perhaps many other Millennial dating app users) have been using them to date. And that to me is the scariest thought as I begin to date to offline, will I still have that constant Am I missing out? thought running through my head?
"I have a client who every time I sent her someone to consider, she'd say, 'he's great but what about the next one?'," celebrity matchmaker, Jasmine Diaz, tells Bustle. Sound familiar?
I've often wondered if dating apps — and how I've used them — have turned me into a commitment-phobe. But perhaps it's a bit more complicated that that. "I think dating apps have definitely been a factor in making singles commitment-phobes," Camille Virginia, offline dating expert, tells Bustle. "It's not necessarily their fault, but dating apps give the illusion that there's an endless supply of potential mate choices, so why settle for one person when you can keep swiping (and conveniently avoid investing time and real feelings in one person) when there's just another person a swipe away. But the truth is there IS a finite number of people, not one of them is perfect, and at some point simply making a decision and attempting to get invested in one person is what you have to do — otherwise, prepare to ride the dating app rollercoaster indefinitely."
So, you're not alone in wondering if there's someone better out there, but it's not exactly the greatest attitude to have about dating — especially if you're are looking for a connection.
"You're not taking advantage of what's in front of you and you may be missing out on really great opportunities that are here and now if you're always thinking about the next one," Diaz says. "You're always thinking, 'there's something better out there for me' but what about the person you're dating now? That's something that's tried and tested and proven."
OK, so you realize you're always looking for something better, but what can you do about it? "With FOMO, you think the grass is always greener but you haven't been on the other side to truly know if it's green, so I think you have to keep perspective," Diaz says. "Yes, there is going to be a hotter looking person out there, but what about the person you're seeing now? You have to be willing to ride the wave, because otherwise you're always going to be jumping to the next one. You have to think about what your goal is — and you're never going to get there if you keep jumping."
Virginia suggests asking yourself why you feel you need better. "My guess is that someone in this position is using it as a defense mechanism to avoid having to be vulnerable and open to getting hurt, but I'd want to ask them insightful questions that lead them to that conclusion themselves," she says.
Ultimately, I think it's about staying present, whether you're dating online or off. And personally, that feels easier to do when I'm dating offline. Taking a step back from my dating apps during App-less April last year helped me realize how scattered I was — I been rushing through dates, not actually getting to know people or giving them a chance.
The thing is, when we're dating with FOMO, and getting distracted by all the possibilities out there, we may actually be doing exactly what we're afraid of: missing out on someone great.
I deleted those emails and unsubscribed. And I don't miss them at all.
Join the campaign and share your stories with #ApplessApril and ​by ​tagging @Bustle.