That Harry Potter Exhibit Everyone Is Talking About Is FINALLY Coming To America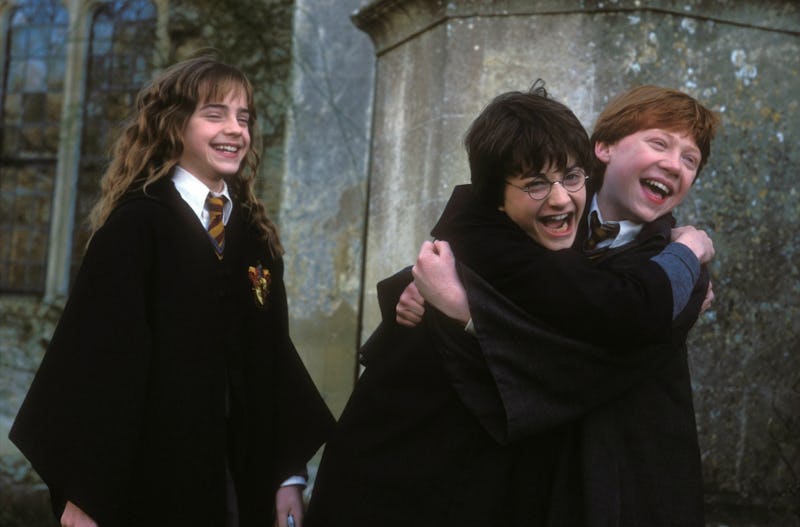 Warner Bros. Pictures
Start saving your Galleons, Potterheads: the Harry Potter: A History of Magic exhibit will officially make its U.S. debut at the New-York Historical Society in Manhattan later this year, according to an announcement from Harry Potter's U.S. publisher, Scholastic. The exhibit, which originally launched at London's British Library in 2017, will run from Oct. 5, 2018 through Jan. 27, 2019, and tickets will be made available to the general public in April. However, if you're a member of the New-York Historical Society, you can reserve advance tickets on Feb. 14. Fingers crossed that your Valentine is a member!
For those of you who don't religiously follow Harry Potter news, here's what you can expect: Harry Potter: A History of Magic is being described as a "journey to where magic and myth began." The exhibit allows visitors to study into the subjects offered at Hogwarts, including divination, potions, and care of magical creatures, among others. Yes, my inner Hermione is screaming, too. The exhibit also delves into the history of J.K. Rowling's beloved series, so except to see rare books, manuscripts, and magical objects from the collections of the British Library, as well as original drafts and drawings by Rowling and Harry Potter illustrators Mary GrandPré and Jim Kay.
Harry Potter and the Sorcerer's Stone was released in the United States in 1998, which marks 2018 as the 20th anniversary of the series in the U.S. (The British version of the book, Harry Potter and the Philosopher's Stone, was released in the UK in 1997.) And it's already shaping up to be a magical year for Harry Potter fans. In addition to the exhibit's opening, Harry Potter and the Cursed Child, which was formerly only available in London's West End, will make its Broadway debut at New York's Lyric Theater in the spring. Additionally, in October, the second installment of the Fantastic Beasts movie series, The Crimes of Grindelwald, will release in theaters everywhere.
If you can't make it to New York City to see the exhibit, you can still get a sneak peek at the exhibit. A book accompanying the exhibit, Harry Potter: A History Of Magic is available for sale now, and it takes readers on a wild adventure through the classes and coursework of Hogwarts — from Alchemy to Herbology to Divination. Each chapter showcases the artifacts from the collection, including exclusive manuscripts, sketches, and illustrations, and sections of the book are entirely dedicated to ancient spell books, so readers can get a behind-the-scenes look at what it's actually like being a witch or a wizard at Hogwarts.
Harry Potter: A Journey Through The History Of Magic, $13.64, Amazon
For more information on the forthcoming exhibit, visit New-York Historical Society's website and follow them on Twitter.