9 NEW Details About The 'Harry Potter' Version Of "Pokemon Go" That Will Excite You Even More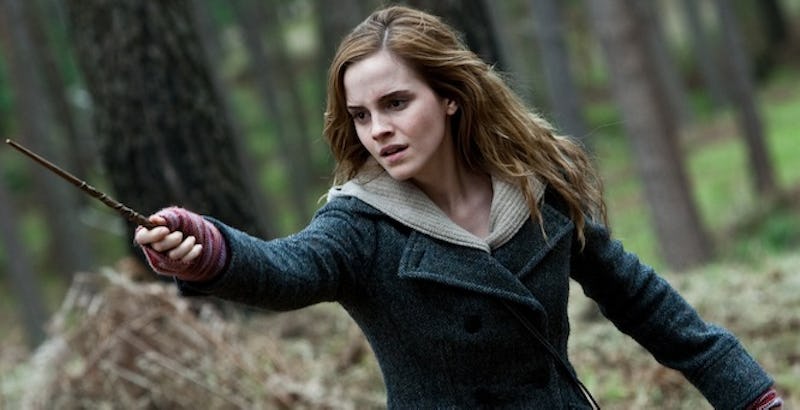 Warner Bros. Pictures
At long, long last the Muggle masses can stop despairing about never getting their Hogwarts letters; last week, Niantic announced a Harry Potter AR Game titled "Harry Potter: Wizards Unite" that will more than fill that childhood void. Niantic, the same company responsible for "Pokemon Go" and your subsequent utter lack of productivity in the summer of 2016, has teamed up with Warner Bros. Entertainment's new Portkey Games division to bring the game to life — and from the looks of things, users will be getting the full Hogwarts experience and more.
"With this game, we are allowing the passionate, worldwide fan base to explore J.K. Rowling's deeply powerful and imaginative universe in a new, truly immersive way," said David Haddad, President of Warner Bros. Interactive Entertainment, in a press release on Pottermore. "It is wonderful to have Niantic's remarkable augmented reality expertise as we develop this incredibly rich Wizarding world for players to explore in their everyday lives."
Last week, all the information we had to go on aside from its makers was that fans could expect a release in 2018 — and while the launch date has yet to be announced, Niantic and Warner Bros. Entertainment have released even more new details about the anticipated game that will, if possible, get you even more jazzed than you were before. I'm talking Celestina Warbeck levels of jazzed, folks. Here is all the insider knowledge on the upcoming game we have so far.
There's Already A Sign Up List
The app has launched its own website following the news of its upcoming release last week. Right now it isn't populated with very much information, but it does host a key tool for fans waiting for more information: the sign-up list that will let everyone know when the actual launch date and other significant details will be released.
It Will Likely Run On The Same Platform As "Pokemon Go"
"Pokemon Go" was able to launch to the broad extent that it did thanks to Ingress, the location mapping program that it was built on, which helped determined Pokéstops and the locations of the Pokémon themselves. Niantic shared on a post, "Harry Potter: Wizards Unite will leverage the full stack of the Niantic Platform while also providing an opportunity to pioneer all new technology and gameplay mechanics," implying that it would be utilizing the same mapping of its predecessor. Even if it isn't launched on Ingress, Niantic has confirmed that, similar to "Pokemon Go," the AR game will be played out in neighborhoods and cities to encourage exploration.
You'll Be Able To Cast Spells
A lot of people have speculated about what exactly users will be able to do in "Harry Potter: Wizards Unite" (see Bustle's best guesses here), but a post on Pottermore confirms that wizards and witches will be able to learn to cast spells. No word yet on which spells you'll be able to cast, but I am looking forward to the potential liberal abuse of my phone's flashlight mechanism while yelling "LUMOS!" at unsuspecting passerby.
You Will Encounter — And Battle — Legendary Beasts
A quick blurb on the official website says users will "encounter legendary beasts," and the post on Niantic reiterates that, sayins users will be able to "explore their real world neighborhoods and cities to discover & fight legendary beasts". As a nonviolent Hufflepuff and Newt Scamander stan, I'm curious about how they will incorporate "fighting" the beasts into the narrative (what did they ever do to us, huh??), but maybe the fighting will be reserved for dementors and boggarts, and nifflers and thestrals will be cuddled the way Merlin intended.
You'll Discover ~Mysterious Artifacts~
Looks like the whole world just might have become a combination of Snape's locked cabinet and the restricted section of the Hogwarts library; the Pottermore post says players will hunt down "mysterious artefacts." No word on what those might be yet, but odds are it could be anything from potions ingredients to prophecies to (gasp!) actual horcruxes.
You'll Get To Meet Up With Other Players
If you stopped playing "Pokemon Go" last year, then you probably haven't heard of one of the latest features, which are raids. Essentially, when a "raid" is announced in a given neighborhood, users in the area can meet up at that spot and battle a legendary Pokemon for the chance to catch it — but you can only manage it if you have enough users of a certain level to take it down. A similar feature like that will come into play on "Harry Potter: Wizards Unite," according to Niantic — in fact, users will "team up with others to take down powerful enemies". All this is to say: Dumbledore's Army is REAL.
You'll Also See A Few Familiar Faces
According to Pottermore, users will be "bumping into iconic wizarding world characters along the way". No word yet on which timeline we'll be meeting these characters from — the series started when our faves were 11, but Harry and his crew are 37 now — but I'm personally hoping that Teddy Lupin gets some time to shine after being completely and utterly ignored in Harry Potter and the Cursed Child. Or, at the very least, that fan favorite Minerva McGonagall will get to sass up this app.
You'll Even Get To Pursue A Wizarding Career
For anyone who's ever dreamed of becoming the next Rita Skeeter (just me?), Pottermore has indicated that you will be able to "build up your very own, illustrious wizarding career". No word yet on whether or not you have to get through seven years of coursework at Hogwarts first, but that will likely be addressed in whatever "levels" users presumably have to pass through in the app.
They've Already Launched A Website, Twitter, AND Facebook Account
Eager to stay on top of the news? "Harry Potter: Wizards Unite" already has one heck of a social presence. You can get updates by signing up for a list on their website, or follow them on Twitter and Facebook.
Looking forward to bumping into all you Muggles on the street in 2018!