'The Hate U Give' Has Allegedly Been Banned By A Texas School District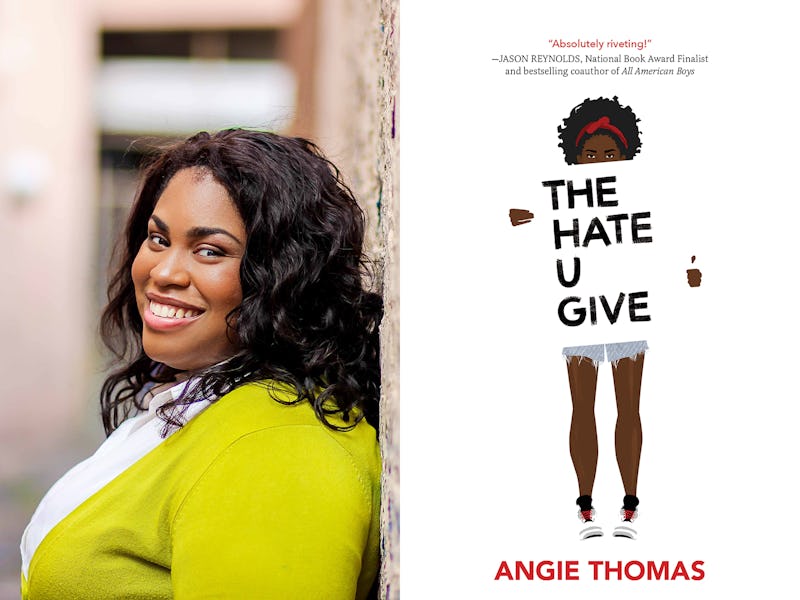 Anissa Photography
When it was published in February, Angie Thomas's groundbreaking The Hate U Give found immediate commercial success and critical acclaim, topping bestseller lists and quickly becoming one of the most talked about books of 2017. It seems not everyone has embraced the groundbreaking young adult novel about race and police brutality, however. Just this week, The Hate U Give was allegedly removed from the Katy Independent School District outside of Houston, Texas. A representative for Texas Library Association's Intellectual Freedom Committee tells Bustle that they have confirmed with Katy ISD Media Relations officials that THUG has been removed from the shelves for further review, but not officially banned.
According to a statement from TLA's Intellectual Freedom Committee chair Courtney Kincaid, and a tweet shared by the book's author, the school allegedly did not follow proper protocol when they removed student access to THUG during the reconsideration process, as per the Katy ISD policy. Bustle reached out to Katy ISD Superintendent Dr. Hindt, but had not heard back as of publication of this article.
The Hate U Give tells the emotional story of Starr Carter, a black teenage girl whose life is dramatically upended when she witnesses the shooting death of her best friend Khalil at the hands of a white police officer. Already precariously toeing the line between her drastically different worlds — that of her poor, black neighborhood and of her prestigious suburban prep school — Starr finds herself at the center of a national news story about race, policing, and gun violence. As she fights to protect herself and the ones she loves, Starr must find the courage needed to bring the truth to light for both sides to see. Inspired by the Black Lives Matter movement, The Hate U Give is a difficult yet necessary timely narrative that brings the national discussion of racism, poverty, and police brutality sharply into focus.
News of The Hate U Give's alleged banning was first shared on Twitter by local Texas user @abbyberner, who first posted about the development in November. In her post, she claims KatyISD Superintendent Dr. Lance Hindt "pulled [the book] from the shelves [because] of parent complaints of 'inappropriate language.'" The Hate U Give contains a variety of swear words and adult language, from four-letter curses to racial slurs including the N word.
Bustle reached out to Twitter user @abbyberner for comment, but had not heard back as of publication time.
The Hate U Give author Angie Thomas, who found out about the alleged incident from her publisher, according to a tweet, responded to the reports on her Twitter account, saying "I'm saddened to hear that a school district in Texas banned #TheHateUGive, but I'm also empowered - you're basically telling the kids of the Garden Heights of the world that their stories shouldn't be told. Well, I'm going to tell them even louder. Thanks for igniting the fire."
Thomas went on to express her frustration over the reported decision to ban her title over supposed inappropriate language. "I get it - some educators have an issue with the language. I will not criticize anyone for that," the authors tweet reads. "But I wrote it because I have a HUGE issue with how little value is given to black lives. I can only hope that you'll look past the curse words and see that." According to a representative from HarperCollins, Angie Thomas has no further comment beyond what she posted on social media.
Many fans of the book and critics of its reported ban were quick to defend the language of The Hate U Give, pointing out that several classic books that are regularly taught in schools feature curse words and racial slurs. Several online supporters are protesting the alleged banning. Among them is Donna Bray, co-publisher of Balzar + Bray, which publishes The Hate U Give, who called out Dr. Hindt on Twitter. Courtney Kincaid, Chair of the Texas Intellectual Freedom Committee, expressed her support for Thomas and The Hate U Give on Twitter, and assured the author that the group was working hard to overturn the alleged ban.
In an official statement to Bustle, Kincaid reiterated her support for the proper book review process. "The Texas Library Association's Intellectual Freedom Committee solidly stands by the Library Bill of Rights and the Freedom to Read statement. The professional librarians at Katy ISD follow procedures for obtaining materials, then the school board and administration must follow the stated policies and procedures for any reconsideration of materials," Kincaid writes in an email.
The Katy ISD book review policy states that after any official complaint, the administration must follow the proper procedure before a book can be removed from the shelves, and that "access to a challenged resource shall not be restricted during the reconsideration process." Removing THUG from libraries without going through proper protocol would be a violation of school district policy and the Library Bill of Rights.
In a phone call with Bustle, Kristen Pekoll of the American Library Association's Office for Intellectual Freedom echoed Kincaid's assurance that the organization supported Thomas's book and her call to action to review the unfair restriction. "Our stance is that all schools and libraries should follow local policies regarding challenges to materials," Pekoll tells Bustle. "We really encourage school districts to adopt a policy and a procedure to protect librarians, students, and teachers from concerns that might be unfounded. We want to make sure everybody's opinions and rights are heard when this happens by having an objective, fair, and transparent process on how to review a book [...] Not doing that may infringe upon first amendment rights for students."
When it was originally published in February, The Hate U Give found immediate success, both critically and commercially. It debuted at the number one spot on the New York Times young adult bestsellers list, and has been a fixture on the list for 39 weeks and counting. It was longlisted for the National Book Award, and in October, The Hate U Give picked up the prestigious Fiction and Poetry Award from the Boston Globe-Horn Book. The debut novel even nabbed a movie deal before its publication, and a film adaptation starring Amandla Stenberg, Issa Rae, Regina Hall, and Common is already in the works.
The unprecedented success of Thomas's book only makes the reported ban all the more confusing. Thomas, however, does not seem to be letting the news slow her down. In fact, she is using it as a source of inspiration for her current writing project. According her Twitter account, hearing the news has motivated her to keep writing. "Damn. It really did fuel me," her tweet reads. "Wrote several chapters tonight..."
Like the heroine of her novel, Thomas is handling her current situation with class, grace, bravery, and determination, proving yet again that she is a force to be reckoned with.
Although THUG is still reportedly removed from schools in the KatyISD, critics are ready to fight back against it and demand a fair review process for Thomas's book and all other book. "Keep talking about these things," Pekoll of ALA's Office for Intellectual Freedom advised. "Keep raising voices, keep shining a light on this. Let teachers, authors, parents, and librarians know when it happens so we can continue to support students' right to read."