These Weird Health Benefits Of Sweating Will Make You Actually Appreciate August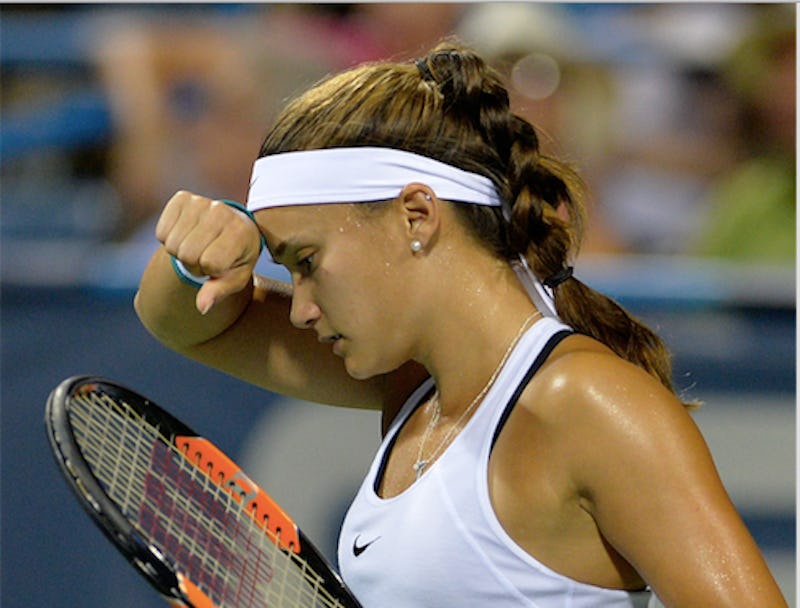 Grant Halverson/Getty Images Sport/Getty Images
Ah, August. You know it's finally arrived from the smell of hot garbage emanating from the streets, and because the minute you step outside, you're covered in a fine sheen of nature's highlighter: sweat. Even though this August has been somewhat cooler than usual in parts of the United States, many people are still finding the sweat struggle to be very, very real. But luckily for us, sweat has a surprising number of health benefits, and not all of them have to do with cooling us down.
Sweat primarily functions as a cooling mechanism; it's triggered not by movement or how fast our hearts are beating, but by sensors in our brains that detect hot or humid environments. The brain prompts sweat glands to excrete liquid to evaporate and cool the body's temperature. But beyond that, sweat has other intriguing functions, from bodily regulation to medical aid, that go far beyond its capacity as a stink-causing social faux pas.
Sweat regulation itself is an important part of bodily function, and it's possible (and medically worrisome) to sweat too much. Excessive sweating is known as hyperhidrosis, and can be caused by everything from menopause (think: hot flashes) to thyroid or hormone issues. Hypohidrosis, the inability to sweat enough, is also a recognized condition that occurs as a consequence of issues like alcoholism and various genetic disorders, and has serious implications for the body's ability to regulate its own temperature. Even when sweat continues on its merry way in a normal fashion, though, it's actually a pretty exceptional compound, with some pretty interesting health benefits. Best give it the respect it deserves.