Cole Sprouse Reminisces About His 'Friends' Days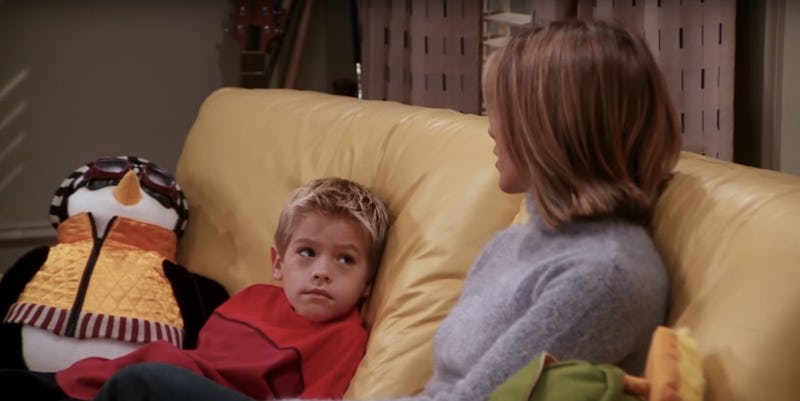 NBC
On Friends, Ross' son Ben has always been extremely memorable, which is why it makes so much sense to find out that the character was portrayed by Cole Sprouse. That's right, Riverdale's very own Jughead. What's even better is the fact that Sprouse loves talking about his time on Friends as much as fans love watching it. And when it comes to Sprouse's time working with Jennifer Aniston, he has some strong opinions about the famous actor that played Rachel Green. So, why did Sprouse find working with Aniston so difficult?
Riverdale's finest revealed in an interview with The New York Post that working with Aniston was tough because he had a huge crush on her. Well, duh! Sprouse said,
"I had a really, really hard time working with Aniston because I was so in love with her. I was infatuated. I was speechless — I'd get all bubbly and forget my lines and completely blank… It was so difficult."
The Suite Life of Zack and Cody star can't exactly be blamed for feeling this way, especially as he was so young and impressionable at the time. Plus, he's only human. It's actually super cute to hear Sprouse recall his memories on the Friends set so fondly and, in particular, his time working with Aniston.
Sprouse also revealed that he still gets recognized as Ben from Friends, which is a little strange, considering how young the actor was when he appeared on the show. He told The New York Post,
"I must have been maybe 7 or 8. I was only in seven episodes, but it's funny now that people are recognizing me for that... people can call me Ben on the street and I will turn around."
With his new role on The CW's Riverdale, Sprouse is sure to become even more recognizable. But it's definitely fun to reminisce with the actor about when he was in Friends and had a major crush on Aniston.