Audrina Patridge & Justin Bobby Brescia Are Filming 'The Hills' Reboot — As Just Friends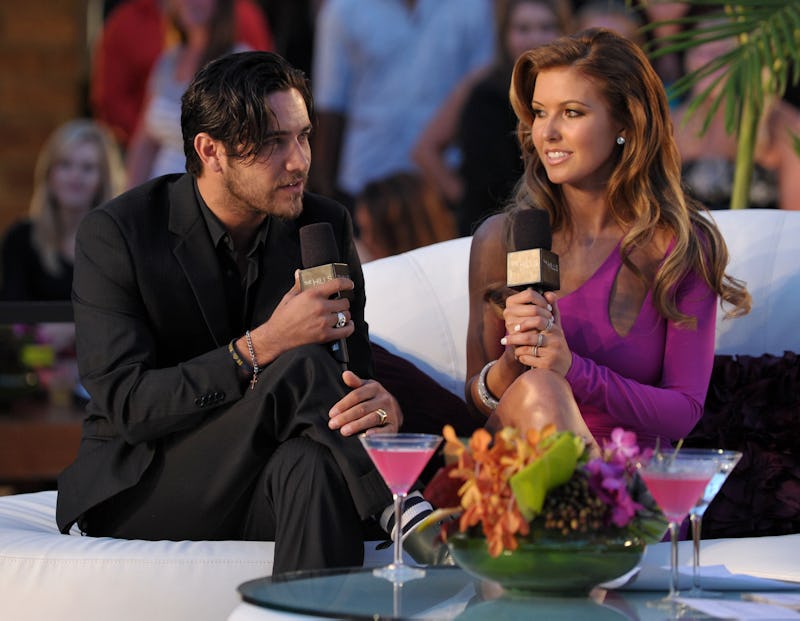 John Shearer/Getty Images Entertainment/Getty Images
They're both currently single and ready to mingle ... maybe even with each other? The Hills' Audrina Patridge and Justin Bobby Brescia are just friends for now, a source told Us Weekly, but there's no telling what might happen a little later on down the road. The former couple is currently filming The Hills: New Beginnings, and tons of fans are already rooting for them to rekindle their romance.
"They are friends," Us Weekly's source said of Patridge and Brescia. The source also mentioned that Patridge is "still hanging out" with her ex, Ryan Cabrera, but that "they are not back together as of now." Hmm. Interesting.
The Hills star and Cabrera first got together way back in January 2010, but sadly, their love didn't last very long. By May, it was announced that they'd split, but little did they know that they'd find their way back to each other several years later.
In June 2018, the pair confirmed that they were dating again, and fans of The Hills were thrilled. "I mean, I'm the happiest I've ever been right now," Patridge told People at the time. "You know, things are going really good."
She went on to make it seem like they were keeping things kind of casual, telling the publication, "We're just having fun. Nothing is forced. You know, great things happen when it's not forced, and things are naturally just happening. And that's what it is. We just have the best time together."
Five months later, though, they decided to split yet again. It was sad, of course, but it also allowed for the possibility of Patridge getting back with another old flame: Justin Bobby Brescia AKA the homeboy that once wore combat boots to the beach.
Fans of The Hills watched Patridge and Brescia struggle through an on-and-off relationship over the course of several seasons. After the show ended, though, both stars revealed that things between them weren't nearly as dramatic as everyone thought. In fact, Brescia said that they never even dated at all.
"Were we like boyfriend girlfriend? No, we weren't," he told Complex in November 2015. "We worked a lot, we had some moments, we spent a lot of time together. Beyond most we became really, really good close friends."
Brescia continued,
"We were just supportive of each other at a time where something like that, you don't really have the most support. We could talk about it and you couldn't do that with most because it would be leaked. There was no trust, so we had trust. It never evolved into anything too heavy, but we definitely went through an experience of doing TV and filming and traveling and having laughs and she's still a dear friend to this day."
Aww. That's actually really sweet, despite the fact that their whole love affair may not have been true. It definitely sounds like there was something there between the two of them, though. Now that they're back to filming together again, perhaps that something will finally develop into a thing? Who knows. The rest is still unwritten.