'The Golden Compass' Is Becoming A TV Show — And The Cast Is Pretty Amazing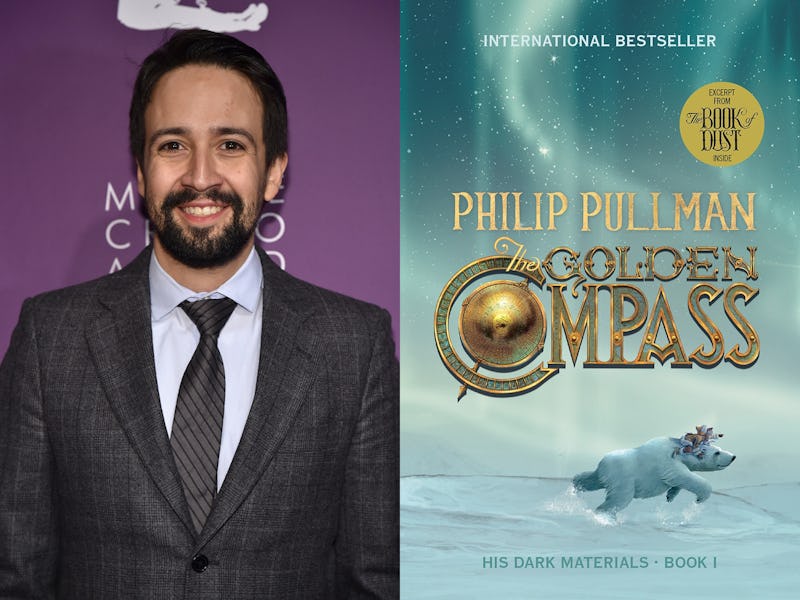 Bryan Bedder/Getty Images Entertainment/Getty Images
Good news, everyone! Casting information for the BBC adaptation of Philip Pullman's His Dark Materials series has just been released, and Lin-Manuel Miranda just got cast in the TV adaptation . The Hamilton creator and all-around great dude will play Lee Scoresby, a Texan aëronaut who travels in a hot-air balloon with his arctic hare daemon, Hester. Miranda is one of many big names slated to grace the screen when His Dark Materials comes to television.
First published in 1995, His Dark Materials centers on Lyra Belacqua, a young girl growing up in an alternate, steampunk version of our world, which is one of many in the books' multiverse. In Lyra's world, people's souls live outside of them as daemons — animal-shaped spirits that can speak, move, and think independently of their masters — and Lyra travels with Pantalaimon, her daemon, who looks like a pine marten.
In the first His Dark Materials book, The Golden Compass — known as Northern Lights in the U.K. — Lyra discovers a plot on her uncle Asriel's life and begins to investigate the disappearance of her friend Roger, who is the latest child to fall victim to the child-snatching Gobblers. When she uncovers evidence that the theocratic Church is responsible for Roger's disappearance, and that her own parents may be involved in kidnapping children, Lyra flees her hometown to travel with the Gyptians, a nomadic ethnic minority who have lost many children to the Gobblers. While on the run, Lyra acquires a few allies: Lee Scoresby, Hester, and Iorek Byrnison, a sentient, armored polar bear.
The Golden Compass by Philip Pullman, $7, Amazon
Sam Elliott played Scoresby in the 2007 film adaptation of The Golden Compass, but Hollywood's planned adaptations of the two other books in the trilogy, The Subtle Knife and The Amber Spyglass, were canceled due to poor box office showings and pressure from conservative Christians, who viewed Pullman's work as anti-Catholic. Now, New Line Cinema — the production company behind the 2007 film — has teamed up with Bad Wolf Productions (Doctor Who) to bring His Dark Materials to the small screen for the BBC, and fantasy fans couldn't be happier.
Miranda is just one part of the star-studded cast that New Line and Bad Wolf have put together. Dafne Keen (Logan) will star as Lyra, with James McAvoy (Split) taking on the role of Asriel, and Ruth Wilson (Luther) as Marisa Coulter, a woman who adopts Lyra. The eight-part miniseries is being developed by Jack Thorne (Harry Potter and the Cursed Child), with Tom Hooper (Les Misérables) attached to direct the first two episodes.
Need something to tide you over until you can see Lin-Manuel Miranda play Lee Scoresby in the BBC's His Dark Materials? Philip Pullman published a prequel novel, The Book of Dust: La Belle Sauvage, in October. The book is the first installment of a planned trilogy, The Book of Dust, which will delve further into research conducted by Asriel. The second novel in The Book of Dust, The Secret Commonwealth, will focus on an adult Lyra, and is currently slated to hit store shelves sometime in 2018.