The Women's World Cup Only Started In The '90s & The Kits Were Very Different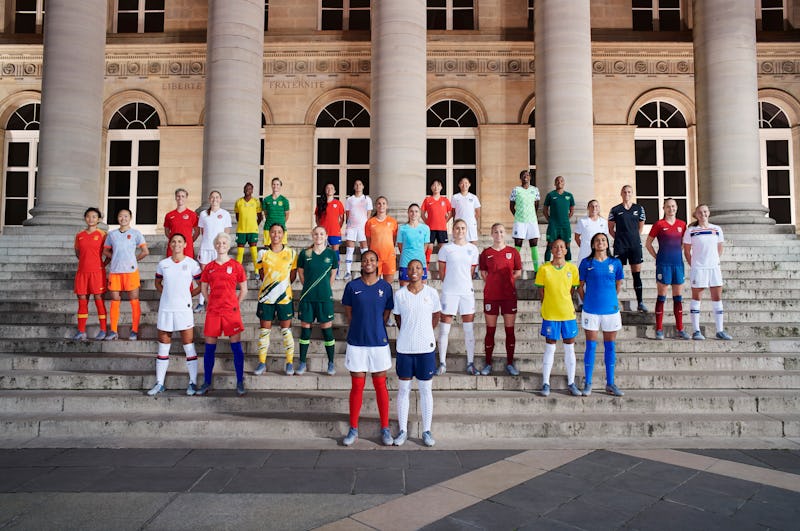 Nike
In 1971, the FA revoked its 50-year ban on women's football. Two decades later, the first Women's World Cup took place in China in 1991. In the years since, the women's version of the sport has grown in popularity. And although female footballers are yet to earn anywhere near as much as their male counterparts, other elements of their job are taking gender equality more seriously. As the history of Women's World Cup kits shows, this is particularly true of their outfits.
A great football kit translates the heart and soul of a country and its team into a pretty simple design. Each team is able to have a home and away kit, but designs must stick to FIFA's lengthy list of regulations. As Fast Company reports, a maximum of four colours is allowed, home and away kits must contrast, and reflective materials are banned.
Even though kit manufacturers are allowed a relative amount of freedom, women's uniforms have stuck to the same old tropes. According to The Guardian, historically, female footballers have received cast-offs from the men's team. Eventually, kits that better fitted their bodies were created, but these still stuck fairly closely to the design for men's kits.
But in the run-up to the 2019 Women's World Cup, women's teams across the world are making their own mark on their kits. The likes of Nike and adidas have taken players' thoughts and opinions into account, designing bespoke women's kits for the very first time. To fully appreciate this move, let's take a look at what female footballers have worn in the past.