Don't Give Up Hope About The Original Sanderson Sisters Being In The 'Hocus Pocus' Remake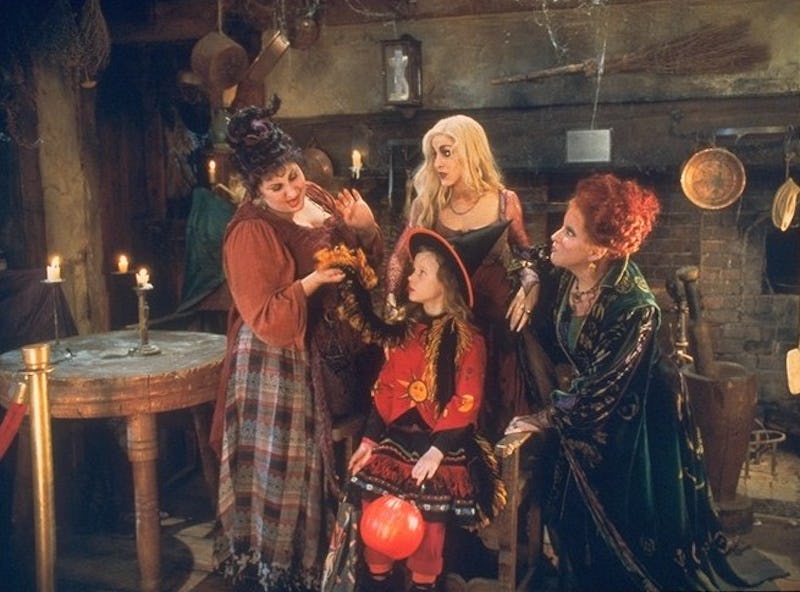 Buena Vista Pictures/Andrew Cooper
There's yet another reboot on the horizon for '90s fans. After years of teasing, Deadline announced on Thursday that the Disney Channel is officially gearing up to revamp a Halloween classic — Hocus Pocus. However, it seems that the Hocus Pocus remake's cast may feature a bunch of new faces. But before you get too disappointed, that doesn't mean you should lose hope about the original Sanderson sisters just yet.
Reports from Deadline indicate that the second coming — slated to be written by Scarlett Lacey with David Kirschner returning as executive producer — will be getting a new cast and a new director. It's unclear whether this means that the Sanderson sisters will be portrayed by another crew of actors, or if the reboot's storyline will focus on an entirely different set of characters. As it stands, there's yet to be a projected release date or storyline revealed, leaving fans to speculate about exactly what to expect.
The original version featured Bette Midler, Kathy Najimy, and Sarah Jessica Parker as a villainous coven of witches, better known as the Sanderson sisters. There's no word on whether or the trio will be returning to make cameos. However, the original film's writer, Mark Garris, who's not involved with the new project, indicated that the beloved Hocus Pocus cast members may be associated with the revival. He told Forbes,
"I think they are, yeah, I think they are. If they don't do that I think it would be a big mistake because all three of them are still so incredibly potent and powerful and great performers and who else can recreate those characters?"
Fans would certainly agree that Hocus Pocus without the Sanderson sisters just wouldn't be the same. As the antagonists of the film, it's hard to imagine the storyline without Winnie, Mary, Sarah, and their evil ways.
It's honestly a mystery why there's a casting change in the first place. Past interviews with the original co-stars indicate they've been totally onboard for a sequel of the comedy-horror movie for years. Parker revealed her feelings about the film during a 2016 episode of Watch What Happens Live and told host Andy Cohen,
"I would love that ... I think we've all been fairly vocal about being very keen, but that hasn't created any ground swell of movement."
As for Midler, she's had a hard time understanding why it's taken so long to come up with a reboot, explaining to Billboard in 2016,
"You don't get to see women doing slapstick too much, and in the movie you can see that we're having a blast. For the life of me, I can't understand why there's not a sequel."
Midler once took to social media to discuss the reason for the extended delay. She joked that Disney must have been having a hard time "finding a virgin" for the long-anticipated reboot.
Since its release in the early '90s, Hocus Pocus has become a cult favorite for many and it's been annually rebroadcasted on several networks, particularly during the Halloween season, according to Mashable. So it seems to be the perfect time for Disney to share the exciting sequel news with fans.
Although details surrounding the project remain scarce, the great news is that fans can finally ease their minds now that there's an official announcement about the revival. And while the news that there will be a new cast feels just a bit unnerving, you shouldn't be so quick to knock it just yet — because it's probably safe to say that the story is in good hands with Disney.