The Honeymoon Period In A Relationship Is Probably Way Shorter Than You Think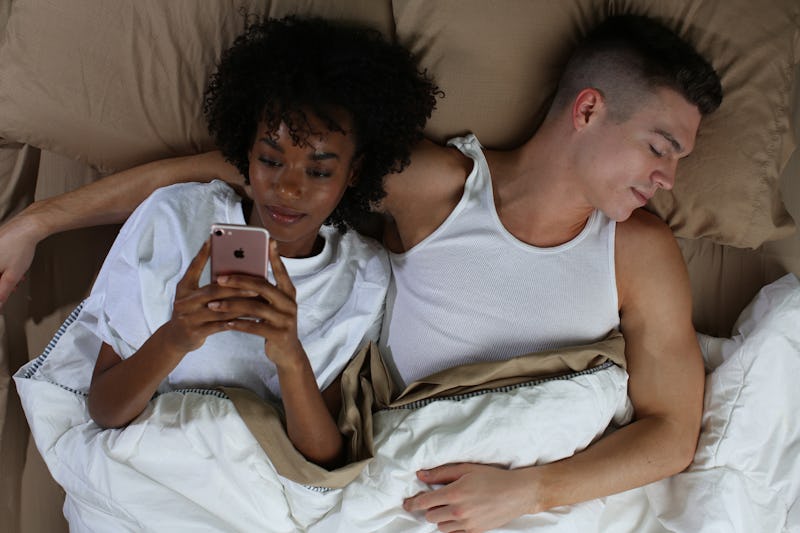 Ashley Batz/Bustle
The honeymoon phase in a relationship looks different to every couple. Some people have a massive fight a few weeks into dating and drop immediately out of the honeymoon period. Others seem to stay in a bubble where they don't see anyone else for months or even years. But how long does this period last for most people? Well, new data shows it's not as long as you might think.
Mattress Clarity, a leading mattress review site, conducted a survey of 3,000 Americans about their relationship honeymoon periods and found that the average length around the country is just 6.7 months. The variation was huge — in Alaska the average honeymoon period lasted 11.5 months, while in Rhode Island the honeymoon period only lasted for 2.8 months on average. But many states fell around the six or seven month mark. If you want to see how your state did, you can check out the graph on their website.
Interestingly, 36 percent of couples said that the honeymoon periods end when you start going to bed at different times — which makes sense, because in the early days of a relationship, you often are sleep deprived from all the sex and talking. You sort of forget that you need sleep — and you can actually lose more of it than you might think.
"What we found most surprising is how much less sleep people get when starting a new relationship," Joe Auer, founder of Mattress Clarity, tells Bustle. "Thirty minutes each night doesn't sound like a lot, but when you consider that over the first month, that's 15 hours less sleep! We live in an age whereby relationships develop at a faster pace than how it was for previous generations — people spend more time together sooner, they move in together earlier and therefore that initial flame dies out a bit quicker. Having said that, this could be seen as a positive development — it means you are settled, comfortable in each other's company and know each other better."
At some point, the honeymoon period has to be over. But that's totally OK. Here's why the honeymoon period ending isn't always a bad thing.