17 People Reveal The Exact Moment They Knew The Honeymoon Phase Was Over — And It's Brutal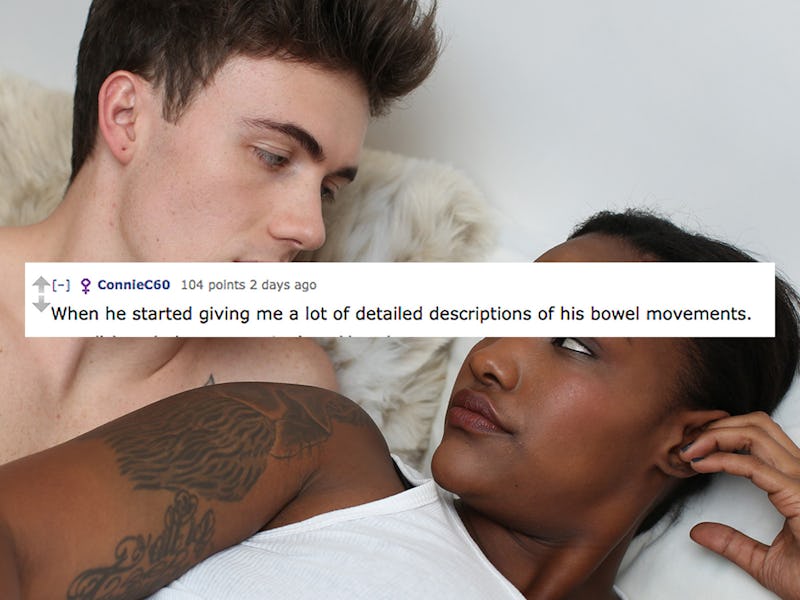 Ashley Batz/Bustle
The honeymoon phase can be downright magical in some relationships. For some people, the honeymoon stage is an amazing period of time when you feel like you can live in a bubble forever — and it seems like your partner can do no wrong. But, unfortunately, it ends up wearing off — and considering it can bring you to a stage of love, that's not necessarily a bad thing.
"Sometimes people expect the honeymoon phase to last forever and that's unrealistic," NYC-based therapist Kimberly Hershenson, LMSW tells Bustle. "People interpret getting comfortable with getting bored." But actually, coming out of the honeymoon phase can be pretty great. You've reached a level of relaxation and comfort with each other that is its own kind of intimacy — even if it's not fireworks all the time. But, how do you know when the honeymoon period is over?
Well, a bunch of Reddit answered a thread titled, "How did you know when you and your SO left the honeymoon phase?" and the results are enlightening. Because while some people seem to know exactly the moment when the honeymoon phase ended, others feel that they've never really left it — instead, it was more like their relationship just sort of evolved.
But among people who knew when the honeymoon was over, there was one very common theme — and it ain't pretty. So strap in, because there is a lot of talk about bodily fluids coming your way. That's right, what's the most common way you know that you've come out of the honeymoon period? Poop. So, so much poop. Here's what Reddit users had to say.