The Hot Parents Of 'Riverdale' Released Their *Real* High School Photos & They're Perfect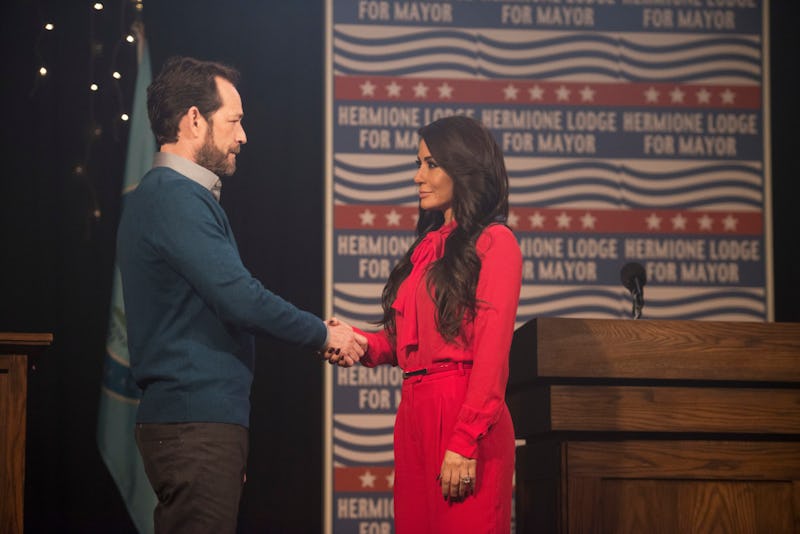 The CW
Remember when Riverdale was first announced and all anyone could talk about was how Archie got hot? Those abs were pretty spectacular, sure, but now that we're two full seasons in to The CW's Archie Comics drama, the water cooler (read: Twitter) conversation around everyone's favorite obsession has shifted in full to the "Hot Parents of Riverdale." Yeah, the kids are good-looking, but have you seen FP Jones (Skeet Ulrich), Alice Cooper (Mädchen Amick), Hermione Lodge (Marisol Nichols), Fred Andrews (Luke Perry), Hiram Lodge (Mark Consuelos) or even Sheriff Keller (Martin Cummins)? Who needs inappropriate high school thirst traps when you can have more age-appropriate adult ones?! And now Riverdale is planning a flashback episode to show all your favorite Hot Parents when they were a little more age-inappropriate, making all of our obsessions just a little bit problematic. Thanks, Riverdale!
First announced at Comic-Con last month, the upcoming Season 3 episode titled "The Midnight Club" (airing Wednesday, November 7) will feature flashbacks to when all the Riverdale parents were in high school together. Since most of the conflict on the show has stemmed from the parents' relationships and history with one another, that means we're in for some shady, shady drama, and perhaps it will finally reveal what really happened between all these ridiculously good looking people. And what's even better is that all the parents' onscreen kids are going to play them in the flashbacks! Yup, that means KJ Apa is playing Fred Andrews, Lili Reinhart is playing Alice Cooper, Cole Sprouse is playing F.P. Jones, Camila Mendes is playing Hermione Lodge, Madelaine Petsch is playing Penelope Blossom, Casey Cott is playing Sheriff Keller, and Ashleigh Murray is playing Sierra McCoy. And Conseulos' real-life son Michael is playing a young Hiram, making this a real family affair.
But will all the Riverdale teens look like their onscreen parents did as teens in real life? Now we can know for sure, because Warner Bros. TV released a faux Riverdale High yearbook page filled with the adult actors' actual photos from when they were in high school. You think they're hot now? Just wait until you see what they were working with back in the day. And you absolutely need to see their ... ahem, vintage hairstyles. Go ahead and feast your eyes on their photos above.
Can we take a moment and appreciate all those superlatives? Riverdale's definitely got jokes! But if you weren't distracted by Perry's pearly whites, Ulrich's mullet or any of the other adorably cringeworthy photos, you probably noticed that one of these photos is definitely not like the others in more ways than one.
Yes, that is indeed a photo of Anthony Michael Hall and yes, he is playing Principal Featherhead in the flashback episode, Bustle has learned. The Breakfast Club actor is fittingly joining Riverdale for the Breakfast Club-inspired episode in the flashbacks as viewers learn dark secrets from when the adults were high school students. Principal Featherhead was the long standing principal at Riverdale High who got "caught up in the game the teenagers were playing in an unexpected way." Describing the flashback episode as "Riverdale meets The Breakfast Club" has never been more true. This episode is already destined to be iconic. Is it November yet?!