Mark Consuelos' Son Will Guest Star On 'Riverdale' In A Role Super Close To His Dad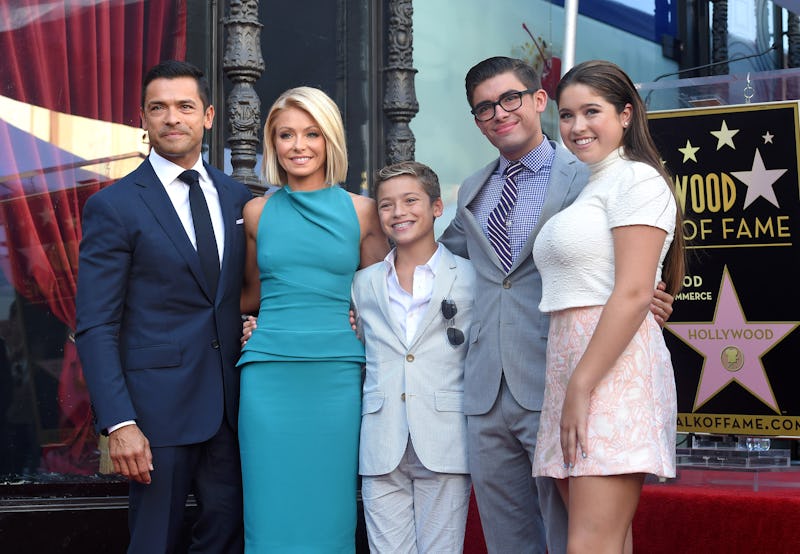 Photo by Axelle/Bauer-Griffin/FilmMagic
With Riverdale fans eagerly counting down the weeks until the show returns for Season 3, any tidbit of news is better than no news at all — and TV Insider just broke some really, really big news. Riverdale cast young Hiram Lodge (finally!) with the best possible mini-me: Michael Consuelos, his eldest son with fellow actor-slash-icon Kelly Ripa.
On Instagram, both Mark Consuelos and Ripa congratulated their son on his Riverdale casting. Mark wrote:
Bucket list moment for Mom and Dad. Congrats to my son Michael on being cast as the younger (and much better and handsomer) Hiram..We are so proud. Love you MJC
Meanwhile, Ripa wrote her congratulations to Michael on Instagram:
Congrats Michael on being cast as young Hiram Lodge on @thecwriverdale however @instasuelos and i would like to take this opportunity to remind you and your siblings that as your fiduciaries we are hereby entitled to 10% of all future earnings hereto wit, or something like that 😜⭐️
It was revealed at 2018 Comic-Con that Season 3, Episode 4 of Riverdale will be a flashback episode centered on the main casts' parents. Described as "a subversive take" on John Hughes staple The Breakfast Club by series creator Roberto Aguire-Saccasa at the 2018 Television Critics Association press gathering, the one-off flashback episode reportedly introduces "a really, really dark secret in Riverdale that the parents have been keeping since they were in high school". Skeet Ulrich, who plays F.P. Jones, told Entertainment Weekly that "There's a secret [the parents] are harboring," but he wouldn't elaborate on that. But it has to be a murder of some sort, right?
Earlier in the year, it was confirmed that "The Midnight Club" would star the regular lead actors in the roles of their parents. However, since Veronica Lodge does not have a brother (that the audience is aware of!) and Betty Cooper's brother Chic isn't exactly who he made himself out to be, young Hiram Lodge and Hal Cooper remained a mystery — until now.
Not only does Michael Consuelos looks so much like his father — he's following in his parents' footsteps as well. TV Insider reports that the budding actor is currently a junior at NYU. That makes Riverdale his highest-profile role to date.
As for the rest of the parents in the flashback episode, K.J. Apa (Archie) is set to play the younger version of his father (played in adulthood by '90s heartthrob Luke Perry), Lili Reinhart (Betty) will play the younger version of her mother (played by Mädchen Amick), and so on.
Considering the timelessness of Riverdale — or, at the very least, its tendency to exist outside of time — it will be beyond interesting to see the hair, makeup, and fashion choices Riverdale makes for its Midnight Club. Will the show go full Breakfast Club homage, or will it be more of an I Know What You Did Last Summer vibe, as suggested by EW? Plus, and fans might think this obvious already, but Hiram Lodge wasn't exactly a "nice" guy by the time viewers met him in Season 2. Was he always so ruthless — and is that something Michael Consuelos can bring to the screen? What about semi-reformed bad girl Alice Cooper; will fans get to see Betty — er, Alice — no wait, the actor Lili Reinhart — in Serpent gear head-to-toe?
Also, and just throwing this out there: If Cheryl Blossom's parents had any involvement with this unknown conspiracy in their teen years, it's possible that the actor who plays the late Jason will return to play the youthful version of his father. (The one that would later kill Jason; Riverdale is nothing if not absolutely bonkers.)
At any rate, casting Mark Consuelos' own son Michael to play a young Hiram Lodge is just the best choice the show could have made. He already has the looks, the mannerisms, and the chemistry with the cast that's crucial to pulling off an episode like "The Midnight Club". It's like a Tumblr dream writ large. In other words, it should be awesome.