Why House Democratic Women Are Wearing White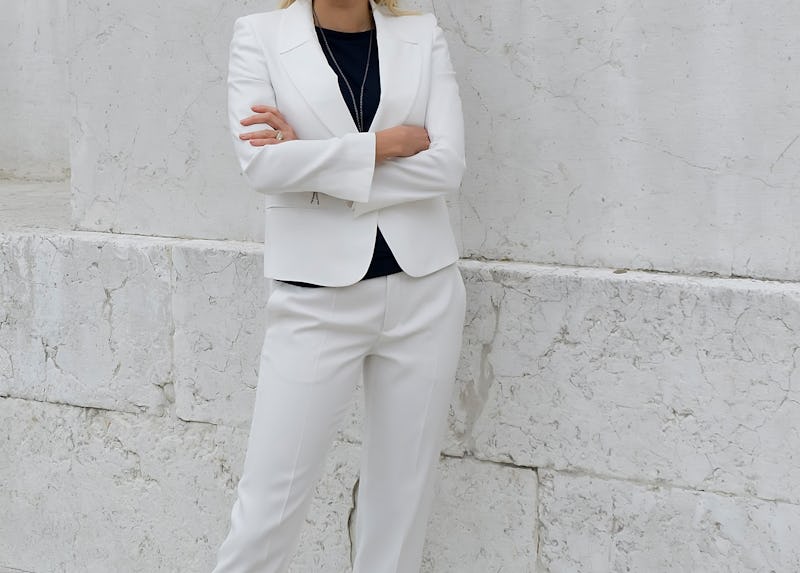 Marco Secchi / Stringer/Getty
Donald Trump will deliver his first joint session presidential address to Congress on Feb. 28, and some badass lady Democrats are planning to make a statement. The House Democratic Women's Working Group will don white clothing as a symbol of their commitment to protecting women's rights.
In a press release, Florida Rep. Lois Frankel, who is chair of the Women's Working Group, said, "We wear white to unite against any attempts by the Trump Administration to roll back the incredible progress women have made in the last century, and we will continue to support the advancement of all women. We will not go back."
White is historically associated with the suffragette movement, and according to the National Woman's Party, "symbolizes the quality of our purpose." However, it can't be ignored that the suffragette movement of the early 20th century had serious documented problems with racism in its ranks. The modern movement against Trump has been driven by intersectional feminists, who embrace the idea that being feminist means supporting all marginalized groups.
The Women's Working Group said in their press release that their commitment to women's rights includes standing for affordable healthcare and reproductive care (with a specific Planned Parenthood mention), equal pay for equal work, paid sick and family leave, affordable child care, secure retirement, and "lives free from fear and violence."
This is not the first time House Democrats have worn signs of solidarity in the face of Trump; many Dems wore pro-Obamacare buttons to his inaugural ceremonies. And in an era in which controversial cabinet members like Jeff Sessions and Betsy DeVos are taking power, seeing signs of united resistance in the troubled Democratic Party can make it seem like constituents' constant phone calls to reps are perhaps not going unheard.
Hearkening back to the suffragette movement is particularly pointed, as on Feb. 27, it was announced that the Department of Justice will withdraw from a six-year-long legal battle against Texas's stringent voting regulations, which were criticized for potential structural racism. The decision comes under Sessions' leadership — a man who, when the Voting Rights Act was gutted in 2013, said it was "good news, I think, for the South."
The Dems' choice to wear white is also reminiscent of Hillary Clinton, who famously wore white pantsuits at important moments in her bid for office, and to Trump's inauguration.
These moments of visible solidarity against any Trump administration policies that will infringe upon human rights are so necessary for marginalized people who are afraid for their lives in the wake Trump's takeover and subsequent follow-through on some of his concerning campaign promises. Ultimately, Americans can only hope to see Dems in the House and Senate use their voice with their votes for the same commitment to mitigating policies that may violate marginalized groups.