What Michelle Obama Taught Us Through Pop Culture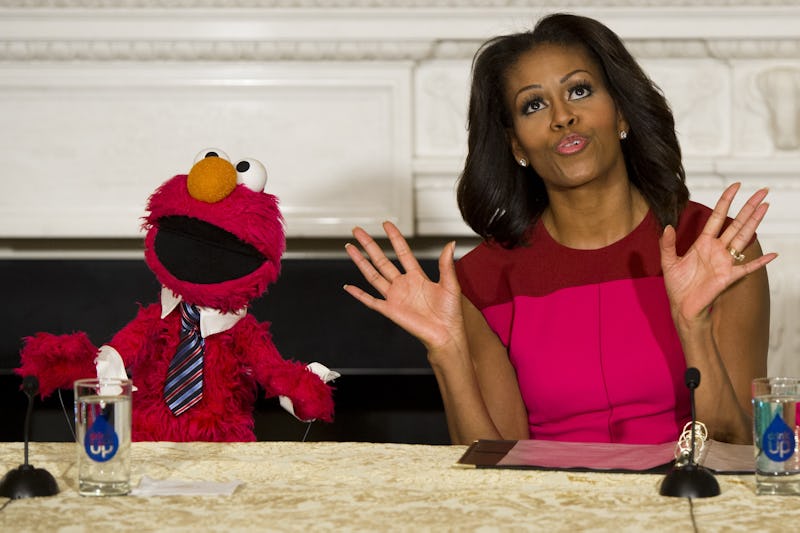 SAUL LOEB/AFP/Getty Images
Before leaving the White House, Michelle Obama sat down with Jimmy Fallon to write a few thank you notes. For her final TV appearance as acting First Lady she thanked her husband, President Barack Obama, for being her "silver fox" and laughed at Fallon's suggestion that she run for president. While MObama has made it clear she's not running, what she has done for the last eight years is used her position in the spotlight to turn late night appearances like this into teachable moments. And those teachable moments, all together, prove the real lesson and legacy she leaves behind: that even through something as simple as the use of entertainment, we have the power to change the world.
Each time she's teamed up with Leslie Knope or hung out with the gang over at Sesame Street, she's done so to help promote America. She doesn't stop by Fallon for her own health, but for yours: dancing to show exercise can be fun for both kids and adults. This time with Fallon, she didn't show off her mom moves, but thanked America for allowing her to start Let's Move or grow a garden or share the stories of veterans of the armed services and their families. All of the things that were important to her, she highlighted during her pop culture appearances.
It's time we thank her for using pop culture to show all Americans that they can get involved, that they have the voice and power to make things better, and that they can build a better world. Here's a reminder of all the times she made us laugh or cry in hopes of forcing us to be the best Americans we can be.
1. Leslie Knope Goes To Washington And Meets The First Lady
When Leslie Knope (Amy Poehler) is torn on whether she should leave her home of Pawnee, Indiana for Washington, D.C. it's Michelle Obama who offers some advice. "We need passionate people like you," FLOTUS says in the Parks and Recreation Season 6 finale, before talking about her own passion: the national parks. Obama has been a longtime supporter of the parks, and last year she celebrated the 100th anniversary of the National Parks Service by challenging Americans to find their park and explore their community.
2. Michelle Obama Rides In A Shopping Cart With Big Bird
Obama appeared on Billy On The Street with Billy Eichner to play a little game called "Ariana Grande or Eating A Carrot?" But she was really there to compete against her friend Big Bird to encourage Americans to eat better — something that was a passion of hers throughout her time in the White House. She even planted her own garden on the property in 2009, which, thanks to a donation, is now a permanent fixture of the estate. Obama's decision to plant a seed also encouraged others across America to do the same, sparking more families to eat local.
3. FLOTUS Does Carpool Karaoke With Missy Elliott
Obama got in the car with The Late Late Show's James Corden to sing some of her favorite songs, from Beyoncé and Steve Wonder. But she was also there to promote her initiative Let Girls Learn, which promotes girls' education across the world. She did this by singing along to the benefit single she commissioned, "This Is For My Girls," which featured Missy Elliott — who jumped in the car to help FLOTUS get her message to the people.
4. The First Lady Gets A Visit From Rory Gilmore
Rory Gilmore stopped by the White House in 2016 to talk about her favorite thing: books. The Gilmore Girls star was helping Obama pick out a few books for her trip abroad in support of her Let Girls Learn initiative. The two sat down to talk about the importance of female education and the challenges that young women face abroad when it comes to earning one. FLOTUS also asked fans to peep her Snapchat account, where she'd be sharing behind-the-scenes shots from her trip.
5. Michelle Obama Mom-Danced To Help Us Get Fit
Throughout her eight years in the White House, MObama wanted to see you move. Her Let's Move campaign looked to put a stop to childhood obesity, but what it really did was make exercising fun. The "Evolution of Mom Dancing" on The Tonight Show Starring Jimmy Fallon showed parents how they could also get in on the initiative. And it was then that she showed off moves like "the hip bump," "the happy snapper," and the "just the hand part of 'Single Ladies.'" Always a crowd pleaser.
In honor of the five-year anniversary of Let's Move, she returned in 2015 to show us some new dances to keep us in shape like the "shush and tush" and the "getting a bag from your collection plastic bags under the sink." My arms sincerely thank her.
6. Michelle Asks Us To "Turnip" For What
It may be the best meme of the Obama presidency. Or, at the very least, the best pun. In hopes of encouraging us all to eat healthier, Obama put her own twist on as DJ Snake and Lil Jon's song "Turn Down for What" in 2014. Turnips have officially been the coolest vegetable ever since.
7. Michelle Obama Plants A Garden With Elmo
Back in 2009, Obama spent the day on Sesame Street teaching Grover about the importance of a healthy breakfast and helping Elmo plant seeds in his very own garden. She showed little kids that planting can be fun and healthy, since eating vegetables is an important part of any growing boy or girl's diet.
8. Michelle Obama Stands Up For Military Families On NCIS
MObama was serious about promoting the Joining Forces initiative, which she launched in 2011 with Vice President Joe Biden's wife, Jill, to help support the nation's service men and women, veterans, and their families. So serious that she showed up on the CBS drama in 2016 to pay tribute to those who put their lives on the line and the families that support them. "We know the sacrifices our military families are making, and it doesn't go unnoticed," she said in a scene where she was meeting a military wife in the White House. "Nor do the sacrifices of our veterans."
Whether she was getting us to move or encouraging us to support the education of girls all around the world, Obama's best pop culture moments showed that entertainment could serve a bigger purpose.