Hurricane Irma Has Completely Decimated Half Of An Entire Country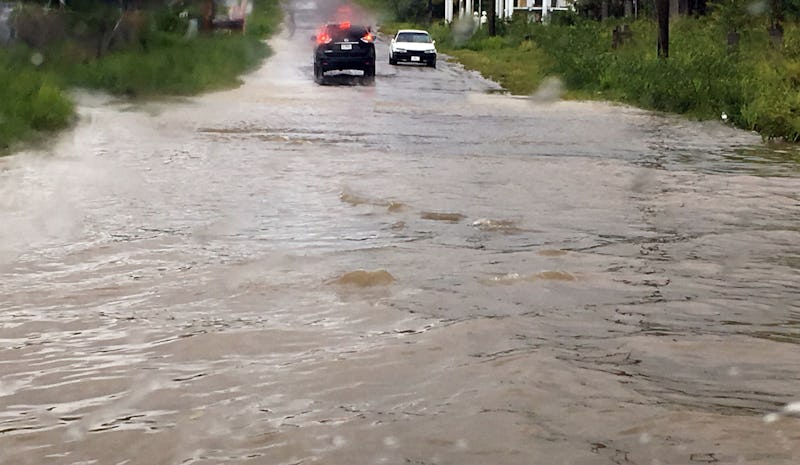 GEMMA HANDY/AFP/Getty Images
At least one country has already experienced major devastation as a result of Hurricane Irma. Roughly 90 percent of the buildings in Barbuda were destroyed by Hurricane Irma after the storm made landfall on the island early Tuesday morning, according to Gaston Browne, the Prime Minister of Antigua and Barbuda.
Browne spoke of the destruction with local TV and radio stations on Wednesday. The president said he had not expected the damage to be so severe and that he was shocked after getting an aerial view of the island while on a helicopter ride to assess the situation.
We were of the view here that perhaps the damage would've been limited — not recognizing, not having done the aerial view — that the entire housing stock was damaged and that, in essence, I would believe that the cost to repair the infrastructure and the homes in Barbuda will be no less than $150 million. And that is no exaggeration. I mean, it is just a total devastation. I mean, Barbuda right now is literally a rubble, and we have to raise a significant amount of resources now to rebuild Barbuda and to restore it to normalcy.
Browne added that "at least 60 percent of people are homeless" and that "even where they are sheltering they are in damaged homes." In addition to the destroyed homes, the island's institutions, including its schools and its single hospital, have been reduced to rubble.
The prime minister also confirmed the fatality of at least one person — that of a child whose mother had tried to escape a damaged house. Fortunately, it so far appears that the death toll won't mirror the destruction of buildings in magnitude. "When you look at the extent of devastation, I'm surprised we didn't have more fatalities," Browne said.
At the moment, the communication network in Barbuda is completely down, making it impossible to make contact with the roughly 1,600 people who live on the small island.
Hours before witnessing the catastrophe in Barbuda, the prime minister had given a statement sharing good news about conditions in neighboring Antigua, saying the island had "weathered the most powerful hurricane ever to storm its way through the Caribbean." He added that no one had lost their lives and that the country could "resume normal life within hours."
Hurricane Irma continued to make its way across the Caribbean on Wednesday, impacting Puerto Rico, Saint Croix, and Saint Martin. The storm is expected to hit the Dominican Republic, Haiti, and the Turks and Caicos Islands on Thursday. Cuba and The Bahamas will likely be impacted on Friday, by which point Irma is predicted to have decreased to a Category 4 hurricane. South Florida will potentially be hit over the weekend.